Skating with loosened skates to strengthen your ankles
Some skaters like rolling with loosely laces, others block the ankle without compromise. Who is right? There is no perfect answer to that question. Pascal Briand reveals his tips …
Tips by Pascal Briand …


… But one thing is sure, an excellent support of the ankle is mandatory.
It can be obtained by fastening your skates very tight… but depending on the model of your skates, you rather risk to completely block your ankle and totally reduce the possibilities of flexion of your articulation..
Muscle building

The other technique is to increase the strength of the muscles that support your ankle. Skating with Loosely laces is a good exercise that can be used to recover or to warm up.
At the beginning of in-line skating, Juan Carlos Betancur, Franck Cardin and myself (Team Saab Salomon) did extra training with Viking ice-skating boot, which are very low and soft.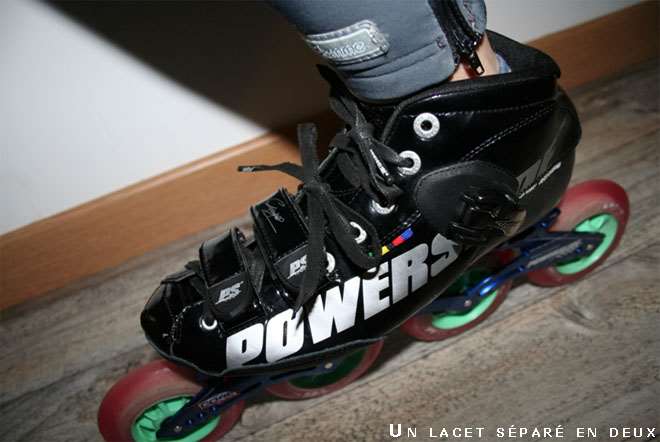 We could not do acceleration or agility … but to roll at steady pace on the track was already a great exercice.
We can reproduce this effect while skating with loosely laces.
The quality of the boot has an influence

Another important point is also the quality of your speed-skating boot. For example, with custom boot, you should be able to skate without laces, even if the support of the ankle and the heel is good. With standard racing boot, it will be difficult to get this effect, so you will just tighten your skates slightly. With Fitness skates, support is different with the cuff… so there is little interest in not tying.
A last tip ?

If you do not pass the lace in the last top eyelet (or the two last ones), you can still tighten the forefoot and strengthen your ankle. This step will take time. but it's worth the effort because it is necessary to control your external edge …
Useful links

Interview de Pascal Briand
Le premier volet de l'autobiographie de Pascal Briand bientôt disponible
parcours d'agilité n°2 avec Pascal Briand
parcours d'agilité n°1 avec Pascal Briand
By Alfathor
Thanks to Pascal Briand
Photos: Christophe Audoire
Auteur