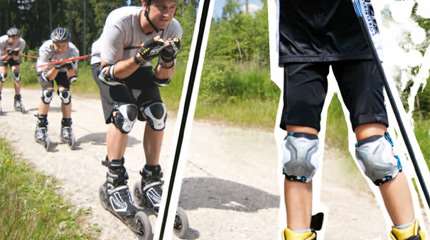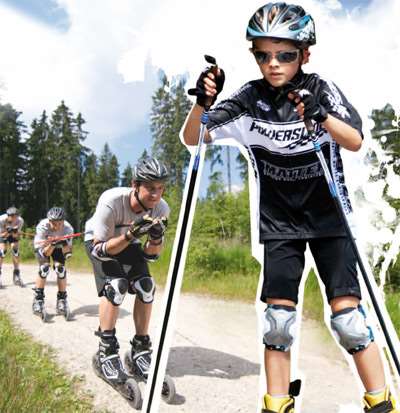 The Skates
We searched into the archives of online-skating.com and realized that there were already nordic skates in 2006. Powerslide proposed models equipped with high-cut speed skating boots mounted on frames of about 60 cm long made of two embossed and riveted aluminum blades.
That model evolved along the years into extruded frames, lighter and less cumbersome.
The model we chose to discover the discipline with is the XCPath 2011, the test of which you can find on the website. It is equipped with a semi-hard boot on a base of Phuzion 7 Hybrid Open Air. The boot is replaceable by any skate model as long as the frame has a double axle spacing of 165 and 195 mm.
The sticks
You should also choose the good sticks! In order to do so, we contacted Olivier of RollX, a roller ski specialist, who sent us carbon sticks with points. How to take the good size? Simply put your skates on and measure the height between the ground and your chin.
Picking up the movement: Coordination needed!
If you do cross-country skiing, you will pick it up naturally. If like me you have never really skied, you will need a few dozen minutes or hours to understand the movement right. By the way, it varies according to the ground configuration.
Your main goal at first: not pushing with your sticks and your skates at the same time! You will come a cropper almost for sure: Your sticks will get mixed up with your skates and you will bite the dust (literally only of course). The skating stride seemed to be the technique suiting most circumstances but classic and alternative strides seem efficient too. You will have to master both techniques…
Practice places
If nordic blading seems to be practicable on almost all grounds, we still have noted differences of comfort and efficiency according to the ground configurations. Skaing on hard grounds remains the best.
Behavior in urban environments
We started our route from the city center of Montpellier to reach the banks of the Lez, the local river. For 1 km you alternate between sidewalks, cobblestones and cycle lanes.
First of all: Your evolution space should be at least 1.5 to 2 m wide otherwise the use of sticks is proscribed. Take care of not blinding a passer-by in one eye or scratching a car on your way.
Secondly: Pointing with sticks is not easy on a hard and very smooth ground. Better aim at rough asphalt where sticks have a better grip. In short, the opposite of what classic skating requires.
Last but not least: An-ti-ci-pate! The skates are long and thus harder to handle, less reactive. Do no hope to do a parallel slide with those. Brake with a plow stop at each crossroad… and watch out for the sidewalks: with the thinness of the wheels and their wide spacing, you easily find yourself scrubbing your frame against a sidewalk or a stair.
On asphalt, your tires should be well inflated, do not hesitate to go up to around 7 bars of pressure in order to reduce that feeling of being stuck to the road. Skating on asphalt is alright but it is less pleasant than on hard towpaths where you can point your sticks without the vibrations resonating up to your neck.
Hard towpaths are great!
At last, let's express ourselves! There we go for 500 m of hard stony towpath. The skates hold one and perfectly absorb the irregularities of the ground. The rolling is quite good and the tires can play their part at last. You do not feel any vibration, just bumps smoothen by the tires. The sticks find a good grip and you can push for real with your arms.
Alternating a push of the sticks between two skating strides seem to be the best option, as it spares your arms and makes your legs work.
In uphill slopes, according to the inclination, duckwalking or using your sticks is necessary.
Loose ground to work our arms out
We decide to get off the beaten track to go for a spot with looser ground. You can immediately feel the efficiency decreasing. The place is quite flat and the ground is rich, so that your speed goes down. You have to use your arms more… and you quickly burn your pectoral and dorsal muscles. The rolling sensation decreases too but it is still okay. As a conclusion, loose ground is alright but not great.
And what about downhill skating?
Let's go crazy, and skate towards the banks of the Lez further down, a small downhill slope of about 30 m with ground and grass which eyes us up. We don't think twice and there we are, hurtling down the slope, quickly taking speed despite the rugged terrain and dreading the arrival. Do not panic! Transfer your bodyweight to the back, one foot slightly in front of the other, and things should go well, not without a little adrenaline rush though… Those skates are far less handy than a pair of Coyotes because of their length, but they are more stable.
Now that you have skated down, there is nothing but to go up.
And it's where those coordination problems are back. On a small uphill slope, duckwalking seems the only working technique. You can relieve your legs in leaning on your sticks from time to time. The bulk of the skates, despite their relative lightness, makes you feel like a seagull trying to take off in 3 square meters (or an albatross if your are a Baudelaire fan…)
Advantages compared to classic skating
it is a more complete sport as it makes your arms work too;
it makes you improve your skills at the motor level;
you can take paths where skates could not even imagine to venture. The great outdoors is all yours!
Drawbacks
the rolling feeling is not as strong;
the handling is not as good as on skates;
the ground should be hard enough for it to remain enjoyable;
it is hard to brake (without the brake) going downhill.
People's reactions
Obviously, when you are harnessed on such machines, it's hard to go unnoticed. Kids love it and don't fail to inform your passing to their parents. Young people are indifferent, even slightly mocking. Older people invariably make the comparison with cross-country skiing… I have said the word: 'Ski'. Nobody would even say the word 'skate' with such a striking likeness with cross-country skiing. Just like roller skiing, that discipline would make a great summer preparation…
Where to make the best use of nordic blading?
Canal sides seem to be the best places to practice nordic blading. A good hard-packed or stabilized ground offers an optimal rolling where you can alternate stick pushes without thinking much and reach a good cruising speed. Undergrowths can also be enjoyable. Forget about skating the city, the sensations are far from being optimal.
The development of the practice
In Germany, there are nearly 200 'Nordic Centers' labeled by the DSV (German Federation of Ski), which makes 1.200 roads and tracks, for a total length of 8.500 km, where you can practice cross-country skiing, nordic walking, nordic blading as well as snowshoeing. 5 millions of people would practice cross-country skiing in Germany.
Jürgen Pfizner (Powerslide)
"The French market has an important potential, just according to the number of cross-country skiers at wintertime. They are all potential clients for nordic blading. France is part of the elite in cross-country skiing. The discipline can also seduce skaters willing to keep fit.

They only skate on asphalt and they may want to try something new. Triathletes, runners and cyclists who want to do cardio workout are also potential clients. Nordic Skating is a sport that requires a lot of physical resources, your whole body works, not just your legs like in cycling, skating or running. last but not least, there are newcomers interested in nordic sports for fitness purposes, who may be other potential clients. They may have already tried Nordic Walking, which is a bit too annoying, and may like Nordic Blading, faster and more exciting.
All in all, there is a huge potential for that practice in Europe…"
Useful links
By Alfathor
Translation: Chloe Seyres
Photos: Powerslide