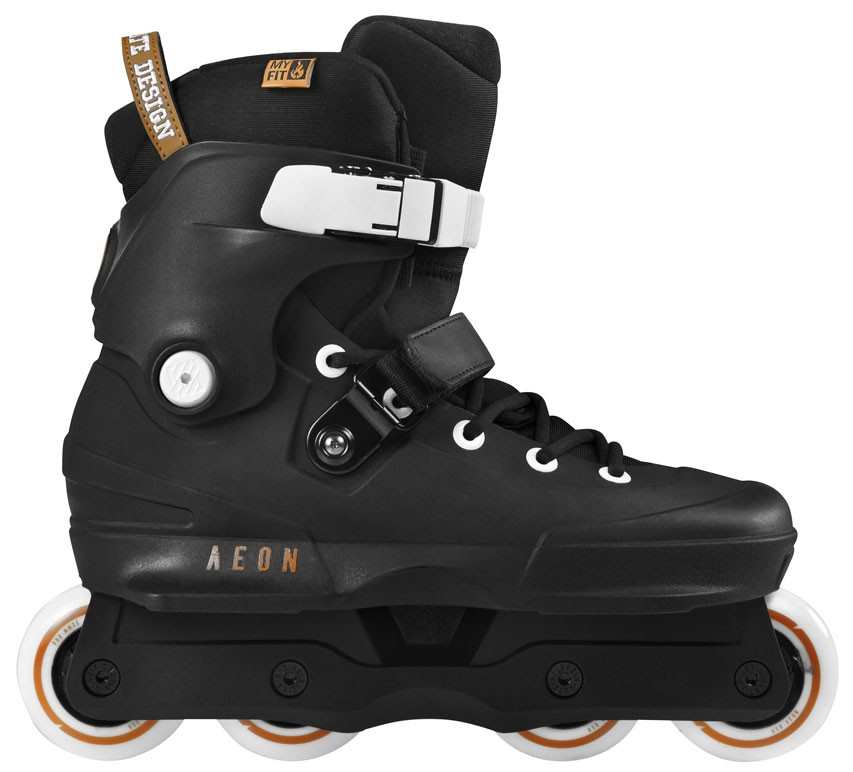 The street skating brand USD and Powerslide / The Conference have recently revealed a new model, the Aeon. Universal Skate Design's last born isn't far from being against the tide of the market in getting rid of the UFS mounting. If you don't know the concept, the UFS mounting is a size standard for aggressive frames that allows the skater to mount any frame on any boot...
Starting from the constatation that wheel diameters have grown bigger and bigger throughout the years in aggressive skating, USD didn't intend to limit themselves to 60 mm wheels. The USD Aeon has 72 mm wheels. In getting rid of the UFS mounting, USD could lower the ground clearance and hollow out the boot, so that the skate isn't higher than if it was mounted with 58 mm wheels.
Another major novelty: the frame and the boot are molded in one single piece. Here again it is a risky bet for the brand, because it means that you cannot replace the frame without replacing the boot as well. The options of customization are reduced. Pro: with less parts, the skate is lighter and offers more precision. For USD, the concept of the skate molded in one piece also means a gain in production costs... once the mold, which must have been quite complex to design, will be amortized.
Technical facts

(Exists in two versions: 72 mm and 60 mm)
Brand: USD
Model: Aeon
Year: 2015
Boot: Aeon with integrated soulplate, V-Cuff
Liner: Myfit Skinny Boy (100% heatmoldable)
Tightening: 45° Velcro Power strap and laces
Frame model 1: 254 mm (size 41)
Frame model 2: 256 mm (size 41)
Groove model 1: 42 mm
Groove model 2: 78 mm
Shock absorber: Aeon
Wheel model 1: USD Aeon 72 mm 88A SHR
Wheel model 2: USD Aeon 61 mm 90A SHR
Spacer: metal spacers
Bearings: WCD ABEC 7 2RZ freespin with steel balls and polymere shield - sythetic oil et flasque polymère - huile synthétique