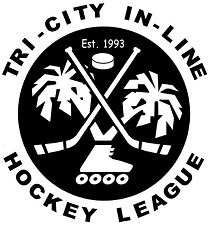 Tri-City Inline Hockey League / TCIHL, a non-profit organization established over 20 years ago for the development of youth inline hockey in North County San Diego, is currently accepting players (ages 5 to 17) for its Spring 2014 Season from March 14 to June 7. Beginners are welcome.
All practices and games will take place at the Martin Luther King Jr Park's roller hockey rink located at 4300 Mesa Drive in Oceanside. The registration fee for new players is $69. Regular registration cost for returning players through March 6th is $129. The fees do not include a jersey charge. Regular registration will continue through March 6. The registration packet can be downloaded from the website at http://www.tcihl.com/. Assessments will be March 4 and 6, specific times for each division will be posted on the website. Please see website for more information including required equipment, league history, contacts, player clinics, insurance, etc. Questions may be emailed to registration@tcihl.org

TCIHL is a young, newly re-structured league, and it needs help. Before and through the course of its Spring season, the league will have a TCIHL Gear Drive. The public is asked to please bring any old or used gear that they have outgrown or no longer need and donate it to TCIHL.

Tri-City Inline Hockey League recently held their annual meeting. Each January its Membership gathers to elect the Board of Directors that will serve for a period of one year effective immediately. The Membership elected John Siebert as President, Shane Nakamura as Vice President, Liz Perkoski as Treasurer, Michelle Alford as Secretary, plus Jason Berkes, Lisa Du, and Stacey Montero as Directors at Large.

Tri-City Inline Hockey League's President John Siebert stated "As a coach for the last four years I was able to help foster TCIHL's principles first-hand; as the President, I plan to do even more by collaborating with our enthusiastic new board and committee volunteers to actively grow our League and bring more kids into the fun that TCIHL's recreational program provides."

Shane Nakamura Tri-City Inline Hockey League's Vice President said "I was one of the original players when TCIHL started its first season of play back in 1993. I was a 13 year old kid who fell in love with the sport and now, 20 years and 6 kids later I'm back. This time it's 4 of my 6 children who are playing hockey and enjoying the same league that I helped start."

ABOUT Tri-City Inline Hockey League:
TCIHL was the first sanctioned inline league in California by USA Hockey. Its co-ed recreational program is open to new and experienced players aged 5-17. The league currently offers two seasons per year (Mar-June & Sept-Dec) with clinics, camps, tournaments, and pick-up play between seasons. TCIHL's mission is to stress the ideals of good sportsmanshi p, honesty, loyalty, scholastic achievement, integrity, respect for authority, and to promote the game of inline hockey in North County San Diego. To achieve this objective TCIHL provides a supervised program under the rules and regulations of AAU/USA Roller Sports. The Board of Directors and operation of the league are all done by volunteers.
For more information, please visit http://www.tcihl.com/