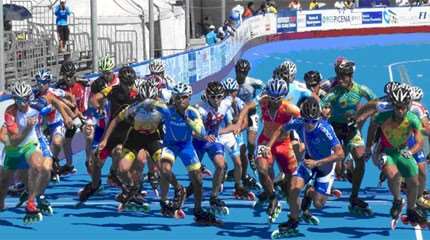 First day of competition (part 1)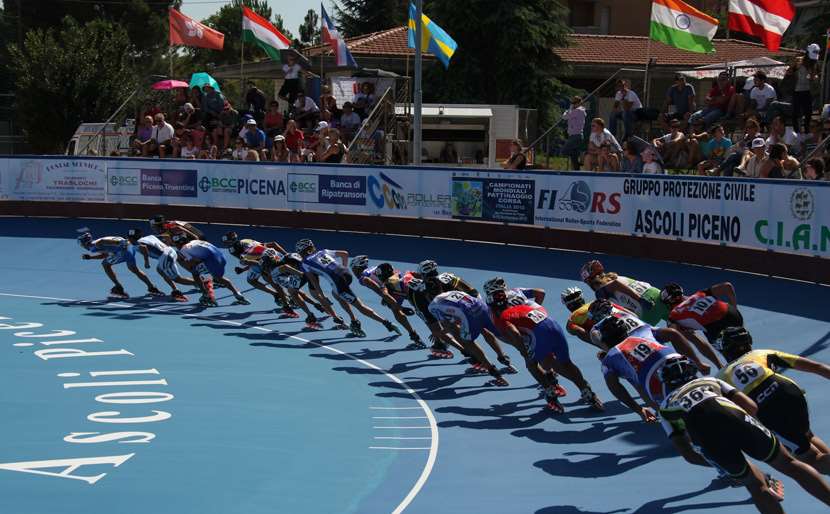 Skaters from all over the world could finally officially start their championship this Saturday morning.
300m sprint: qualifications (all categories)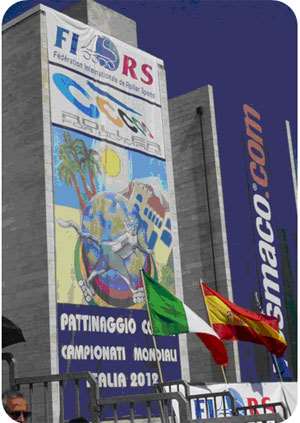 The 300m sprints qualifications were the first races of the day. Many skaters seem to have difficulties with the trajectories. And indeed, from the Junior to the Senior categories, men or women, trajectories varied a lot: inside, outside or in the middle of the corner, changing from one corner to the other... All possibilities were experimented in the qualifications. Experts have not yet been able to tell with certainty which trajectory was the most appropriate and the fastest one...
Although most skaters worked on those trajectories these last days, it ended up, for some of them, not to be enough, to be able to reach the final. European champion, Nicolas Pelloquin (from France) is actually one of the first serious victims of that extremely demanding track since he was not able to reach the TOP-12. His compatriot, Gwendal Lepivert however managed to climb in the final in extremis, taking the twelfth time of the qualifications, and joining great stars of the discipline such as Pedro Causil, Andres Munoz, or Ioseba Fernandes.
Besides, it seems like European skaters did not manage to perform as well as it could have been expected: indeed, only three Europeans reached the finals in Junior A (men and women), 2 in Senior women, and 4 in Senior men. Only Italy, skating at home, managed to qualify six out of eight skaters in the finals. Italians should be able to gather their first medals tonight. (See following table)
(Sorry for the absence of name in the tables, the organization is currently meeting computer problems and unable to give us the names of the qualified skaters).
Junior LADIES

Junior MEN

Senior LADIES

Senior MEN

1

Italy

Columbia

South Korea

Columbia (Causil) (24'6)

2

Columbia

Columbia

Italy

Chile

3

Columbia

South Korea

Columbia

Korea

4

Taipei

Germany

Italy

Columbia

5

Italy

Venezuela

Columbia

Venezuela

6

Taipei

Chile

Venezuela

Taipei

7

Venezuela

South Korea

South Korea

South Korea

8

South Korea

Taipei

Ecuador

Spain
(Fernandes)

9

Germany

Italy

Mexico

Italy

10

South Korea

Venezuela

Chile

Germany
(Schwierz)

11

Venezuela

France
(De Souza)

Argentina

Chile

12

USA

USA

Argentina

France (Lepivert)
As far as favorites from other nations are concerned, most of them reached the final. You can see on the table that not only Columbia but also South Korea managed to qualify all its skaters in the finals (since nations can only present a maximum of two skaters per category in the qualifications). Columbian skaters are in great shape! We should see some great finals tonight.
Long distance races: qualifications (Junior men and Senior men)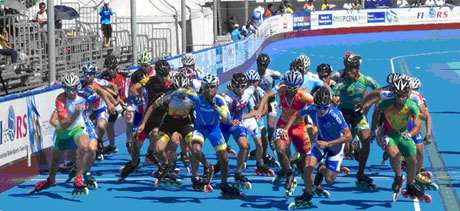 Qualifications were set up for Junior and Senior men only. Juniors did a 10K points/elimination race while seniors did a 15K elimination races. No specific surprises need to be mentioned. All favorites showed that others should beware of them tonight!
Countries absent in 2011, present in 2012
This morning, spectators watching the qualifications had the chance to seemost of the nations present in Italy. They could notice the presence ofthirteen nations that were not in Yeosu (South Korea) last year: amongthem, nine European countries (Denmark, Croatia, Norway, Great Britain,Austria, Slovakia, Czech Republic, Turkey), four countries from CentralAmerica (Guatemala, Cuba, Costa Rica, Puerto Rico), plus Canada.
We must mention the performance of the Turkish skater who participated to the 300m sprint in the Senior category with an unusual time of 46'788. The public appeared to be receptive and sensitive to that performance, applauding the skater during its effort.
Online-skating.com will investigate and try to meet this skater in the following days. He might be the first Turkish skater taking part in such inline world championship…
Useful link
By Léa Réguer-Petit
Photos: all rights reserved