A rainy night on the Bugatti Circuit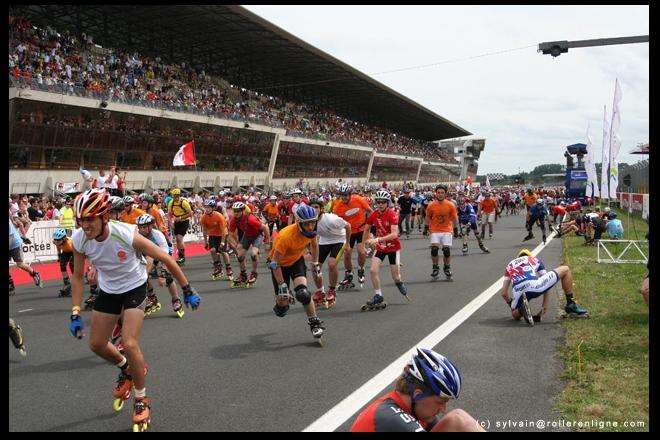 Large victories for PUC and LSC Teams
It was only the second time in seven years that the rain fell on the Bugatti circuit located near of Le Mans (France). The clouds and a west wind decided to join the party with the 5500 skaters. During the night, the water invaded the asphalt and spiced the race. Leaders won without weakening... but all teams tried to stay humble. This type of race is never won before the line: a fall, a lost relay can happen…
Levallois versus RPM Poli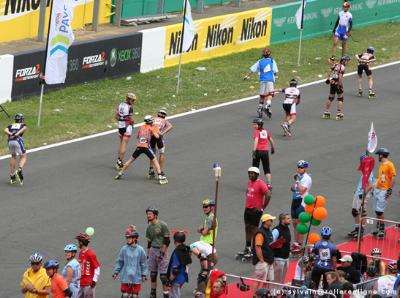 In the men confrontation, the LSC team was surprised by a fast start of RPM Poli led by his captain: Matthieu Boher. The "Orange" put Levallois under pressure in the first laps.
Both teams joined after one hour and a half. The 2 formations took two laps to the third team: EO-Tecknosport. Then, the "Blue" of LSC-Oligosanté went away during the night. They took one, two and three laps to their main opponents from RPM Poli.
At 8h00 AM, with an advance of three laps and a drying track, Levallois hold its victory. The parisian team got its fifth victory in the 24 Hours Roller of Le Mans. Record to beat!
The women race: PUC Speedy Girls are favorites
The PUC-Speedy Girls team brought 10 skilled skaters to win the competition. Most of girls were able to finish a 4,4 km lap in less than 8 minutes. Finally, they took 20 laps to the second team behind them, the German girls of ZDF Speedfuchs. Perfectly coached by Goyan, Martin and Arnaud, the "white and purple" manage their advance and remain motivated until the end. Something is sure: with such a speed, they were able to worry a lot of men teams ! (See below...)
The solos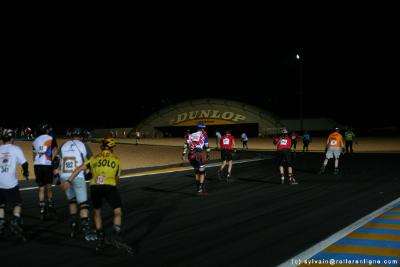 They were not under the spotlights but nearly sixty skaters tried to complete the 24 Hours alone.
Congratulations to Jean-Marc "Gold JM" Goldenberg who took the victory at the age of 52. He made 112 laps (468,16 km)!
Behind him, the others deserve respect. Sylvain made 104 laps, under his initial goal of 110. Like all solos, he struggled against the bad weather during the night and suffered from injuries to his feet.
We have a thought for "Litteul" and his coach Yves Alain who did not succeed in this 24 Hours and quitted...
A few figures
200: This is exactly the number of laps made by the nine skaters of the LSC-Oligosanté team. It represents 836 km and an average speed of 34,74 km/h.

677,16: This is the number of kilometers made by the ten girls of the PUC-Speedy Girls team. It represents 162 laps... more than the first men team who won the race in 2000!

573: This is the number of ranked teams and solos during this edition of the 24 Hours of Le Mans 2007. It includes corporate teams, student teams, master teams, etc.

373: This is the place of the first solo skater in the general ranking: Jean-Marc Goldenberg made 112 laps with an average speed of 19,49 km/h. 468,16 km!

6'08 et 7'15: These numbers are the records per lap on the Bugatti circuit. The first lap on a dry surface and the second on a wet. For girls, best laps are 7'32 et 8'55.