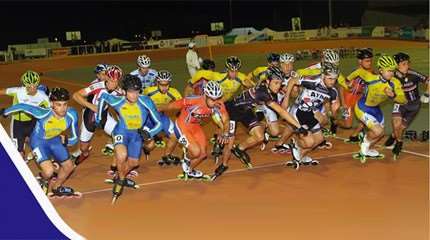 A spanking new track
The organization of the 12th Terras do Infante International Tournament benefited from the renovation of its speed skating track. It has now a beautiful Vesmaco coating, meeting the international standards.
Forces involved
With its brand-new Vesmaco track, the event gathered 355 skaters from 10 different countries: Spain, France, Belgium, Austria, Poland, Germany, England, Netherlands, Mexico and Portugal.
Teams for Powerslide, Bont, Luigino and Cadomotus made the trip. Despite the intermittent rain, the races could unfold in good conditions.
The European Speed Skating Committee came to observe and may integrate the competition to the 2016 schedule of the European Speed Skating Cup.
Main results

Senior Men
The skaters of the local club and the Bont Team put on the show in the senior men's category, especially Martyn Dias and Diogo Mareiros. They won the 500 m race, the 10 km point race, the 10 km point/elimination race and ended up 2nd at the 1.000 km race.
French Joris Garderes (Valence Roller Sports, France) also did good feats in taking the 3rd place, like in 2014. Felix Rijhnen (Powerslide, Germany) finished 4th and Mark Horsten (Luigino, Netherlands) 5th.
Let's also note the participation of Jan Blokhuijsen, crowned ice skating Olympic Champion at the 2014 Sotchi games.
Senior Women
In the senior women's category, German Katharina Rumpus (Powerslide) got the victory. She imposed herself on the 1.000 km and the 10 km point/elimination races before taking the 2nd place at the 500 m race. She got ahead of her compatriot and team mate, Sabine Berg. Clémence Halbout (2 APN Avon 77, France) finished 3rd at the general ranking.
Local Andreia Canha ended up at the foot of the podium. Juliette Pouydebat (Pibrac RS, France) took the 5th place.
Seniors B / Master Men
1. Alipio Silva - C.D.R. Santanense
Senior B / Master Women
1. Arantxa Ramos - à Rivas in-gravity
Junior A Men
1. Nuno Pacheco - Roller Lagos CP
Junior A Women
1. Daniela Gonzalez - État de Mexico
Junior B Men
1. Miguel Bravo - CD Escola international Algarve
Junior A Women
1. Daniela Rodrigues - C.D.R. Prazeres
Cadets
1. Mario Montero - à Rivas-gravity
Cadettes
1. Laura Nagiler - CDEscola international Algarve
Useful Links
Download the full results in pdf (3 Mo)
Our page dedicated to the event