Pic skate is a brand renowned brand in the world of artistic inline skating. Its Geneva model is popular. The American firm now offers a brand new and more powerful wheel: the Jazz.
Jazz Pic Skate wheels at a glance
Our opinion in brief
The Pic Skate Jazz is a truly excellent wheel that will delight demanding all-terrain skaters! This wheel can be used both indoors and outdoors, for competitive or spare-time practice. However, its price may slow down the enthusiasm of the most modest purses. One regret the lack of diversity in diameters.
Technical facts
Brand: Pic Skate
Model: Jazz
Year: 2021
Design: USA
Available diameters: J-1 Jazz (70mm) and J-2 Jazz (72mm)
Made in: ?
Material: polyuréthane
Profile: elliptical, almost round
Public price: $12 per wheel
Recommended use: indoor and outdoor artistic skating
Strengths and weaknesses
Excellent grip

Quality of the materials

Rebound

Durability

Versatility on any floor
Only 2 diameters available

Really expensive

Its flashy color does not fit with a lot of competition costums

No hardness specification displayed on the PU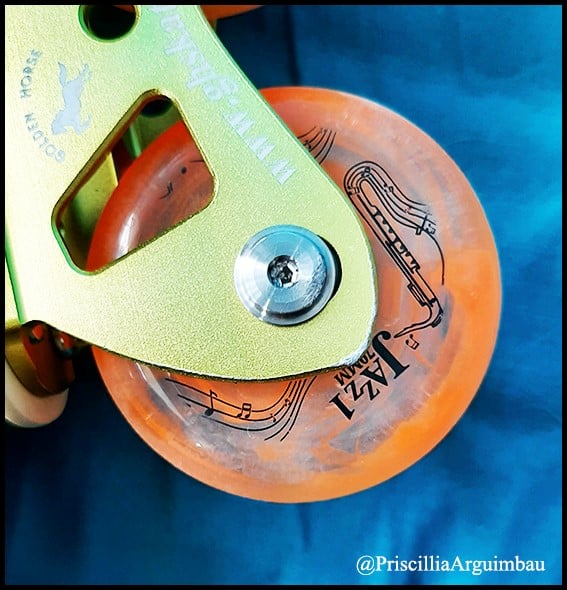 The discipline is booming and the growing demand for ever more efficient equipment is forcing companies to stand out.
It is important to remind that Pic Skate has 2 wheel models:
The Geneva, with an elliptical profile, in 68mm only. It is a solid core wheel. It was designed for the 5th World Open inline in Geneva. Its hardness is unknown and kept as a secret by the company.
The axel, with an elliptical profile, only 70mm and 83A hardness. It has a hollow core. It is a wheel that is widely used indoors and for beginners.
Characteristic of the JAZZ wheel
The Jazz has a rounder profile than the other two models, but is still an elliptical model. It has 80% elasticity. The brand describes it as an extremely durable wheel, offering superior grip and rebound when landing jumps. It is effective on both exterior and interior floors. It only exists in 70 and 72mm. Its composition is kept secret by the company.
It can be found around 12 euros per wheel, which makes it a very expensive wheel compared to other models and brands.
Test sur le terrain
On wooden floor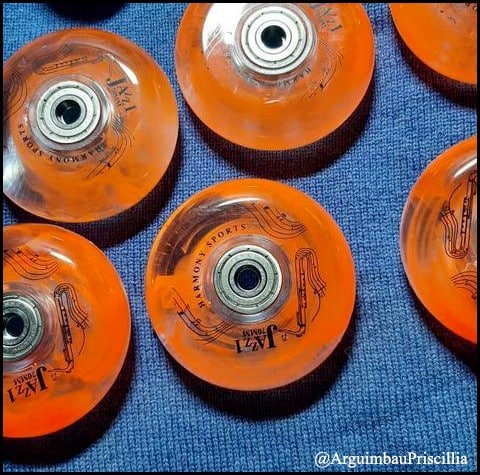 The grip is incredible, being used to skating in 84A or even 82A, the Jazz has more grip. However, this slows down the skating. The wheel grips more, without too much softness. Driving is pleasant. It gives confidence on the edge, especially on edge jumps and landing. It is therefore a little less responsive on turns and a little slower on spins, but that was expected. It will therefore be very interesting to cross it with greater rigidity at the front, for example.
On concrete / exterior cement
As expected, the grip is even more important on an uneven surface such as concrete. The skating is slowed down quite a bit, but still comfortable. The spins are all the more difficult, but doable. We are however very pleasantly surprised by the quality of the materials used: the Jazz is indeed very resistant to abrasive surfaces and absorbs shocks and road irregularities very well (which will be less the case with a wheel of greater hardness. ). Its wear is even and the wheel does not crack as it can on a softer wheel.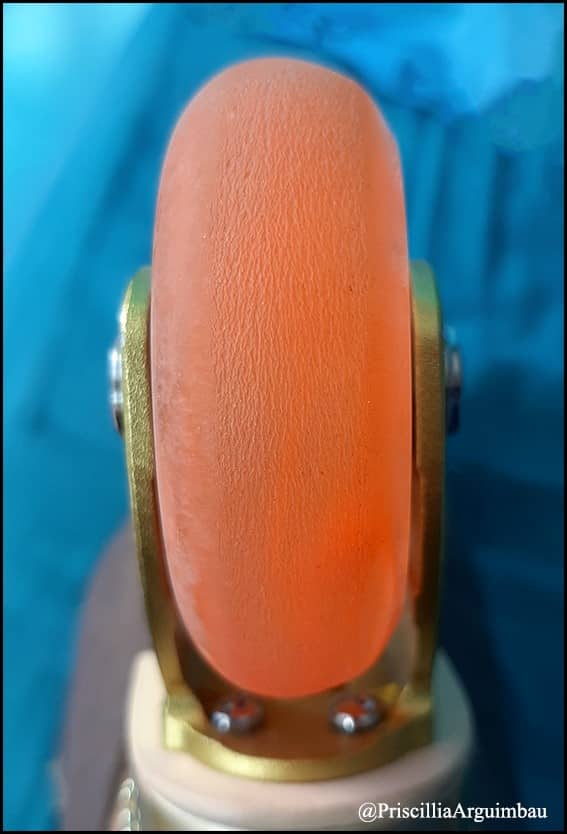 Links