One Hour Record: the attempt of Felix Rijhnen and Mareike Thum in Geisingen (Germany)
05 July 2020 9:00 am - 05 July 2020 7:00 pm Geisingen
Trophies & international competitions
Trophies & international competitions
Inline speed-skating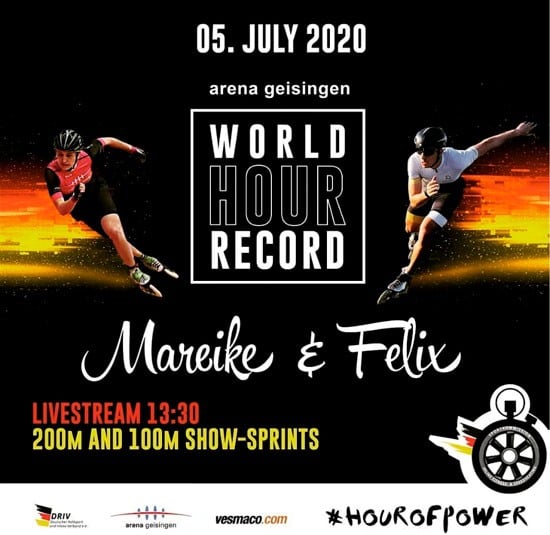 On July 2020, 5th, Felix Rijhnen and Mareike Thum (Germany) will try to beat the record of the hour on the indoor track of Geisingen (Germany). Both skaters prepared this attempt during confinment.
Partners of the event
The organiaation of this attempt is possible thanks to the DRIV (German Federation of Inline and Roller Skating), the International federation (World Skate), and also some sponsors such as Vesmaco which will live broadcast the event on Youtube. Powerslide provide the equipment to Felix Rihjnen, Mareike Thum was sponsored by another brand.
Schedule
The day will be punctuated by record attempts on the 100m and a free lap session. A total of seven athletes will skate individually on the track during the day.
Live
SPEEDSKATING-WORLD-HOUR-RECORD-ATEMPT from filstalwelle on Vimeo.
Location of the event
Arena Geisingen

Am Espen 16, 78187 Geisingen, Germany
Aucune actualité associée.
Le classement des nations
Schedule
12:00 - Opening arena
12:30 - Warm Up
13:20 - Start Live-Stream
13:30 - 100 m Sprint Lichtschrankenstart
13:45 - Warm Up Mareike
14:00 - Start Mareike
15:00 - Finish Mareike
15:10 - 200 m Dobbinsprint
15:20 - Warm Up Felix
15:30 - Start Felix
16:30 - Finish Felix
16:35 - Interview
16:45 - End of Live-Stream
Auteur