The main principles of cross training for skating
Lots of us make the mistake of only skating for their training… Yet, skating is not just about gaining more endurance or a better technique. You should find the right balance according to your discipline. And other sports may prove to be useful…
A multitude of practices with their own special features.
Skating is a technical, physical and even aesthetical sport which is very demanding for physical and motor capacities, according to the disciplines. Fitness, speed, hockey, rink-hockey, downhill, aggressive or jam skating are as many facets of skating, with an extraordinary diversity of sensations, whether you are a beginner or a hardcore skater.
A perfect sport for cross training
When you practice a sport at a good level, practicing a second activity in parallel is important: it is more commonly called 'cross training'. Indeed, there are possibilities of transfer (both at a physical and at a motor level) from one discipline to another.
When you practice trail sports for example, your joints pressures and the muscle loads are heavy with high impacts and frequently lead to injuries, which can be avoided in practicing a second cardio-training sport with low impact such as hybrid cycling, swimming, cross-country skiing and also skating. The latter enables, if practiced with ease, to gain in agility and to work on endurance while offering active recovery.
Thus, famous runner Steve Plasencia very often practices skating to train before a race.
A training methodology that is more and more widespread
Cross training is an old strategy that has been well integrated by most of today's trainers. It has become an indispensable component of modern training methods. Just like Molière's Middle-Class Gentleman who speaks in prose without knowing it, lots of us probably do cross training without realizing it!
Each sport discipline has special inputs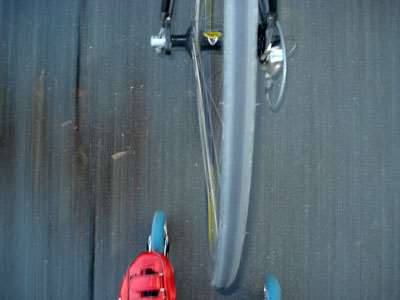 Several practices may thus be complementary to improve in several fieds at the same time: motor coordination, strength, endurance, resistance, mindset…
Another advantage: the change of activity reduces monotony and the risks of injury in being too demanding for a muscle group.
Some sports like running target more your cardiopulmonary system than skating. Cross-country skiing too, as it puts a good number of muscle groups at work. They are thus perfect for physical workout.
The principle is then to use the specifics of a secondary discipline to improve in your main discipline.
A few concrete examples in the world of skating:
A speed slalom skater can work on his starts just like a speed skater
A speed skater can work on one foot just like in freestyle or speed slalom to improve his edge shifts
A hockey player can skate backwards just like a slalom skater or do races to improve his physical condition
A speed skater specialized in sprints can do jumps to improve his tonicity
A freestyle slalom skater can do artistic skating to work on the weightbearing changes, his balance, increase his trick panel…
A downhill skater can to speed skating to improve his resistance
A speed skater can do downhill to improve his trajectories and lines
A speed skater can do finess skating to recover from a lactic session
Etc.
Body building: A transversal practice that is useful for all sports
Other activities such as body-building enable to work specifically on a muscle group to then improve your skating performance. Body-building is useful in most sports. You can work on resistance, strength, or explosivity according to what you want to improve.
The inputs of cycling for speed skating according to Vincent Esnault
When you practice cycling to assist speed skating, several degrees come into consideration:
The physical degree
Skating is a weightbearing sport and therefore, it is very physical. You can never rest, or almost (excepted if you have the opportunity to freewheel). Thus you can get tired quite quickly. On the other hand, road cycling enables several loosening positions (the bodyweight is also supported by the saddle and the handlebar). Consequently and in theory, you can do more kilometers more easily.
The spare wheel
Figuratively of course, road cycling is a good replacement and/or substitution sport. Most of the time, races are over 80km (100km on average). The average speeds are 40kph in competition (i.e. The same as speeds in marathons). The packs and tactics are very similar to those of skating too.
Conclusion: if you have a free weekend and you are training for an important skating marathon, registering for a cycle race is not that bad an idea… It will prevent you from cogitating too much at home (except if the cycle race went wrong) and enable you to maintain your level (in other words, to be competitive).
The spare wheel (bis)
When it is rainy, taking your skates out is not always easy. On the other hand you can still go for a road cycling session (provided that you are noticeable enough for cars, obviously). Cleaning the bike takes some time but at winter time you can overlook it two or three times in a row…
The evasion aspect
Not to be neglected when you practice speed skating. You tend to go round in circles on skates, whether on track or on a road track. Road cycling offers great straight lines, varied landscapes, discoveries of small villlages… It is tougher during winter (it is almost impossible to get warm… you fingers and toes get numb). It is ideal in summer (with a fresh breeze in your face). All in all, practicing road cycling is a good means to break with monotony and habits.
For all these reasons, and maybe others too, I think that indeed, road cycling is a good complementary sport for speed skating. Paradoxically, I started road cycling to refine my physical condition on marathons (in the early 2000's, the pros would skate the circuits of the WIC and the SIC every weekend, a solution of substitution had to be found). But quickly I realized that it was the other way around: skating would provide more to cycling than cycling to skating. Indeed we work a lot on our power, pushes and strides, on changes of rhythm on skates, which is not always the case of cyclists. And taking part in road cycle races made me more confident for skating marathons: I could compensate the technique that I lacked with my physical condition.
Each one of these aspects works only in the framework of a training dedicated for long distance skating, in the style of marathons. Road cycling is not very appropriate to assist a sprint training, even a track training. In those cases, cycling directly on track is more recommended.
Skating: a future Olympic discipline?
Just like BMX which is an Olympic discipline since 2008, everything leads to believe that skating, which is also very technical, could legitimally find its place to compete along with the big boys. However, it was ruled out from the 2012 Olympics in London. But hope still lingers: the wonderful discipline of skating may enter the next games…
Useful links
By Alfathor
Translation: Chloé Seyres
Photos: all rights reserved
Auteur