Stopping: Off-piste
In case you'd have to stop in a panic, you'd better be prepared for all eventualities! You will learn in this article that off-piste is not just destined for skiing in the powdery snow, but that it can prove to be very helpful in case of emergency: a poodle crossing, a family on their Sunday ride or stroll, and others. Why not having a go at it on skates?
Stopping off-road
You are regularly surprised by an obstacle on your way while you're at full speed and you have no choice but finding an alternate solution to the track or the road to stop.
Once upon a time…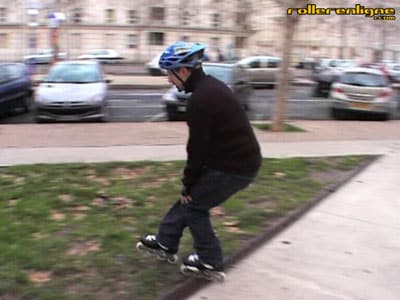 Imagine you on a sunny Sunday of May, happy-go-lucky skating towards the nearest "green track" from home. In the distance, you catch sight of the umpteenth family nonchalantly strolling along your way. They see you. They part the best they can and you're about to thank them when their beloved pet decides to go and sniff the garbage bin on the other side of the path. Its telescopic leash being in daddy's bag, the doggy shoots off and cuts in on you.
What next? What if you tried that double back flip learnt the previous day at the gym's? Bad idea, the poor thing may suffer as a result…
You're desperately seeking for another alternative as the distance from the dog gets shorter and shorter with your lemur skating strides.
Resigned, you throw a glance at the wayside. The lush grass looks more welcoming and saving for your body than the asphalt. But are you going to collapse lamely, head first, mowing the grass with your front teeth, becoming the laughing stock of the passers-by in their Sunday's best? Why not trying to save face in showing how easy you are with your undersize wheels?
Here are a couple of tips to be "all-terrain" without having the suitable equipment. Grass is calling you. Get out of the track, staggered feet, without giving a push, and run in the grass as fast as you can. Moreover in case you fall, grass is still better than asphalt!
Steps to follow
Arrive at good speed,
Stagger your feet,
Bend slightly,
Your body weight on your heels,
Lift the toe of your front foot, and roll on the heel (of the front foot) to get ready entering the grass.
The grass is going to cause a huge deceleration, contract your core muscles to keep your balance.
Entering the grass, you are going to lose your speed in a few meters, which can lead you to run with your skates on if the surface is too soft.
You can run just as if you were off-skates or you can try to run with your feet open, if the surface doesn't slow you down much.
You are going to lose your speed progressively.
You have stopped; you can now mentally thank the grass and hug it.
If the surface enables you to roll, you can let yourself roll and loose speed without having to run.
Variation
If you want to go through the surface and go back to hard ground – when it's possible, let yourself roll, staggered feet, following the same principle.
For the process to be successful, the ground needs to be hard enough, generally more earth than grass. Your bodyweight should be on your heels.
Useful links
Video: Off-piste stop (DailyMotion)
T Stop (French)
Stop with break (French)
Stop with street furniture (French)
Text: Alfathor
Translated by Chloé Seyres
Photos: Christophe
Vidéo: Alfathor and Matthieu Mourey
Auteur