Muscle Strengthening with Yann Guyader 07: Arm moves
Your legs hurt? Alright, let's have a little break with the lower limbs to focus for a few minutes on the upper limbs' technique. Speed Skating World Champion Yann Guyader gives us tips for a good arm position in speed skating…
Improving your arms position
Rotating an arm completely modifies the position of your shoulders, and consequently that of your whole body. You should be particularly careful about your arms position.
For a good execution of the drill
In a basic skating stance
Start bent with your hand in front of your face
Your arm gradually stretches out backwards
Once in the back, your arm is straight and in the axis
Variation
Series of leaps in a skating stance with synchronized arms. Take a look at the second part of the video.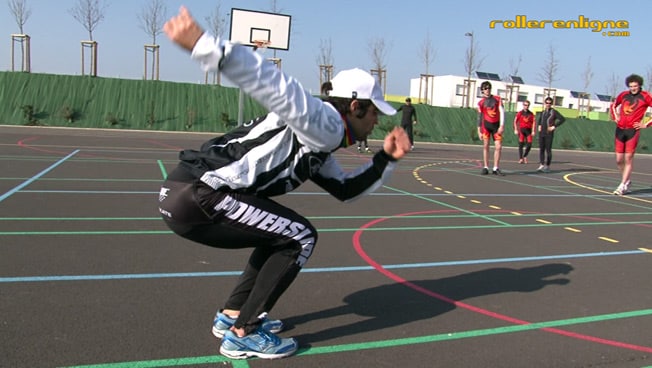 Useful links
#01 Keeping the skating stance
#02 Reinforcing the push phase
#03 Bringing the leg back after the push
#09 Bringing the skate back with tonicity
#12 Static cross-overs with straight leg
#13 Lateral leaps with progressive forwards motion
#14 Muscle reinforcement – General conclusion
By Alfathor
Photos: Alfathor
Thanks to Yann Guyader and Bio Rider Nature
Translation: Chloe Seyres
Auteur