How to make a pass in Roller Hockey
Making passes is one of the key ingredients of a Roller Hockey game. It is part of the basic principles of the discipline. Roller Hockey Concept gives us tips to make successful passes in the best conditions…
Explanation
Making a pass consists in passing the puck from one player to another. A pass should create a game action leading a team to score a goal, that's the principle of team sports.
The objective of a pass is to get the receiving partner into the best conditions in order to enable them to follow the action, in the direction of gameplay, but also to take a shot, make a new pass or exit/enter the zone…
Before making the pass, the player must be aware of the collective team situation: entering or exiting the zone, flying change, 3 on 2 or 2 on 1 situation…
Then the player who owns the puck must lift their head in order to analyze the information around them, make a decision and make the pass.
There are several types of passes:
the sweep pass
the slapshot
the backhand pass
Holding your stick right
The placing of your hands depends on your side.
If you are left-handed, your right hand is placed on the upper part of the stick while your left hand is at arm length and/or shoulder width… and conversely if you are right-handed.
In order to make sure you have the right position for your lower hand on the stick:
Place your hand on top of the stick
Put your elbow on the glove
Stretch your arm along the stick
Once your arm stretched, keep that distance to place your second hand.
How to make a successful pass?
Place your feet parallel and at shoulder width. Try to create an imaginary line so that you can make a pass to your team mate, either in motion or at a standstill. Your hands should be correctly placed in order to give power to your move.
The stick blade plays an important part as it is going to guide the movement of the puck in covering it. The finishing of the gesture is essential: guide the end of the blade towards the target.
Just as mentioned above, there are several types of passes according to the circumstances:
The sweep pass is the fastest and the more precise
The slapshot is a whip of the wrists, which enables to lift the puck more easily
The backhand pass is less commonly used because it is hard to make. It has less power and less precision but can resolve some game situations in springing a surprise.
Mistakes to avoid
Do not hit the puck, but push it in guiding it forwards
Do not turn your shoulders towards the target
Do not finish your movement with the stick.
Recap
Power

Precision

Amplitude and
preparation time

Distance from
the opposing goal

Surprise
effect

Sweep pass

Good
+++

Very good
++++

Long

Mid-distance (8 to 12m)

Average

Backhand pass

Average
++

Average
++

Fast

Close (1 to 4 m)

Very good

Slapshot

Very good
++++

Good
+++

Long

Far (over 10 m)

Average
Useful links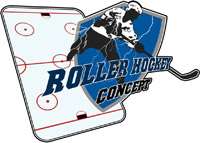 Forward skating with a hockey stick
The basic stance and the holding of the hockey stick
Official Web Site of Roller Hockey Concept
Facebook page of Roller Hockey Concept
Text and photos : Jérémy Defossez
Translation: Chloe Seyres
(Roller Hockey Concept)
Auteur