Going down a hill carefully on your skates
Going down a hill at full speed with inline-skates can be a real pleasure or a perfect nightmare depending on your skating level and your self control. Downhill pushes the riders to his own technical and physical limits. Here are some advises to improve your skills and to go down a hill securely…
Check-list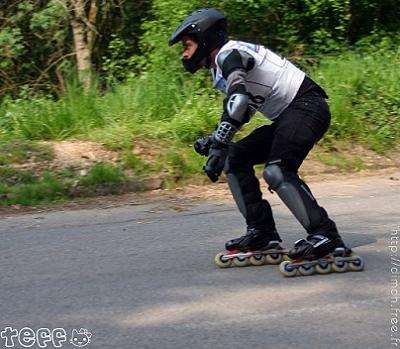 Downhill's speed can be exciting… if you control your skates and if you are confident. The skate has to keep and good speed and a good control at the same time.
The hills must be taken with precautions. Except if you have suicidal tendencies, you can't go down a hill without checking a few thinks.
Evaluate your level
In most cases, beginners like the new feeling of gaining speed. A lot of people reach an excessive speed without even knowing how to break correctly!
Respect the different steps : work your balance, your bends and your braking.
These are the base of skating which are absolutely needed in downhill. After that, do not push the limits and go steadily.
Choose a hill which suit to your level
Every time you learn something, the difficulty level must be optimal and not maximal. The difficulty has to increase gradually. In a first time, you can practise in smooth hills with wide straight roads. A flat zone or a uphill at the end of your ride allows you to slow down safely.
The ground must be dry and clean. The surface must be smooth and have a good quality to train in the best conditions.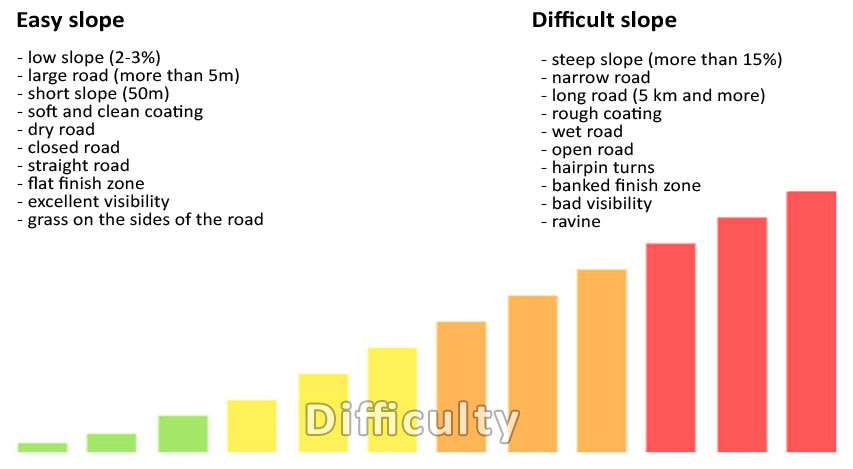 Control your speed and excitement
Adrenalin and excitement make you go faster, even the experienced riders, and unable to control the speed. If you are too confident, it can be very dangerous because the speed makes any usual move harder at high speed. You have less time to check the situation and find the right solution.
Too much speed and not enough confidence can also cause "wobble" : the skates start to vibrate and you lose control.
Breaking method
If only one breaking method can be enough, the best option is to control other breaking methods. The advantage is to prevent from being tired and to face any problem.
The best breaking methods (except sliding method) are T-brake and heel stops.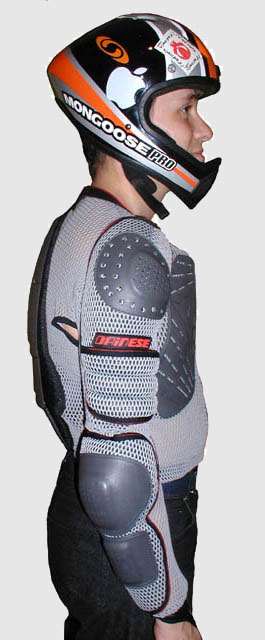 Wear a complete pack of protections
Protections are really necessary when you practise downhill inline-skating. A full equipment is highly recommended : integral helmet, elbow-guards, wrist-guards, knee guards, gloves, back protection and crash pad.
Avoid at all cost a simple t-shirt, prefer a sweat-shirt or a leather jacket. Furthermore, a Jean is better than a simple short.
Check your material
Before going down a hill, you have to make a real technical control on your skates.
– check the clamping of your axles and frames,
– check the good state of your heel stop (if you have one),
– check the good state of your wheels (if the wear is too important, the wheels have less grip and can become dangerous),
– check the state of your boots,
– check your boot's screwing systems
High level skaters often use at least one new set of wheels during competitions.
Vibration caused by the speed could unscrewed some parts of your skates (especially frames and wheels). It is necessary to check your material before each practice. If you know that you can count on your skate, your spirit will be more free!
Prefere a hard boot than another type of boot
To practise downhill in good security conditions, you need a hard boot which confers a maximum of control.
In the same way, 5 wheels frames are better than 4 wheels frames due to the size of the frames which offer a better stability.
Increase your stability
To be more stable, you have to trust in your skates. Pay attention to screw your boots well.
Anticipation
You have to prevent any danger before it happens! You are faster and that is the reason why your breaking distances increase. Do not hesitate to break more than needed.
Links
How to Handle a High Speed Descent (Inline Planet)
Alexandre Lebrun is a french downhill skater. He finished at the 3rd place of the 2008 World Cup. Alex lives in Lyon (France) and belongs to the"Lyon Riders" Association.
Text : Alexandre Lebrun (Rollo)
Photos : Teff & Tigre'Roue
Auteur