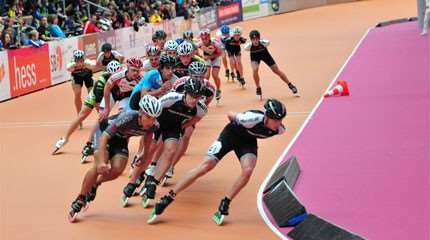 Results of the weekend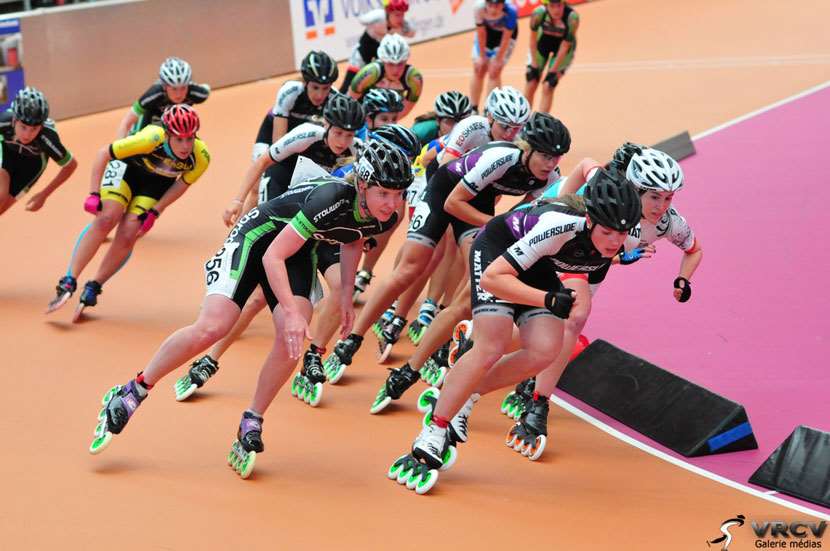 Rules reminder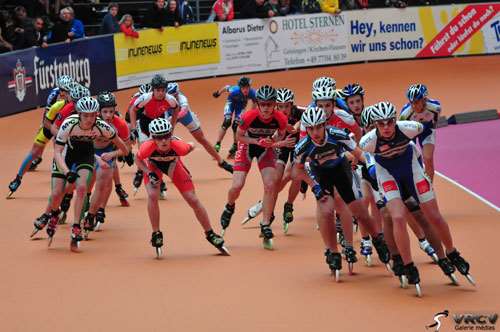 The skaters are ranked on a total of four races (two distance long distance races and two sprints):
200m sprint
500m sprint
10K point race
10K Women or 15K Men elimination race
The winner get one point, the second gets two points, the third three points, etc. The skater with the fewest points wins the overall.
Manon Kamminga: most versatile skater of the weekend
In the senior women category, the Dutch Manon Kamminga (Matter Powerslide Racing) got the best in the overall classification.
She showed a great regularity, finishing 3rd and 5th of sprint races, winning the point race and taking the 4th place of the elimination race. Always in top 5!
She beat her teammate Katharina Rumpus (Powerslide Matter Racing) who finished second twice in a row in point and elimination races.
Despite her first place in the 200 m, the Italian World Champion Erika Zanetti got the 10th place of the overall ranking. Same scenario for Solymar Vivas (Venezuela) who finished first in the 500m and 12th overall.
Bart Swings: an almost perfect weekend
In the men's rankings, we can say that the Belgian dominated the competition! If Bart Swings (Powerslide Matter Racing) has not been very sharp in 2012, he seems to start the year 2013 in excellent conditions. The ice traingin during the winter season seems good!
Bart did an almost perfect weekend. He won the 10,000 m point race, the 500 m and 15 km eliminations. He "just" got a third place in the 200m. With only 6 points to his credit, he is far above the second skater, the French Alexis Contin (Bont Geisingen Arena Team) who was also on the ice this winter. The German Felix Rijhnen (Matter Powerslide Racing) is only one point behind Alexis Contin.
The third place was played to four points, for three skaters. The Italian World Champion Fabio Francolini (EO Skates World Team) got the worst place (4th) ahead of his teammate Giacomo Cuncu (EOSkates World Team).
Next stage of the European Inline Cup: from 26 to 28 April in Gross-Gerau. Stay tuned on OLS thanks to the live broadcast!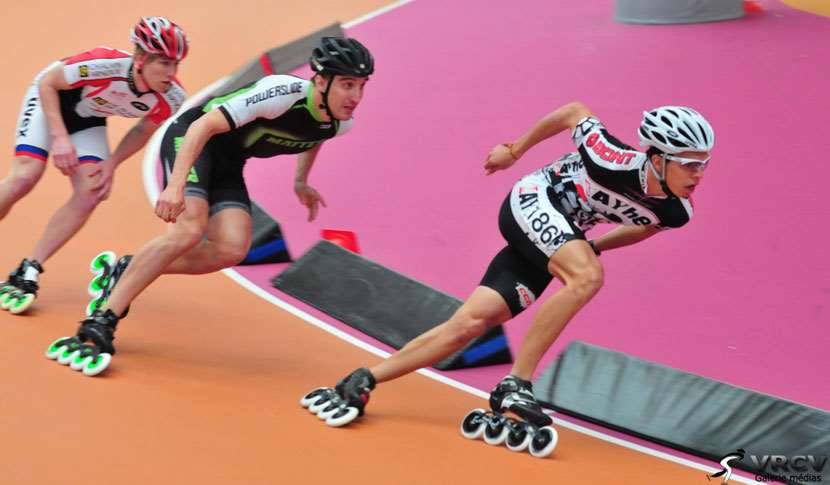 Main results
Senior Women - 10000m points
Pos.
Firstname
Lastname
Nation
Team
Time
1)
Manon
Kamminga
NED
Powerslide Matter Racing
15:55,624
2)
Katharina
Rumpus
GER
Powerslide Matter Racing
15:56,977
3)
Bianca
Roosenboom
NED
Team Sprog
15:55,516
4)
Melisa
Bonnet
ARG
Argentina National Team
15:57,238
5)
Mareike
Thum
GER
ERSG Darmstadt
16:02,377
6)
Karla
Parada
VEN
venezuela
16:03,727
7)
Elma
De Vries
NED
Team Sprog
16:10,763
8)
Juliette
Pouydebat
FRA
EOSkates World Team
16:02,611
9)
Sabine
Berg
GER
Powerslide Matter Racing
15:57,076
10)
Rocio
Berbelt Alt
ARG
Argentina National Team
16:04,962
11)
Lena
Labat
FRA
Pibracroller skating
15:57,999
12)
Renata
Karabova
SVK
RKIC
16:04,300
13)
Nadja
Wenger
SUI
GB Racing Team
16:06,433
14)
Martina
Paciolla
ITA
Asd Pattinatori San Mauro
16:07,240
15)
Lisanne
Buurman
NED
sprog team
16:11,706
16)
Ysia
Clausses
FRA
Pibrac roller skating
17)
Jana
Gegner
GER
EOSkates World Team
18)
Jessica
Gaudesaboos
BEL
EOSkates World Team
19)
Erika
Zanetti
ITA
Powerslide Matter Racing
20)
Laethisia
Schimek
GER
Powerslide Matter Racing
200m Dobbin Sprint - Senior Women
Pos.
Firstname
Lastname
Nation
Club
Time
1)
Erika
Zanetti
ITA
Powerslide Matter Racing
15,441
2)
Solymar
Vivas
VEN
Team Venezuela
15,456
3)
Manon
Kamminga
NED
Powerslide Matter Racing
15,493
4)
Rocio
Berbelt Alt
ARG
ARG National Team
15,541
5)
Jana
Gegner
GER
EOSkates World Team
15,669
6)
Laethisia
Schimek
GER
Powerslide Matter Racing
15,756(V)
7)
Mareike
Thum
GER
ERSG Darmstadt
15,918(V)
8)
Katharina
Rumpus
GER
Powerslide Matter Racing
16,033(V)
9)
Sabine
Berg
GER
Powerslide Matter Racing
16,336(V)
10)
Melisa
Bonnet
ARG
Argentina National Team
16,339(V)
11)
Bianca
Roosenboom
NED
Team Sprog
16,398(V)
12)
Hanne
Wouters
BEL
RSC Heverlee
16,438(V)
13)
Juliette
Pouydebat
FRA
EOSkates World Team
16,492(V)
14)
Anke
Vos
BEL
Reko Roller Club Zemst
16,526(V)
15)
Mandy
Groot
NED
van Lingen skeelers
16,601(V)
16)
Chiara
Vio
ITA
ADHP Gruppo Cosmo Noale
16,718(V)
17)
Ysia
Clausses
FRA
Pibrac roller skating
16,728(V)
18)
Lisanne
Buurman
NED
sprog team
16,751(V)
19)
Martina
Paciolla
ITA
Asd Pattinatori San Mauro
16,826(V)
20)
Pauline
Combes
FRA
Pibrac Roller Skating
16,950(V)
500m - Senior Women
Pos.
Firstname
Lastname
Nation
Club
Time
1)
Solymar
Vivas
VEN
Team Venezuela
44,164
2)
Erika
Zanetti
ITA
Powerslide Matter Racing
44,372
3)
Jana
Gegner
GER
EOSkates World Team
44,580
4)
Laethisia
Schimek
GER
Powerslide Matter Racing
44,598
5)
Manon
Kamminga
NED
Powerslide Matter Racing
43,208(H)
6)
Katharina
Rumpus
GER
Powerslide Matter Racing
43,995(H)
7)
Rocio
Berbelt Alt
ARG
Argentina National Team
43,471(H)
8)
Mareike
Thum
GER
ERSG Darmstadt
44,099(H)
9)
Melissa
Bonnet
ARG
Argentina National Team
43,725(Z)
10)
Sabine
Berg
GER
Powerslide Matter Racing
44,752(Z)
11)
Bianca
Roosenboom
NED
Team Sprog
44,860(Z)
12)
Juliette
Pouydebat
FRA
EOSkates World Team
44,951(Z)
13)
Karla
Parada
VEN
venezuela
44,933(Z)
14)
Martina
Paciolla
ITA
Asd Pattinatori San Mauro
44,988(Z)
15)
Mandy
Groot
NED
van Lingen skeelers
45,043(Z)
16)
Ysia
Clausses
FRA
Pibrac roller skating
48,071(Z)
17)
Anke
Vos
BEL
Reko Roller Club Zemst
44,995(V)
18)
Jessica
Gaudesaboos
BEL
EOSkates World Team
45,563(V)
19)
Lisanne
Buurman
NED
sprog team
45,843(V)
20)
Renata
Karabova
SVK
RKIC
45,903(V)
10000m elimination - Senior Women
Pos.
Lastname
Firstname
Nation
Club
Time
1)
Berg
Sabine
GER
Powerslide Matter Racing
15:37,238
2)
Rumpus
Katharina
GER
Powerslide Matter Racing
15:37,241
3)
Bonnet
Melisa
ARG
Argentina National Team
15:37,439
4)
Kamminga
Manon
NED
Powerslide Matter Racing
15:37,489
5)
Thum
Mareike
GER
ERSG Darmstadt
15:50,497
6)
Parada
Karla
VEN
Venezuela
7)
Roosenboom
Bianca
NED
Team Sprog
8)
De Vries
Elma
NED
Team Sprog
9)
Labat
Lena
FRA
Pibracroller skating
10)
Pouydebat
Juliette
FRA
EOSkates World Team
11)
Wenger
Nadja
SUI
GB Racing Team
12)
Clausses
Ysia
FRA
Pibrac roller skating
13)
Karabova
Renata
SVK
RKIC
14)
Groot
Mandy
NED
van Lingen skeelers
15)
Heim
Flurina
SUI
GB Racingteam
16)
Paciolla
Martina
ITA
Asd Pattinatori San Mauro
17)
Buurman
Lisanne
NED
sprog team
18)
Gaudesaboos
Jessica
BEL
EOSkates World Team
19)
Westenbroek
Ria
NED
SV Utrecht SkateDump
20)
Combes
Pauline
FRA
Pibrac Roller Skating
10000 m points - Senior men
Pos.
Firstname
Lastname
Nation
Club
Time
1)
Bart
Swings
BEL
Powerslide Matter Racing
14:09,059
2)
Fabio
Francolini
ITA
EOSkates World Team
14:09,272
3)
Maarten
Swings
BEL
Powerslide Matter Racing
14:12,526
4)
Ewen
Fernandez
FRA
Powerslide Matter Racing
14:24,427
5)
Alexis
Contin
FRA
Bont arena geisingen team
14:24,716
6)
Alexander
Bastidas
VEN
Team Venezuela
14:25,517
7)
Felix
Rijhnen
GER
Powerslide Matter Racing
14:25,881
8)
Giacomo
Cuncu
GER
EOSkates World Team
14:25,938
9)
Nolan
Beddiaf
FRA
EOSkates World Team
14:26,557
10)
Simon
Liao
TPE
.N.A.
14:27,178
11)
Jore
Van Den Berghe
BEL
Powerslide Matter Racing
14:28,313
12)
Ferre
Spruyt
BEL
Powerslide Matter Racing
14:28,371
13)
Wouter
Meulders
BEL
Chauvin Arnoux
14:28,373
14)
Victor
Wilking
GER
EOSkates World Team
14:29,819
15)
Livio
Wenger
SUI
Powerslide Matter Racing
14:32,127
16)
Yann
Guyader
FRA
EOSkates World Team
14:32,442
17)
Camilo
Acosta
COL
bont arena geisingen team
14:37,821
18)
Elio
Cuncu
ITA
EOSkates World Team
19)
Joris
Garderes
FRA
RPM POLI
20)
Sam
Evans
AUS
SS
200m Dobbin Sprint - Senior Men
Pos.
Firstname
Lastname
Nation
Club
Time
1)
Andrea
Angeletti
ITA
Dugeco team
14,217
2)
Ioseba
Ferandez
ESP
Flyke
14,230
3)
Bart
Swings
BEL
Powerslide Matter Racing
14,308
4)
Gwendal
Le Pivert
FRA
Bont arena geisingen team
14,325
5)
Livio
Wenger
SUI
Powerslide Matter Racing
14,371
6)
Camilo
Acosta
COL
bont arena geisingen team
14,429
7)
Matthias
Schwierz
GER
bont arena geisingen team
14,433
8)
Juan Cruz
Araldi
ARG
Argentina National Team
14,447
9)
Nicolas
Pelloquin
FRA
EOSkates World Team
14,469
10)
Etienne
Ramali
GER
Powerslide Matter Racing
14,562
11)
Jore
Van Den Berghe
BEL
Powerslide Matter Racing
14,532(V)
12)
Niels
Provoost
BEL
Zwaantjes Roller Club
14,606(V)
13)
Michel
Mulder
NED
Powerslide Matter Racing
14,624(V)
14)
Alexis
Contin
FRA
Bont arena geisingen team
14,636(V)
15)
Giacomo
Cuncu
GER
EOSkates World Team
14,691(V)
16)
Michael
Cheek
USA
Powerslide Matter USA
14,827(V)
17)
Fabio
Francolini
ITA
EOSkates World Team
14,890(V)
18)
Felix
Rijhnen
GER
Powerslide Matter Racing
14,906(V)
19)
Ferre
Spruyt
BEL
Powerslide Matter Racing
14,929(V)
20)
Nolan
Beddiaf
FRA
EOSkates World Team
14,930(V)
500m Sprint - Senior Men
Pos.
Firstname
Lastname
Nation
Club
Time
1)
Bart
Swings
BEL
Powerslide Matter Racing
39,646
2)
Andrea
Angeletti
ITA
Dugeco team
39,788
3)
Michel
Mulder
NED
Powerslide Matter Racing
39,816
4)
Ioseba
Ferandez
ESP
Flyke
DNS
5)
Camilo
Acosta
COL
bont arena geisingen team
39,617(H)
6)
Gwendal
Le Pivert
FRA
Bont arena geisingen team
40:00,559(H)
7)
Niels
Provoost
BEL
Zwaantjes Roller Club
39,967(H)
8)
Felix
Rijhnen
GER
Powerslide Matter Racing
43:00,929(H)
9)
Giacomo
Cuncu
GER
EOSkates World Team
40:00,104(Z)
10)
Nicolas
Pelloquin
FRA
EOSkates World Team
40:00,151(Z)
11)
Juan Cruz
Araldi
ARG
ARG National Team
40:00,657(Z)
12)
Maarten
Swings
BEL
Powerslide Matter Racing
41:00,876(Z)
13)
Alexis
Contin
FRA
Bont arena geisingen team
40:00,113(Z)
14)
Matthias
Schwierz
GER
bont arena geisingen team
40:00,318(Z)
15)
Ferre
Spruyt
BEL
Powerslide Matter Racing
40:00,739(Z)
16)
Joris
Garderes
FRA
RPM POLI
42:00,222(Z)
17)
Etienne
Ramali
GER
Powerslide Matter Racing
40:00,520(V)
18)
Jore
Van Den Berghe
BEL
Powerslide Matter Racing
40:00,969(V)
19)
Fabio
Francolini
ITA
EOSkates World Team
41:00,164(V)
20)
Simon
Liao
TPE
N.A.
41:00,188(V)
15000m elimination - Senior Men
No
Firstname
Lastname
Nation
Club
Time
1)
Bart
Swings
BEL
Powerslide Matter Racing
21:17,036
2)
Fabio
Francolini
ITA
EOSkates World Team
21:17,178
3)
Alexis
Contin
FRA
Bont arena geisingen team
21:17,669
4)
Felix
Rijhnen
GER
Powerslide Matter Racing
21:17,939
5)
Yann
Guyader
FRA
EOSkates World Team
21:28,122
6)
Alexander
Bastidas
VEN
Team Venezuela
7)
Ferre
Spruyt
BEL
Powerslide Matter Racing
8)
Giacomo
Cuncu
GER
EOSkates World Team
9)
Simon
Liao
TPE
N.A.
10)
Livio
Wenger
SUI
Powerslide Matter Racing
11)
Michael
Cheek
USA
Powerslide Matter USA
12)
Ewen
Fernandez
FRA
Powerslide Matter Racing
13)
Nolan
Beddiaf
FRA
EOSkates World Team
14)
Victor
Wilking
GER
EOSkates World Team
15)
Wouter
Meulders
BEL
Chauvin Arnoux
16)
Maarten
Swings
BEL
Powerslide Matter Racing
17)
Jore
Van Den Berghe
BEL
Powerslide Matter Racing
18)
Camilo
Acosta
COL
bont arena geisingen team
19)
Santiago
Roumec
ARG
ARG National Team
20)
Etienne
Ramali
GER
Powerslide Matter Racing
Links
Complete results and the list of registered skaters here
Photos of the first day of competition (VRCV)
Photos of the second day of competition (VRCV)
Video of 15km elimination race senior men
By Alfathor
Photo: VRCV