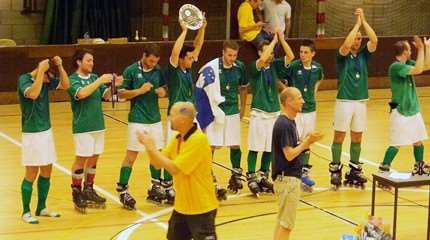 SAMO BAJECT, EUROPEAN ROLLER SOCCER CHAMPION
"Finally, we took that title!"

The ERSC tournament was held from the 6th to the 8th of May 2011 in Sportshall De Struijck in Zaandam, Amsterdam, approximately 10 or 15 minutes from city centre. "The place was ok. In particular, the wooden floor in the hall was great because it wasn't slippery at all and that suited our style of play. But the tournament wasn't set in some more crowded place to bring this sport even closer to the people: too bad!" explains Samo. Roller Soccer is not a recognized sport, and that is a pity. You deserve to develop real physical and technical skills to play this sport, which means that the players are real athletes. A game is short and intensive, and there is no room for approximation: a victory or a defeat can come sooner as you think!
No classico this time!
There were eight teams in competition for this tournament, from Italy (Cinghiali), Belgium (Shinobis), four teams from France (AMSCAS I and II, Epinay Sharks, Caen RS), the host's team RollerHolland, and of course the Rollera team that came to Amsterdam all the way from Slovenia. "As always, we do most "fear" the team from Marseille (AMSCAS) with which we usually do have duels that are toughest and take 120% from each one of us! This time, that wasn't the case and there was no "el classico" with the AMSCAS team as they surprisingly lost their battle earlier in the group phases and lost all their chances to qualify from their group up to semifinals." Anyway, the crowd of the Sportshall De Struijck enjoyed 32 games in two days of competition: a wonderful show!
32 games, that is a tough way! The Rollera Team had to compete five matches from the start of the tournament to the finale. You must be at your top level and in a good shape if you want to achieve this way successfully! How did they prepare for this championship? The Slovenian team is usually training all the winter through in a rented hall once a week. But the trainings were more intensive before the European championships. "For the last two months before the tournament, we took another place where we had trainings two times per week for 1/1,5 hour per training. The places we trained at were inline-hockey courts but we had our roller soccer goals" says Samo. There is no secret: this preparation can explain the successful course of the Rollera Team.
An intensive preparation offers a team serious options. But there is nothing stronger than an efficient support from fans and people around. As roller soccer is a minor sport, the Rollera Team had no more financial support than usual... Samo confesses: "we might have done a bit more and maybe try to convince some people or companies to give us a kind of support, but that is not an easy task." Moreover, there is no Federation in Slovenia yet. The team did it all by its own...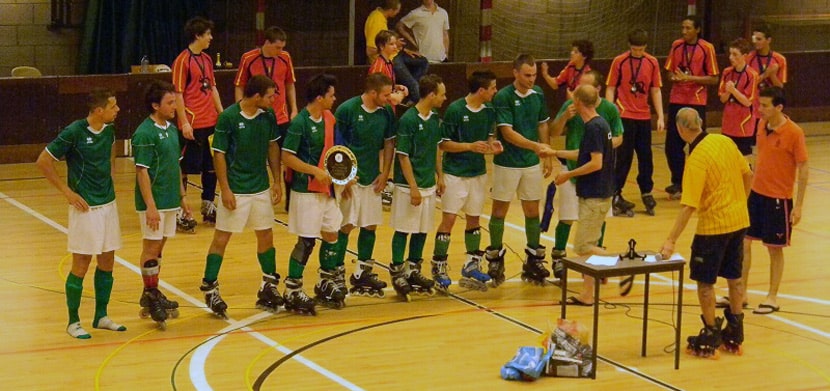 The tournament...
The European championship started on the 6th of May. Samo explains the first game, which is sometimes the most important one when you start a series. "We did start well and took the first game very seriously. We won our first match versus the second team of AMSCAS (Marseille). I don't remember the end score of that match, but the margin was quite high..." Very high? They won it by 15 against 0. A good start indeed!
But there is no secret. The Rollera team is quite compact, and few of the teammates know each other from way back. Some also grew up together. Others met for the first time just before our first tournament back in Marseille. "The spirit in our team is also quite good and part of that good spirit is being built trough out our trip to tournaments as we do travel for 10 hours and more in our van: all sort of stuff is happening that does help building up and creating some good vibrations in our team. Hehe!" It is important to be understood by your teammates, to listen to each other and take opinions from each member. Such details make you go further, from game to game, until critic moments...
We asked Samo when the most critic moment during the tournament was: the semi-finale or the finale? These two games are often high and intensive rendezvous... For the team captain, it was even before. "It was actually earlier in the group phases with the host's Team Holland. At the end of the first halve, the score was zero each. Soon, we came into the lead and then, Team Holland managed to equalize in the second halve, so the game was tense until the last whistle. Somehow, we managed to break their strong back line and take the lead in dying moments of that match: that was approximately 30-40 seconds before the last whistle. Some would say we were lucky, but I'd rather say that our efforts throughout the whole match paid out by the end, and we took all three points." Samo is right: if you win against the host team, you have done half of the course!
The finale against Shinobis: Rollera full of confidence
Everyone knows the end of the story: the Rollera Team won the European title. Samo explains this particular moment with convincing words. "I believe that each and every one of us went into the final match full of confidence: we all believed we can take this one. We took things in our hand from the start and broke the goal line quite soon, so our confidence got even higher from that point and we took the game safely until the end. We expected a tighter game and a bit closer result but we aren't complaining at all! The final result was 7-3."
When you enter such an important game, you have to be sure of your own forces, but also you must know exactly who your opponents are. The Rollera Team studied them before. With a lot of caution, Samo thinks that the Shinobis Team suffered from a lack of strategy during the last match: "I think they took us with great respect and maybe gave up too soon." But there is another point to underline. Their weak point was also the fact that they could not use one of their players since he got injured earlier: "their system probably did not work that good from that point and they used" says Samo.
On the other hand, the Rollera Team was ready to win. "I think that our strongest point is our bravery and our fighting spirit: we don't give up that easy and now combine that with plenty of technical skills from our players and you should come out with our winning formula!" confesses Samo with a sort of happiness. "Our weakest point could be our shouting and not needed yelling trough the match between players." But that's part of them and they do get along very well: in the end, no matter the result on the scoreboard. "In fact, sometimes, getting someone angry can bring some good results – hehe!" That is definitively right!
Very happy with the title!
The first thing they thought after winning the finale was "finally"! "Yes, finally we broke that spell we had." The Rollera Team finished second on so many occasions that they got almost used to and this was their first big title. They were all happy for it, of course! "Each one of us, as we knew we did work hard on this one and we came a long way from home, was very happy with the title." But they couldn't manage to win it without the essential support of their supporters. Samo thinks about their female supporters they had along and their girlfriends, moms, dads, friends at home. Everyone around them was so glad!
Back to their home, they thought they would have a medias feedback or some awards... But Samo is realistic: "that would be the case if we played normal soccer – hehe! Most of the people in Slovenia and in the world don't even know that this sport exists..." The honors and awards all came from their closer circle of friends, girlfriends and family. Actually, there were two Slovenian sites about rollerskating that wrote actually articles about their European title: rolanje and rollmania. "We are glad for that and thank them for doing so" adds Samo. But he is already gone. He has to focus on another event, the World Cup, which will be held in Recife, Brazil, by the end of August. "This is clearly our next goal and, at this moment, we need to gain some sponsorship that would enable our team to participate in that big event..." They would like to taste the victory again... And you know what: you can be sure that they will!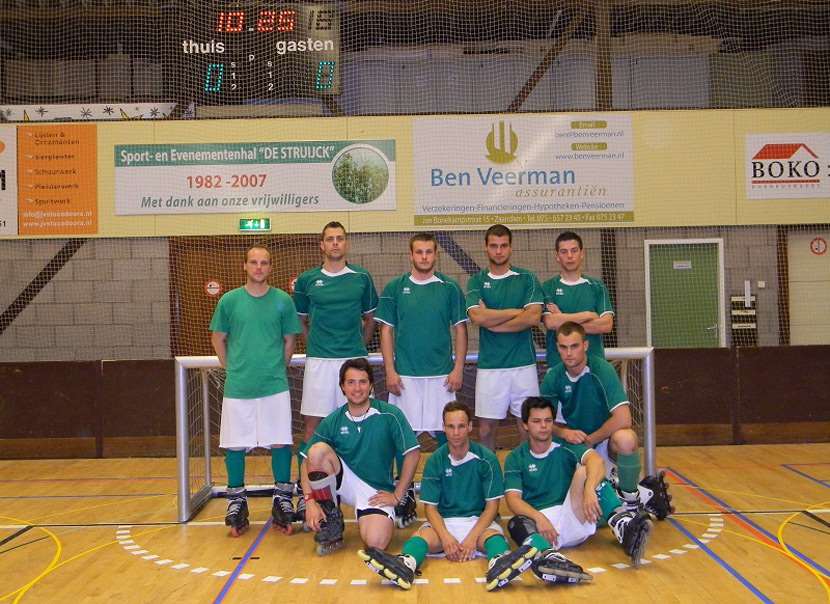 Links
www.rolanje.eu
www.rollmania.net
Results in Excel format
Written by Vincent Esnault
Photos : all rights reserved