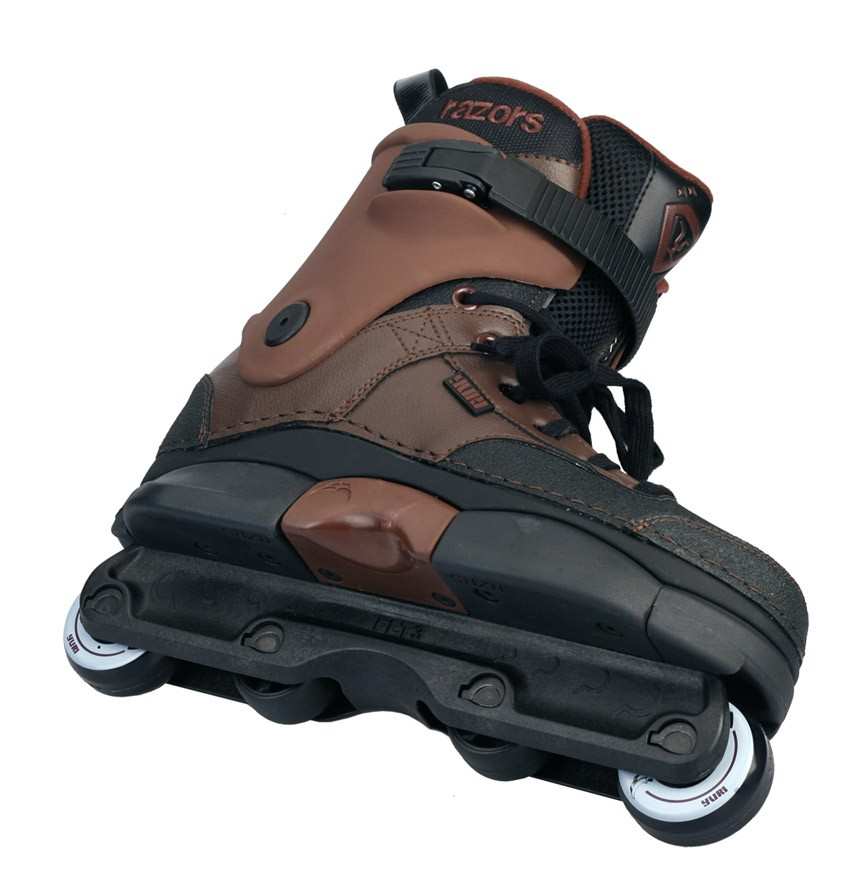 Razor's flagship SL skate gets a stylish upgrade with a classic boot look and Kevlar enforced durability.
Yuri Botelho and Razors team up once again to bring you the Yuri-2, featuring brown leather upper juxtaposed with an abrasive resistant material, an over-boot designed by Yuri himself, set atop our most trusted shell design. The soul frame comes with grooves above the wheels to fit wheels up to 66 mm. A redesigned liner offers easy access and provides a ridged, molded tongue that gives a secure, supportive fit. Ground Control FLT3 Frames along with brown cuffs and matching backslide plates help round the whole thing out, offering a skate that looks and skates great right out of the box.
The perfectly grooved backslide plate and baseless design allows the skater to experience a lower center of gravity, direct contact while grinding, easy transitions during switch-ups and near-perfect control on boot and soul tricks. An added strip of fabric is placed between the soul frame and boot shell to reduce clacking, giving you that solid 'paahk' sound every time you land.
Features
NEW grooves in soul frame to fit 66 mm wheels
NEW slim liner design
NEW molded tongue
SL Baseless Boot Design
Fully replaceable Soul frame, Sliders, and Backslide plates
Leather soft-top
Yuri's redesigned liner with non-slip sole
Velcro Tongue Attachment
1" Tall SL Shock Absorbing Heel Wedge
Yuri Signature Logo on Cuff and Tongue
Ground Control FLT3 Frames with Aluminum Frame Spacers
57mm Yuri Wheel / ABEC 9 Bearings