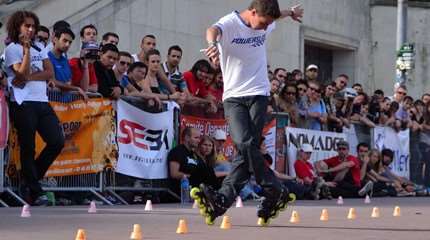 PARIS SLALOM WORLD CUP: LAST DAY

Trocadéro, May 27-28-29: Sunday 29th
Freestyle Battle
The last day of the event was for Freestyle Battle only, with the Women's category to start with, then followed by the Men's.
Reminder: "The cream of the ranking in Freestyle…
• In the Women's category, 10 skaters from the Top-20 were there, including 5 from the Top-10. And the three-thirds of the 33 registered for the Battle were in the Top-50.
• In the Men's category, they were 70 skaters to have registered for the Battle, with 11 skaters from the Top-20, including 5 from the Top-10… and 36 out of the 50 best skaters in the world were there!"
Women's Freestyle Battle Pre-qualifications
There were 33 registrations for only 32 places in the first qualification round, which was made of 8 groups of 4. The two last ranked at the World Ranking had to fight against each other to save their skins: only two runs to shoot the opponent down. Eventually, Maria Diaz Santin (Spa, #234), faster, beats Kate Fesenko (Ukr, #191).
Qualifications
It is no piece of cake for everybody. Most of the groups have a leader, but second places are hard to get.
G1 • Just qualified, Maria Diaz Santin goes on with qualifications, as she takes the vacant place of the very first group, led by Marina Boyko (Ukr, #1). Although she is knocked out as soon as this round, she manages to steal the 3rd place from Maria Eggert (Ger, #34) and ends up behind Patricia Agudo Lopez (Spa, #33).
G3 • In Group 3, the two Italians, Chiara Lualdi (#8) and Sara Masi (#25) join forces against the two young Ukrainians, Svetlana Komissarzhevskaya (#57) and Margarita Boyko (#102).
G7 • In Group 7, Sara Barlocco (Ita, #19) and Naomi Grigg (#87) are expelled by Megan McIntosh (Usa, #14) – the student outshined her master, and Paulina Czapla (Pol, #80).
G2 • The latter's sister, Ewelina Czapla (Pol, #81) ends up 1st of Group 2, in front of her compatriot Angelika Prucnal (Pol, #86): the Polish girls dismiss Sophie Lovato (Fra, #17) and Christina Pers (Spa, #18) – the French having just resumed training after a broken arm, and the Spanish having no feeling with the Trocadéro's ground.
G6 • The third and youngest sister, Justynia Czapla (Pol, #98) together with Cristina Rotunno (Ita, #24) don't make it through, knocked out by another Polish, Klaudia Hartmanis (#63) – the very one who did a Classic-Karaoke to Christina Aguilera's Fighter two days before, and by Ksenja Komarchuk (Ukr, #12) who made a remake of the Merry Murderers of Chicago the musical during the Classic competition.
G5 • Eva Cochey (Fra, #46) gets the second qualification place of Group 5 in front of Barbara Bossi (Ita, #6) whose second run was kind of weak. Natalie Ujuk (Aus, #28) gives us great quality freestyle but her runs are too poor in technical tricks, and she is relegated to the 3rd place.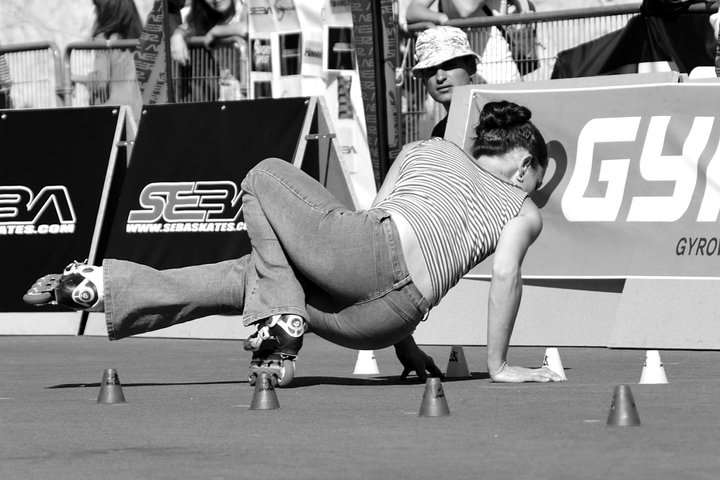 G4 • The second French, Zoé Granjon (#52) goes through too, coming in-between the first of Group 4, Anya Ziertmann (Ger, #7), and the third, Sinead Howick (Ire, #36).
G8 • The most sensitive group is the last one, made of three Russian candidates for qualification: Polina Semenova (#4), Kristina Lysenko (#31) and Yulia Kulagina (#35). Yulia gets hold of the first place thanks to efficient combos: Butterfly to back toe Wheeling, back Cobra to Korean spins to Swans, Christies and Kasakchoks, and a 7-cone Seven to crown it all. After discussion, the second place goes to Polina Semenova, saved by her 10x10 front-to-back Wheeling and more complex combos than Kristina Lysenko's, who finds herself out of play despite an impressive heel Shift and a solid back crossed Compass.
Sinead Howick – Crédits : Jérémy Brunier >
Quarter-finals
• In quarter-finals, the first places are given without hesitation to the Top-skaters, technically high above the three opponents of their groups: (following group order) Marina Boyko, Anya Ziertmann, Polina Semenova and Yulia Kulagina take the lead of the quarter-finals.
• It is quite easy to decide for the second places too. Zoé Granjon, who ends up 2nd behind Marina Boyko, is the only French remaining – Eva Cochey in Group 3 cannot compete with Klaudia Hartmanis, who plays on the same grounds (particularly sitting and flexible tricks) and who shows more combos, and faster. She is also the only Polish still standing: the Czaplas sisters (Paulina and Ewelina) as well as Angelika Prucnal, got knocked down one after another during the three first groups.
• Chiara Lualdi clinches the qualification behind Anya Ziertmann and upholds the Italian pride in ensuring a place in the semi-finals, while her compatriots Sara Masi and Barbara Bossi are eliminated – the first by Zoé Granjon, because she was more technical though less groovy, and the second by Megan McIntosh, who was behind Yulia Kulagina for the qualification.
Semi-Finals
No surprises as for the qualifications for the finals: the regulars go through – Marina Boyko and Anya Ziertmann are selected at the expenses of Klaudia Hartmanis and Megan McIntosh, while Polina Semenova and Yulia Kulagina fly away leaving Chiara Lualdi and Zoé Granjon behind.
Consolation Final
• Megan McIntosh's runs are technically less complete and lack trick combos, and the general impression of her last trick, a 3-cone toe seven, is too furtive compared to those of her opponents who perform marathons. She ends up 4th (8th at the general ranking).
• Chiara Lualdi is a notch above with a good variety of tricks, from sitting to flexible tricks through spins, managing two combos (Christie to Kasakspin to Kasakchok, and reverse Side-surf to back crossed Compass) and a 16-cone Christie for last trick – she lacks boost to complete the whole 80s.
• It is harder to decide between the first two: Klaudia Harmanis's and Zoé Granjon's performances are technically the same. Their best combos are 2/3rd identical: while the first does Christie to back and front Cobras, the second does front and back Cobras to Korean Spins; whereas the first is a bit more varied, the second is cleaner; and both do the same Last Trick, a back Cobra marathon – and once again Zoé Granjon is cleaner, more meticulous, and her trick lasts longer. Thanks to this quality, she wins the consolation final in front of Klaudia Hartmanis, who may become a very interesting opponent once she's mature enough to master her power.
Final
Order to go:
Marina Boyko decides to take the 3rd place to go, Polina Semenova makes a habit of the 4th place, Anya Ziertmann chooses to go 2nd and Yulia Kulagina has no other choice but going 1st. Why do they all avoid the 1st place like the plague?!
Women's Battle Final – by ReKiL
• There was every chance that Marina Boyko won this final, given that her technical possibilities were greater than her opponents' – but there is a difference between being able to do something and actually managing to do it at the right time… after a somewhat chaotic 1st run (Butterfly, two back Sevens (heel and toe), one out and the other unbalanced, and Christie), she improves her provisory ranking with her 2nd run, thanks to a never-ending heel Fishleg and efficient Sitting tricks – not forgetting another attempt at Seven, still long but still out. Her 3rd run highlights what an all-rounder she is in wheelings – same Fishleg and same Seven but toe instead of heel this time, as well as her left/right adaptability – back Christie to the right… and to the left! She loosens up all this technique with a flat spin doing Footgun linked to Korean spins. And even if she "misses" her last trick, a 16-cone back heel Wheeling on the 80s, it remains above the average compared to those of the other finalists. She wins this 9th edition of the PSWC.
• Polina Semenova clinches the second place thanks to her variety. Her rate of success is decreasing – tired? Her 10x10 Front-to-back Wheeling (with 4 cones down), her heel wheeling Snail and going back, and her Last Trick – 20-cone heel wheeling with an attempt at going back doing back Wheeling (but she taps before managing), are the only wheelings she shows during the final. She misses her heel Fishleg and she manages only 2 cones doing external Seven, contrarily to the quarter-finals when she managed 4 cones back and forth (i.e. 8 cones)! Her usual sitting tricks and Cobra combos complete a performance which conveys a good overall impression.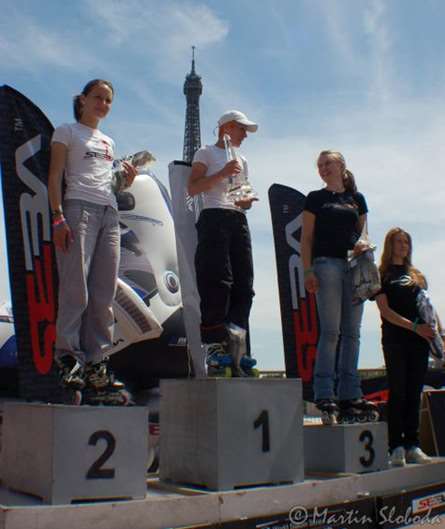 • Things are getting more complicated between 3rd and 4th places. Yulia Kulagina, who had managed very impressive combos all along the previous rounds, is tired – or stressed, and her final runs suffer as a result of it. After a 1st run putting her at the provisory 4th place, made of Christie+Kasakchok and Butterfly to 2-cone back toe Wheeling, her second run is also quite poor with a back Footgun to back heel wheeling which she doesn't manage either, and a back and front Cobra to Korean spins which she doesn't complete, once again. The feat of her 3rd run with a 6x6x4 back-front-back heel Wheeling, as well as her Last Trick (a 6-cone Seven), are not enough to outdo Anya Ziertmann who gets the 3rd place.
• Anya Ziertmann has a big weak point: Sitting tricks – She still does a security Footgun while exiting her last run. Except for this, her runs are varied and efficiently built, with complex combos – especially her very first one: toe Wheeling to Korean spins to Russian voltes to Swan to Special to Chicken leg (out here, but she managed it several times during the previous rounds). She his present for Spinning tricks thanks to her Mario slide to Koreans to Swans. She manages two 4-cone Sevens including one alternate (front-back). And she secures her place in front of Yulia Kulagina with her last trick, a 10x6 front-to-back heel Wheeling. Although the Russian was more varied (she can do sitting and flexible tricks), she had a weaker rate of success during the final.
Women's Podium – Credit: Martin Sloboda >
Women's Battle Results
1) Marina Boyko (Ukr)
2) Polina Semenova (Rus)
3) Anya Ziertmann (Ger)
4) Yulia Kulagina (Rus)
5) Zoé Granjon (Fra)
6) Klaudia Hartmanis (Pol)
7) Chiara Lualdi (Ita)
8) Megan McIntosh (Usa)
RollerDance Demonstrations
Twice during the afternoon, the Miss'Iles (www.miss-ile.fr) were four to show a rollerdance choreography, the first time just before the Women's finals, and the second time in-between two Men's rounds.
Men's Freestyle Battle
The pre-qualifications and the first round took place on Saturday afternoon, just after the Speed Slalom KO Systems. 70 competitors followed one another 'till night on the Trocadéro.
Pre-Qualifications
• Just like for the Women's, the number of skaters exceeding the maximum to make the groups, the 9 worst-ranked skaters had to submit to pre-qualifications. They were divided into 3 groups of 3, with only 2 runs to convince the judges… because only the firsts we invited to go through!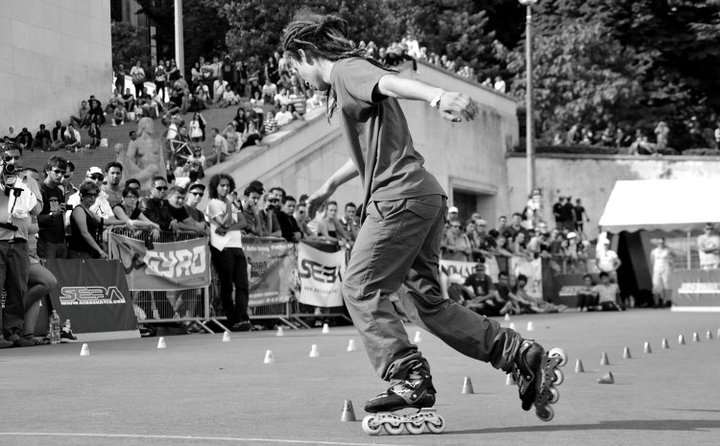 • Teddy Thierry (Fra, #426), new to the WSS, ends up far ahead of his group with wheelings in abundance and a super-smooth style, knocking out the only quad-skater of the competition, Emilien Holveck (Fra, #270). The two other winners are Mikhail Timchenko (Ukr, #425), particularly smooth too with a good technical lead, and Savio Brivio (Ita, #374), who'd just won the Speed slalom one hour before.
The groups of the first round are now ready and the "real" competition can begin!
Roman Gordin – Crédits : Jérémy Brunier >
Qualifications: 1st Round
For the first round, the skaters were 64 "left", divided into 16 groups.
No real surprise to declare. There were only 3 groups for which the ranking happened to be slightly different from what the World Ranking forecasted, the suggested seconds and thirds exchanging places.
Hold Up!
• Only Group 9 witnesses a second place hold up: Teddy Thierry (Fra, #426), just out of trouble with the pre-qualifications, gets hold of the second place coveted by Tim Schraepen (Bel, #61). He is on the heels of his team-mate, Igor Cheremetieff (Fra, #5) (who manages a 6-cone wheeling footgun, a neverending toe seven, a front-to-back wheeling and a good heel shift) with especially a 4-cone alternate Seven and a front-back-front wheeling. Even if Tim Schraepen managed great home-made groovy freestyle during his second run, it was not enough to compete…
Making of the Groups
• The two other exchanges happen in the first and the last group. In fact, they are exchanges in name only. Let's remind that the groups are made of this way: In the first group you can find the best ranked (1st), the worst ranked (64th), and the two skaters of the middle (32nd and 33rd); Then in the last group there are the second (2nd), the second to last (63rd) and the two of the middle minus one (31st and 34th); Then it's Group 2's turn, Group 15's… Groups 1 and 16 having two "middle" skaters of very close levels, they often and naturally exchange places from one competition to another.
2 Vs. 3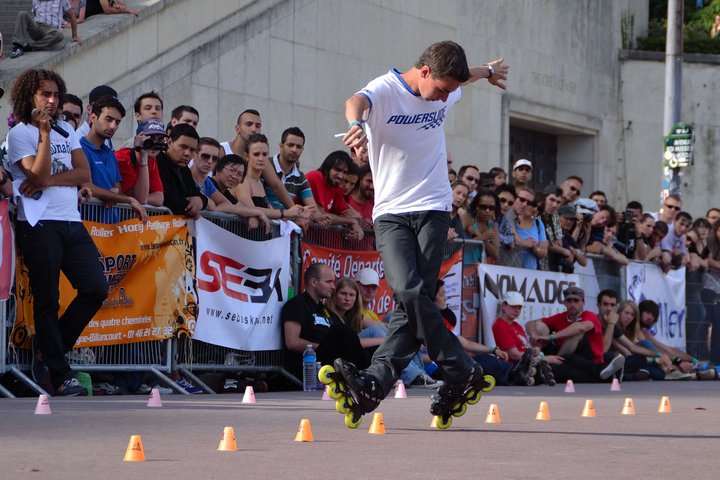 • In Group 1, Andrea Bellotto (Ita, #65) leaves the qualification to Daniele Lenzi (Ita, #68), while in Group 16 Hervé Guilloux (Fra, #62) offers the second place to JB Milleret (Gbr, #69). Daniele Lenzi beats Andrea Bellotto, after a Best Trick to decide between the two Italians, thanks to a 3-cone Seven against a 5-cone back heel Wheeling on the 50s. JB Milleret doesn't need a Best Trick to take the advantage: he shows a bit less technique than Hervé Guilloux, but he is cleaner, both with cones and body, and more varied.
Robin Tessier – Crédits : Jérémy Brunier >
Qualifications: 2nd Round (Eighths Finals)
Q.E.D…
• Just like in the first round, the second round results are logical: all the firsts of the first round (except one) qualify for the next round, knocking down all the seconds of the first round.
The only "first" who doesn't make it through is Tiziano Ferrari (Ita, #21), in Group 3 with Kim Tae Bin (Kor, #10) leading, is passed by Denis 'Disa' Islamov (Rus, #59). The Russian is liberal with technique – an 8-cone toe Seven (-2), a 5x5 back-front heel wheeling, and various wheeling combos. Tiziano tries to strike back with a toe shift and a back-front toe Wheeling but his misplays are too numerous – more than Disa's.
Olivier Herrero (Fra, #38), in the same group, fails on his second run and he is relegated to the 4th place.
Big exits.
• However, even if the second round follows the logics of the first round resuts, some serious competitors are eliminated at this stage: particularly Viktor 'Generator' Meleshkevich (Rus, #41) who finds himself in a tough group with Igor Cheremetieff (Fra, #5) and Adrian Almazan (Spa, #23), the two other candidates for qualification. Adrian Almazan his quickly out of reach with complete and technical runs: he sets the tone with a 10-cone shift, sustains with a couple of spins and sitting tricks, and drives the point home with two Sevens and two Chicken legs (5 turns, yes indeed!). Generator's combos are impressive (back Footgun + back toe Wheeling + Fishleg) but too monotonous, and the judges prefer Igor Cheremetieff to him because he shows more implication and originality in his skating, while still having a consistent technical level.
• All the same for Teddy Thierry (Fra, #426), an outsider who should quickly make his name, who is knocked out by his team-mate Alexandre Claris (Fra, #20). He seizes the 2nd place behind Jon Larrucea (Spa, #12), unreachable too as soon as his first run: back heel Wheeling + 7-cone Shift, and 8-cone toe Seven.
1 or 2?
• Let's also report a pitiless fight for the first qualification place between Yu Jin Seong (Kor, #14) and Antoine Colange (Fra, #17), which ends up with a Best Trick. While the Korean counts on polished freestyle and huge wheelings (heel Seven finalized with a spin, back and forth on 8 cones doing toe Shift), the French counts on variety (back Footgun to back Wheeling, Spin combos, back Wheeling, toe Seven, and a little bit of freestyle). Two different tactics with equal rates of success… Even their best tricks are the same: a 7-cone Shift for Yu Jin Seong versus a 6-cone toe Seven for Antoine Colange… Finally the first place goes to the Korean.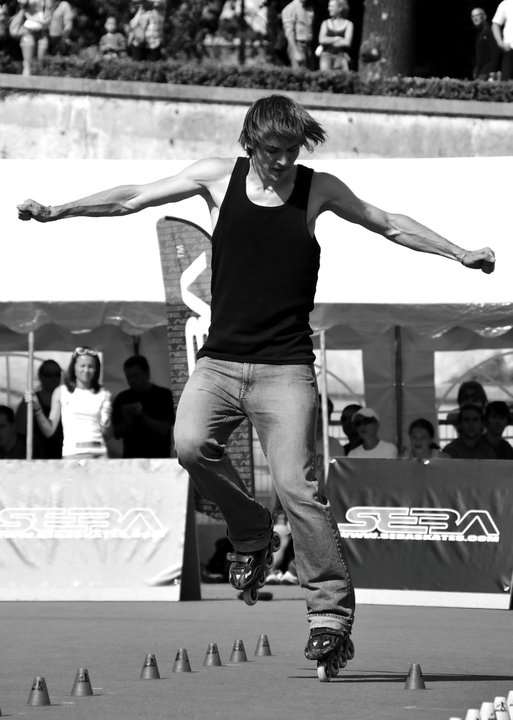 Denis 'Disa' Islamov – Crédits : Jérémy Brunier >
Quarter Finals

Most of the time on the preceding round, the two firsts still had a technical lead… but this lead is dangerously diminishing during the Quarter Finals! This is where the real surprises begin… and each group has its share.
G1 • Kim Sung Jin (Kor, #1) brings everybody round to the same way of thinking with his 40-cone back heel Wheeling, his wheeling combos, his heel (and toe) Sevens finalizes with spins, etc. There is only one place left for the three Russians of the group! This is the beginning of Andrey Shitov's nightmare (Rus, #16), the favorite, who doesn't manage a single trick, irrevocably: his first two runs are extremely poor, and the two small sevens of his last run are not enough. "One less to deal with" must be thinking Denis 'Disa' Islamov (Rus, #59) and Roman Gordin (Rus, #22). Hopefully (for the judges) it is quite easy to pick up the winner between the two remaining: Roman Gordin, the Wheeling alien and stoned Freestyler, takes the lead with his back heel Wheeling to 8-cone Shift, his Korean spins to 5-cone Seven, and his back-front-back Wheeling – only mentioning his best…
G2 • Lee Choong Goon (Kor, #9) is far ahead: three huge runs with back heel Wheeling to Shift, Shifts changing lines, Sevens – toe 8 cones and heel 5 with a finishing spin, back-front-back heel wheeling and transferring to the 50s to complete the 20 cones still doing back heel Wheeling. On top form! Yuri Torlopov (Rus, #26) starts his first run with a fall while exiting his back Seven. As for the rest, except for a good sitting tricks combo, he seems to be as cursed as Andrey Shitov in the preceding group. Upset, he gives up in the middle of his third run. Here again there's still one opponent less to deal with for Kim Tae Bin (Kor, #10) and Robin Tessier (Fra, #15). After long discussion, judges give the qualification to Robin Tessier for his cleanness and variety. Tae Bin was undeniably faster and more technical, but lots of his tricks were out (including his wonderful déboulé to seven – of which I'm totally fan!) and he kicked too many cones on this round. Robin played safe with a good dose of spins, sitting and flexible tricks, all meticulously completed.
G3 • A close group, in which finally the two Spanish will go through, at the expenses of the two French. Despite a good performance, Romain Lebois (Fra, #24) is distanced by his opponents. Between the three left, Antoine Colange (Fra, #17), Adrian Almazan (Spa, #23) and Jon Larrucea (Spa, #12), it is really tricky to make a decision. After lots of talking, judges eliminate Antoine Colange and ask for a Best Trick to decide which Spanish would end up first. In retrospect, the situation could even have been set with a Best Trick threesome… The French cleverly counted on variety pulling a sitting tricks combo out of his hat – destined for emergency situations, and managed good technical feats: a 20-cone back heel wheeling, a 6-cone Seven ending with a spin, a back Footgun + back Wheeling, nice super-fast Korean spins, and a bit of freestyle – all in all, three good runs.
Adrian loses on the coin toss and he is asked to go first for the Best Trick. He fails on both his attempts at Shift. Jon Larrucea should easily take the lead. He takes up the challenge and goes for a Shift too… false start, he taps after 2 cones! His second try is far better, with 10 cones managed, and he wins the fight.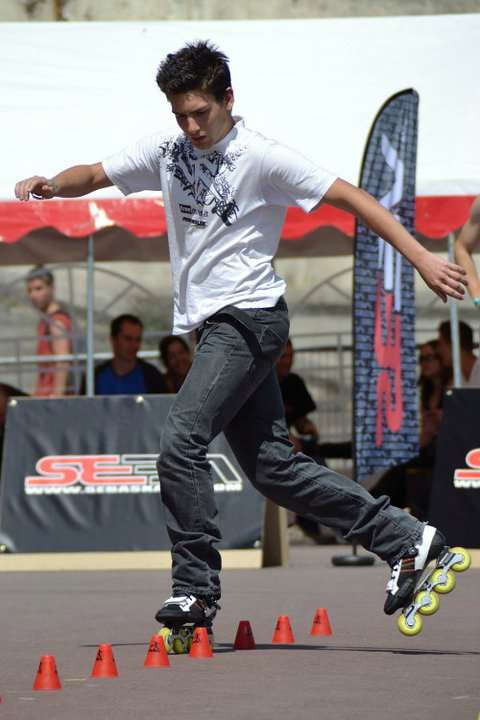 G4 • Group 4 sees its leader established quite naturally: Martin Sloboda (Ger, #2) manages a 35-cone back heel Wheeling marathon on his first run, a 8-con Shift on his second run, and two big Sevens (6 and 10 cones – a bit out because of the slope). Alexandre Claris (Fra, #20) ends up 4th. Far from being ridiculous (5-cone toe seven, Flower Seven), he is still less varied than his opponents and his second run is poor and with a couple of misplays. Igor Cheremetieff (Fra, #5) and Yu Jin Seong (Kor, #14) are still in the run for second place. The Korean's technical peaks are more intense, with two 6-cone Sevens (heel and toe) finalized with spins, two 7-cone Shifts (heel and toe), and a back heel Wheeling managing 8-cones back and forth. The French's main tricks are less strong but he plays on different grounds and his variety beats the Korean's technique.
Tiziano Ferrari – Crédits : Jérémy Brunier >
Semi Finals
SF1 • I'm breaking the suspense right away because it would quickly become unbearable: Kim Sung Jin qualifies for the final (what news!) – a good first run (opposite Shift + front-back Wheeling, back Wheeling + Shift, toe Seven but Out), a second run placing him a notch above (back-front Wheeling + Shift, 40-cone back heel Wheeling marathon), and a third run giving his opponents the last straw (freestyle crowned with a triple front-back-front-back Wheeling, a Shift managing a dozen cones, and a toe seven ending with a spin).
Igor Cheremetieff, despite a 6-cone wheeling Footgun, doesn't manage his tricks as well as during the preceding round, and important misplays put him out of play.
Now, deciding who of the two remaining skaters will be allowed to take part in the final isn't easy. Who of Lee Choong Goon (back-front toe Wheeling and back managing 20 cones, 8-cone toe Shift and transferred to add 10 more cones on the next line, back-front toe wheeling to toe seven going to and fro the line (4 cones + 9 back)), or of Adrian Almazan (7-cone heel Shift, 5-turn Chicken Leg, back heel Wheeling on the whole 50s, sitting and spinning tricks)? It is true that Lee Choong Goon's feats are impressive… but always in the same range. Adrian Almazan, for having taken the time to show variety of excellent quality, wins his ticket to the final.
SF2 • Martin Sloboda and Jon Larrucea take the lead of this second semi-final, Martin thanks to Sevens managing a dozen cones, Wheeling combos, Korean spins, normal and opposite Shifts, and a security back Footgun – still managing 7 cones; and Jon thanks to Sevens of the same sort, Shifts, multiple Wheeling combos, Korean spins and Chicken Legs, as well as a good back Christie. Robin Tessier is a bit behind the others and ends up 4th. Roman Gordin, although he was a very strong opponent, missed his third run, which might have cost him his qualification in final.
Consolation Final
Co-finale Battle Men – by ReKiL
The Co-Final gathers Lee Choong Goon, Roman Gordin, Igor Cheremetieff and Robin Tessier. By the way, they end up in this very order.
• Lee Choong Goon manages an impressive number of big tricks for only 2 runs: a back heel Wheeling on the whole 50s with a one-cone shift in the middle, two big sevens managing 8 cones doing heel and toe, and a 5-cone shift… which he mustn't find satisfying enough, because he tries this trick again for his Last Trick and improves it, managing 11 cones.
• Roman Gordin has a couple of chaotic moments during his first run (a fall after doing back heel Wheeling + 8-cone Shift, and his Korean spins to Sevens are completely out of line). However he doesn't give up, and makes up for his Shift managing 13 cones during his Last Trick.
• Igor Cheremetieff and Robin Tessier are technically behind, but their performances are more eclectic. Anyway it's not enough to get better than the 3rd and 4th places of the round.
Final
Kim Sung Jin, the best ranked, chooses to go 3rd. Martin Sloboda rushes for the 4th place, John Larrucea takes the 2nd place, and Adrian Almazan has no other choice than contenting himself with the 1st place to go.
Quickly, a gap appears between the two firsts and the two others. Martin Sloboda and Kim Sung Jin are playing for the 1st place, while the two Spanish are fighting for the 3rd place.
Finale du Battle Men – by ReKiL
• For the third place, the decision is easily taken: Adrian Almazan and Jon Larrucea show the same range of tricks, but Adrian has the advantage nearly everywhere. 9-cone Shift VS 6, Korean spins + back Compasses VS Mario Slide + Koreans, 4-turn Chicken Leg VS 2, and the last trick seals the places for good: back heel wheeling on the whole 50s and front-back back and fro Wheeling on 4 cones for Adrian, VS "only" 19 cones for Jon. The only advantage Jon had were his Sevens, which lasted longer that Adrian's.
• On the other hand, coming to a decision for the first place was a bit of a headache: Martin Sloboda and Kim Sung Jin vie with each other in dexterity. Martin does back heel Wheeling managing 23 cones in his first run, Sung Jin answers with 40, and Martin strikes back with his Last Trick (where he manages "only" 35 cones); both do Sevens managing around 10 cones; Sung Jin shows a back-front Wheeling to 6-cone Shift, Martin taunts him with a 11-cone Shift, and Sung Jin masters him with his Last Trick (10 cones, and 5 (-2) back)… Yet the fight is lacking variety. Martin tries to incorporate some, though, but misses his tricks: he kicks half of the cones doing back Footgun, and his Koreans and back Compasses are launched too late during his third run for him to have time to develop. Martin missed the victory by a whisker: a bit more variety validated, and he would have had the advantage on Sung Jin! This year again, Kim Sung Jin wins the PSWC.
Results of the Men's Freestyle Battle
1) Kim Sung Jin (Kor)
2) Martin Sloboda (Ger)
3) Adrian Almazan (Spa)
4) Jon Larrucea (Spa)
5) Lee Choong Goon (Kor)
6) Roman Gordin (Rus)
7) Igor Cheremetieff (Fra)
8) Robin Tessier (Fra)
You can download the full results of the PSWC here: http://www.worldslalomseries.com/app/download/5143085650/Results_PSWC11.pdf?t=1306847930
The new world ranking (may) with the changes caused by the results of the PSWC is available here: http://www.worldslalomseries.com/rankings/
The next main events of June (two-cones) will take place in San Francisco (Usa) and in Kiev (Ukr) on the 11th and 12th, as well as in Namwon (Kor) on the 25th and 26th.
Useful Links
Reports
PSWC 2011 Part.1: Classic http://www.rollerenligne.com/articles.php?id=2528&id_lang=1
PSWC 2011 Part.2: Speed Slalom http://www.rollerenligne.com/articles.php?id=2532&id_lang=1
Videos
Battle - Women's Final: http://vimeo.com/24391745
Battle - Men's Final: http://vimeo.com/24401165
Battle - Men's CoFinal: http://vimeo.com/24420660
Photos
By SebaSkates: http://www.flickr.com/photos/sebaskates/sets/72157626868928698/
By Jérémy Brunier (on Facebook): https://www.facebook.com/media/set/?set=a.2156515832819.132504.1244176295
WebPage of the PSWC on WorldSlalomSeries http://www.worldslalomseries.com/events/pswc-2011-fra
Written by Close Yr E's
Photos: All rights reserved