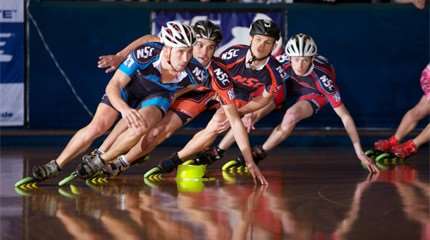 NSC 2012 : Second round !
Season 3, round 2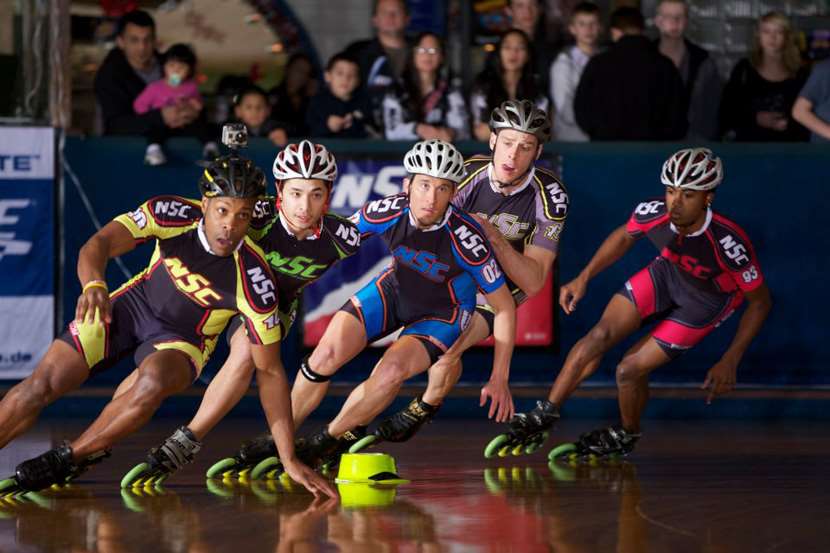 The least one can say is that the competition was harsh during the second round of the NSC. The striking moment of the evening was without any doubt the dramatic skating off the track of Jeremy Anderson and Jake Powers on 800m grand Champion. Anderson was transported to the hospital with a broken collarbone. He had surgery with plates fit to reinforce the bone. His recovery should be fast. The organizers hope to see him up and about for the April round.As for Jake Powers, his arm seems to be immobilized.
William Bowen (#77) keeps on dominating speed races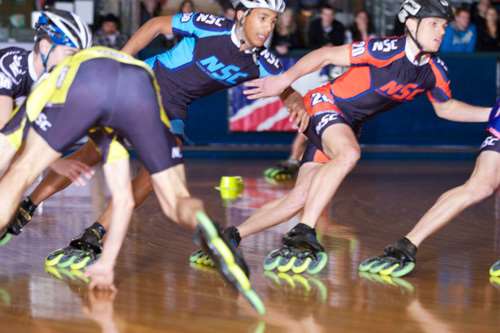 He made his presence felt on the 300m in front of Donavon Sellers and Brandon Hall. During the previous round in January, he had already outstripped Stephen Carter (#10) and Kevin Carroll (#13).
Bowen also wins the 500m in front of Brandon Hall and Sean o'Brien. Kevin Carroll would have been disqualified for having pushed another competitor.
Jarrett Paul in front for endurance races
Jarrett Paul managed to make the difference during the 1000m of this second round in front of Jake Powers and Michael Cheek. The latter had won the previous round.
On 1600m it is almost the same Top-3 as on 1000m. Jarrett Paul ends up first in front of Michael Cheek and Jake Powers. The three skaters were already on the podium of the previous round.
800 m Grand Champion
The race is off to a flying start with Michael Cheek leading. Half a lap before the arrival, Jeremy Anderson and Jake powers crashed into a wall. Powers is groggy and takes some time to get back up because of the force of the impact.
As for Anderson, he leaves with the casualty. In the end, the race is won by Michael Cheek, in front of sprint specialist William Bowen and Donavon Sellers. Cheeks wins the offensive bonus while Owen gets that of the most starts.
100m
Faithful to his reputation, Jeremy Anderson wins the 100m once again in 8.53, in front of Donavon Sellers (8.55) and Brandon Hall (8.59).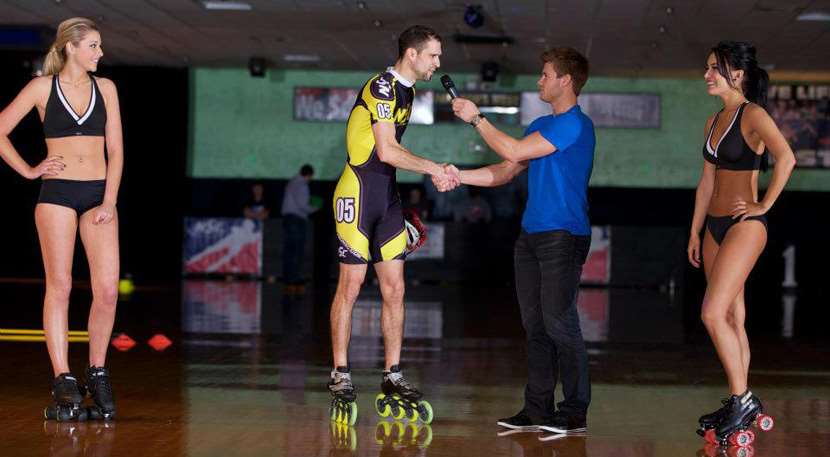 Results
300m - 26.47

1. William Bowen, 80 points
2. Donavon Sellers, 40 points
3. Brandon Hall, 20 points
4. Teague Knapton, 10 points
5. Mikey Ratliff, 5 points
DQ Stephen Carter, riding out

500m - 44.13

1. William Bowen, 80 points
2. Brandon Hall, 40 points
3. Sean o'Brien, 20 points
4. Mikey Ratliff, 10 points
DQ Kevin Carroll, pushing
DNF Donavon Sellers

1000 m - 1:33.72

1. Jarrett Paul, 80 points
2. Jake Powers, 40 points
3. Michael Cheek, 20 points
4. Zac Sagiao, 10 points
5. Wesley Gandy, 5 points
6. Clint Canington, 3 points
7. BJ Steketee, 1 point
DQ Justin Stelly, riding out

1600 m - 2:35.32

1. Jarrett Paul, 80 points
2. Michael Cheek, 40 points
3. Jake Powers, 20 points
4. Justin Stelly, 10 points
5. Wesley Gandy, 5 points
6. BJ Steketee, 3 points
7. Zac Sagiao, 1 point
8. Clint Canington

800 m - 1:14.32

1. Michael Cheek, 60 points
2. William Bowen, 30 points
3. Donavon Sellers, 15 points
4. Brandon Hall, 8 points
DQ Jarrett Paul - riding out
DNF Jeremy Anderson
DNF Jake Powers

Most laps led bonus: Michael Cheek
Most starts won bonus: William Bowen

100 m

1. Jeremy Anderson, 8.53
2. Donavon Sellers, 8.55
3. Brandon Hall, 8.59
4. William Bowen, 8.60
5. Michael Cheek, 8.62
6. Jarrett Paul, 8.64
7. Sean O'Brien, 8.66
8. Zac Sagiao, 8.68
9. Justin Stelly, 8.70
10. Teague Knapton, 8.71
11. Kevin Carroll, 8.73
12. Jake Powers, 8.74
13. Stephen Carter, 8.75
14. Jared Fincher, 8.85
15. Mikey Ratliff, 8.86
15. Sean Cramer, 8.86
17. Christiaan Johnson, 8.88
18. Colin Wakefield, 8.91
19. Wesley Gandy, 8.93
20. BJ Steketee, 9.02
21. Ryan Weiderhold, 9.03
22. Jordan Hafenscher, 9.04
23. Walter Langley, 9.06
24. Clint Canington, 9.09
25. Eben Jackson, 22.99
26. Stephen Hohagen, 23.30
Information
Program

17h30 : doors open
18h45 : racing starts

Location

Pattisons West Skating Center
34222 Pacific Highway south
Federal Way, WA 98003

Schedule of the 2012 season

Monday, January 23, 2012
Thursday, February 9, 2012
Thursday, March 15, 2012
Thursday, April 26, 2012
Thursday, May 24, 2012
Useful links
Summary of the first round of the NSC 2012 on OLS
NSC tab on OLS
Read the article by dailyhouse.com
NSC Youtube page
Photo gallery of the second round of the third NSC season on Facebook
By Alfathor
Translated by Chloé Seyres
Photos: NSC, all rights reserved