Mind the gap at Rennes sur Roulettes (France)

Hey Ho, let's go!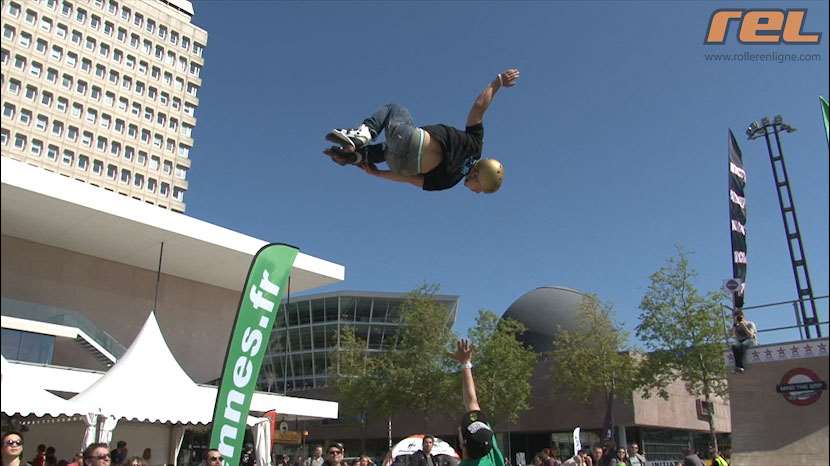 Sven Boekhorst moved his modules to Rennes in order to make the show with a "Mind the gap". If you have ever been in London, you must have heard or seen the expression in the metro. By the way, the logo of the Mind the Gap is none other than a distorted metro station sign.
The concept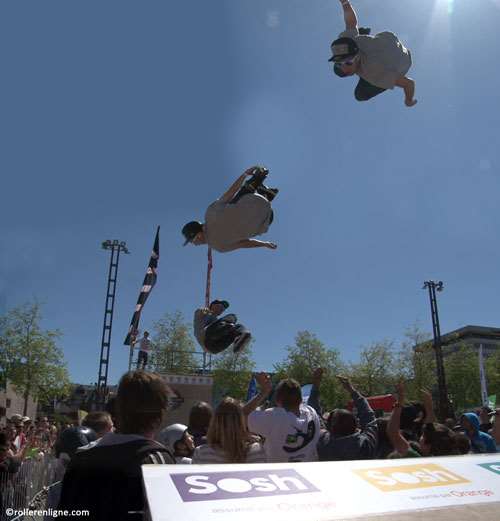 In this precise case, it is a simple and efficient concept of competition where each skater must do the biggest tricks on a line of modules.
The skater starts from a huge quarter-pipe culminating at 3 meters high to jump above a 3m-gap thanks to another ramp and do the most impressive trick as possible, and then goes on with a table topped by rails to finally reach another quarter-pipe, which enables to turn back and pass an ultimate slide.
Contrarily to a contest in a skatepark where the public cannot always see what the skater does, nor understand exactly what the skater is supposed to do, this concept insists on the spectacular dimension of aggressive skating. No frills, you get to the heart of the matter, it is easily understandable and dynamic with dazzling big rotations.
The competition
They are a dozen skaters on the area on Saturday afternoon. The qualification phases already show a good overall level. There is no "beginner" like you can often find on skatepark competitions. There is a large public to see the skaters flying in the air.
Romain Godenaire seems to be in peak form for a great weekend. With his powerful, aerial and efficient style, he passes big rotations with good landings which make the difference, particularly his much talked-about corkscrew 720 to which he owes his first place! He establishes himself in front of clean and smooth Maxime Genoud. Taylor Latouche takes the 3rd place. Dutch Dick Heerkens is at the foot of the podium. Warren Digne had a huge blister at the malleolus the whole weekend and finally got in charge of the mic for the finals. Still he ends up at the 5th place.
Epilogue
The contest ends up with a gap session above the public, to finish with a flourish. A good skating weekend in Rennes, we had a good time. Thanks to Sven and the skaters, still and always very approachable.
Main results of the Mind the Gap
1) Romain Godenaire
2) Maxime Genoud
3) Taylor Latouche
4) Dick Heerkens
5) Warren Digne
Video

Mind The Gap Rennes Sur Roulettes 2012 par teamrollerenligne
Useful links
By Alfathor
Translated by Close Yr E's
Photos: Alfathor