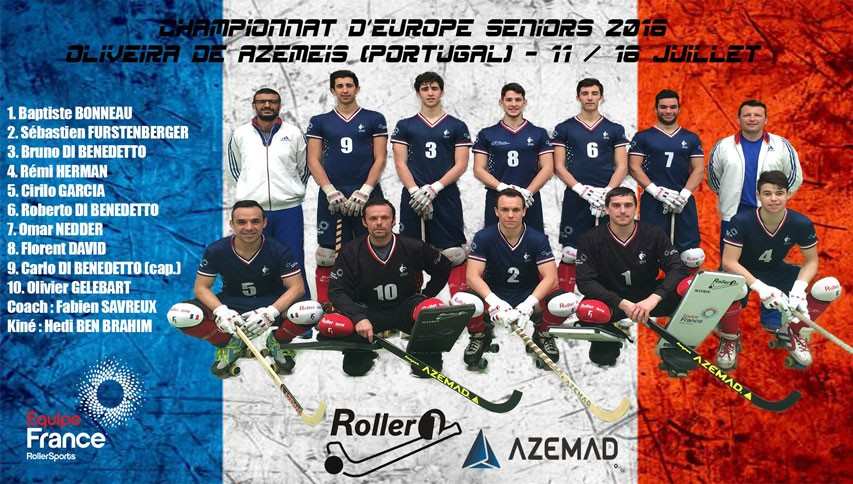 The first training camp of the French Team of Rink Hockey took place from June 16th to 21st, 2016 in Saint-Omer, France. It was the occasion to contact Fabien Savreux and ask him a few questions about the unfolding of the camp.
Fabien Savreux
"It was a successful first camp. I'm very satisfied with the team spirit of the whole group.
Preparing for this competition is not easy since the championship finished on June 11th. We have to reload the batteries and at the same time prepare for an important deadline for which we should be ready as soon as the first day, since we play a capital game against Germany, ranked 4th at the 2014 Euro as well as at the 2015 Worlds.
The atmosphere of this first training camp was quite relaxed.
The 2nd camp already took place, from June 27th to July 1st. The objective was to improve reflexes between the players. Relying on 4 elements of the same club is a big asset for that, given the short collective preparation we had throughout the year."
Thank you, Fabien Savreux.
Let's remind that the competition starts on Monday, July 11th, with a France-Germany game that promises to be quite explosive and maybe alread decisive for the 2nd or 3rd rank.... and why not for the 1st rank of Group A, made of Italy, the current European Champions, Germany, France and England, even if the latter should never be underestimated.
Men's 2016 Euro of Rink Hockey in Oliveira de Azeméis (Portugal)