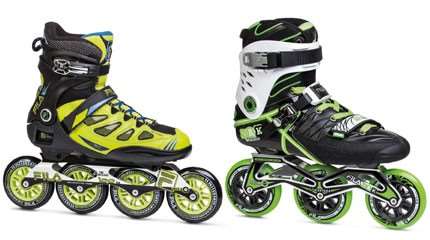 2016 Fila skate collection
Speed skating
Fila's speed skating collection hasn't changed a bit for a few years now, with the Matrix Evolution, a nice product that doesn't meet today's market expectation anymore with its 4x100 frame.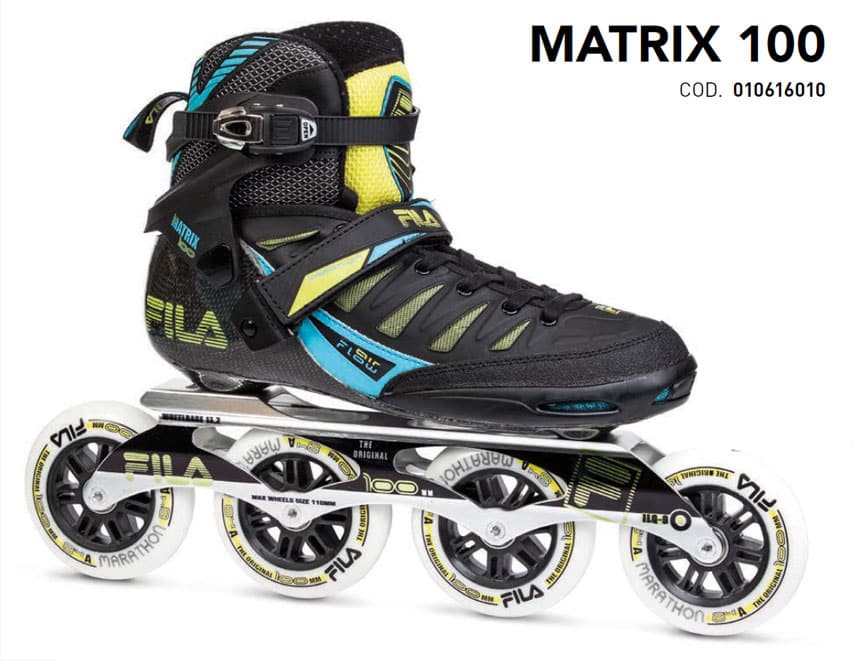 Long-distance collection
Fila made a (small) effort for its endurance/long-distance collection with the Matrix 100, the design of which is directly inspired from the M100: a 6000 aluminum 12'8 frame, a carbon shell (unfortunately not heat-moldable) and mostly, a new boot design. Too bad that the skate still only has a velcro strap on the instep, a micrometric buckle would have been much better. Overall, a skate quite similar to the M100 from 2003 but...not as good. Surprising that Fila stopped making the M100. This market area has probably become saturated and too competitive.
Fila appears interested to be part of the 3 wheels game with the Matrix Verso. It is a 3 x 110 mm wheels model on a 6000 aluminum 11.2' GT frame. It is equipped with the same shell as the Matrix 100 but a different frame. A long distance model that we will try to test on ReL.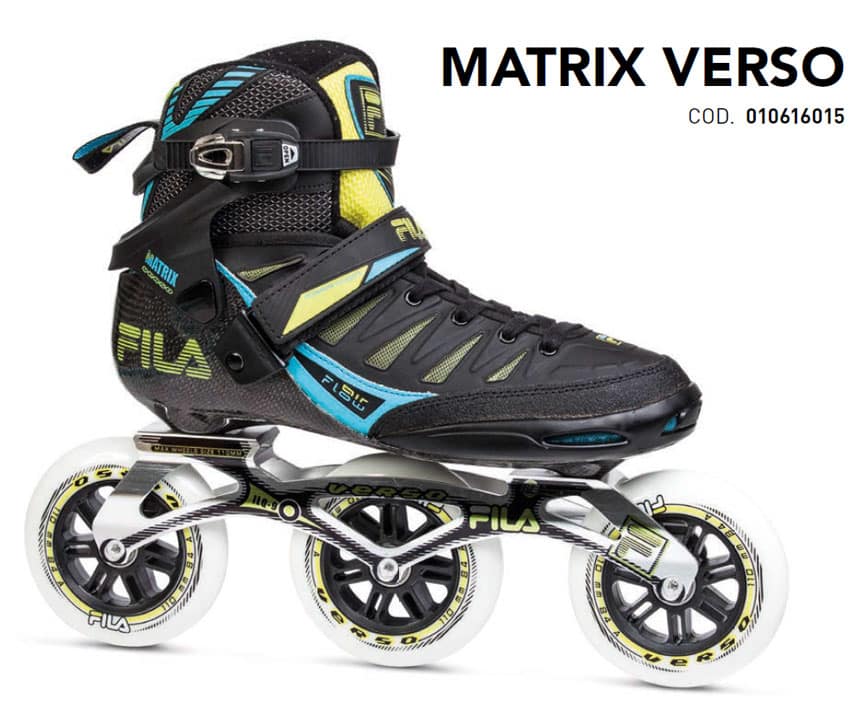 The urban collection also uses 3 wheels
If the NRK doesn't change much with the NRK Nos, Fila now sells a 3-wheel version with the NRK Verso. It uses the same NRK carbon and glass fiber shell, but offers 3 wheels of 243 mm on a 6000 aluminum frame. It is the direct rival of the 248 mm Seba frame and the Pleasure Tool from Powerslide. Unlike on its 2 competitors, the space between each wheel is the same. Therefore, this skate isn't meant for speed slalom.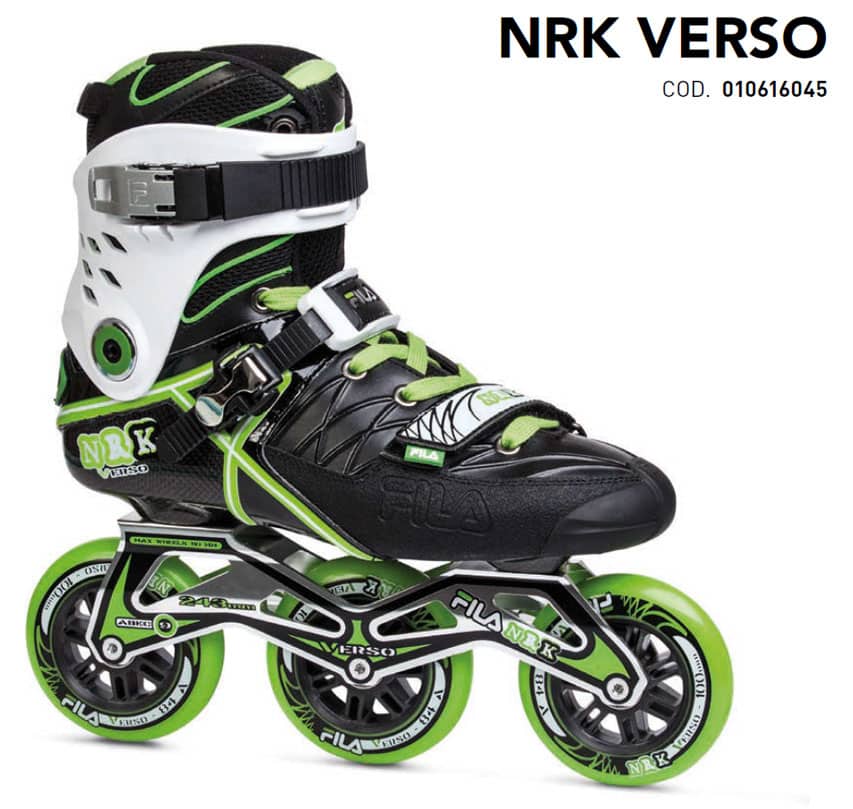 The 2016 Fila fitness models
Fila's fitness line welcomes a newcomer, the Ghibli (related to the Japanese anime studio?), a model with a composite shell and a 306 mm extruded frame with 4 x 100 mm wheels. The pastel colours match with the rest of the line. The cuff is somewhat reminiscent of Roces' design. On the downside, the frame is riveted.
No noticeable changes as for the Plume and Primo lines, which are renewed.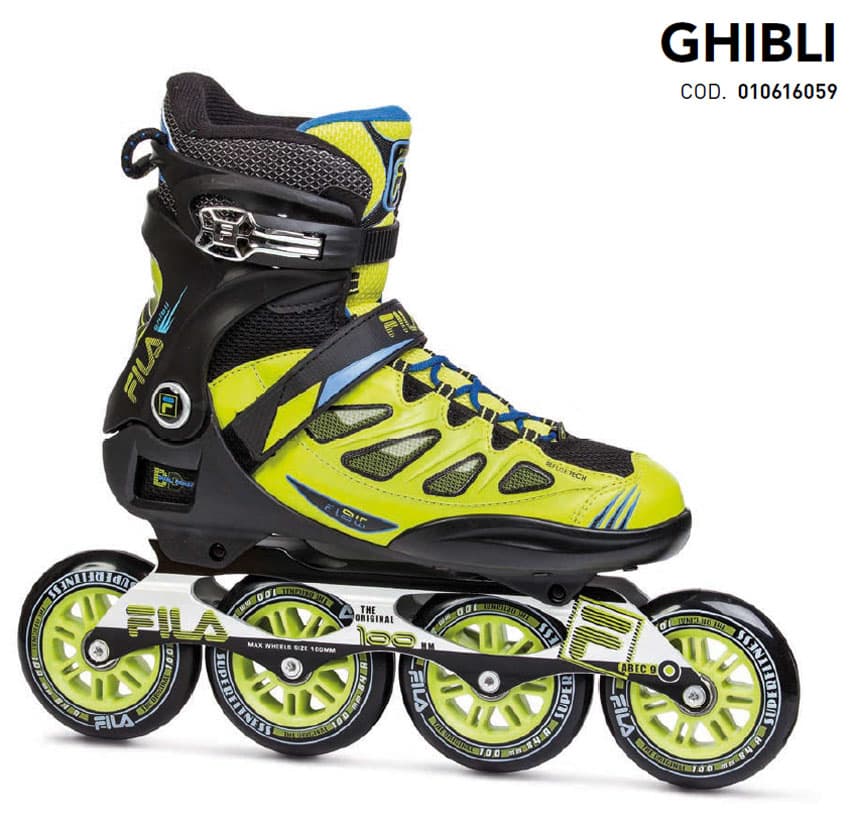 Useful links
Download the 2016 Fila catalogue (9Mo)
By Alfathor
Translation: Chloe Seyres
Photos : Fila