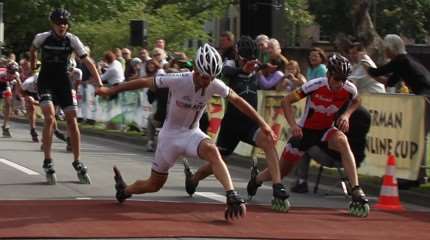 German Inline Cup: eventful race in Koblenz (GERMANY)

Doubled for EO

Skates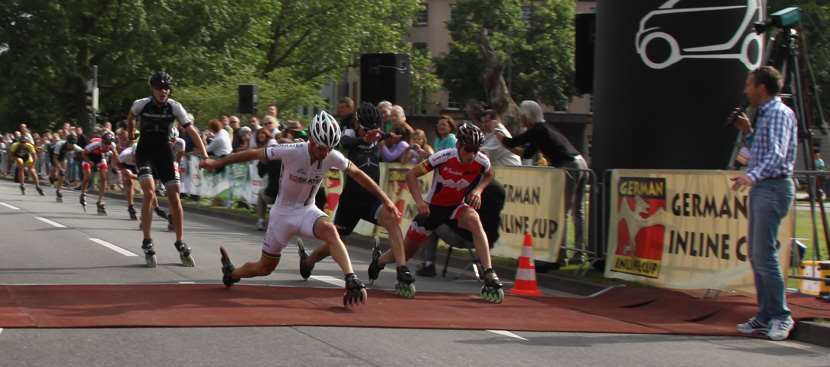 The weather is particularly mild on the shores along the Rhine. Sebastian Becker and his team prepared a beautiful course of the German Inline Cup 2012.
Women's race: EOSkates did it again

The women's race was very tactical. No skater managed to escape before the finish line. Thus, spectators attended a nice sprint between the different competitors. And it is the German Jana Gegner (EO Skates) that took the first place. Her compatriot Sabine Berg (Powerslide Matter) is second. Roberta Casu (EO Skates) grabbed the third place.
Jana Gegner: "I am very glad that I could prevail on the Powerslide Team that was really close, especially Sabine Berg".
Men: A controversy race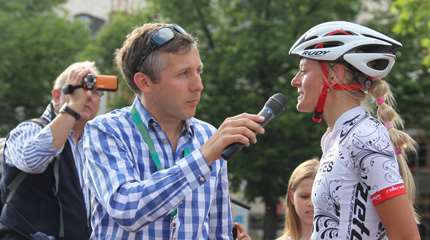 The men's race was also very tactical. Halfway, the main protagonists of the big teams managed to escape.
The final kilometers see a dozen skaters fighting for the lead. The sprint is launched at 500 m from the finish line. Among the skaters: Nicolas Iten (Swiss Skate Team), Ewen Fernandez (Powerslide Matter), Yann Guyader (EOSkates), Severin Widmer (Swiss Skate Team), Bart Swings (Powerslide Matter), Julien Levrard (EOSkates) and Fabio Francolini (EOSkates) .
Ewen Fernandez leads the sprint with Severin Widmer on his left, Yann Guyader passes Ewen Fernandez from the right, closely followed by Bart Swings in his wheel. Yann takes the first place on line in a impressive hawk finish, Ewen is second and Severin take the third place.
Bart Swings takes the fourth place but Powerslide decides to bring a claim after the race. According to the German firm, Bart Swings would have been blocked by Yann Guyader when he passed Ewen. Initially, the judges accepted the claim... but they retracted later when they watched the photos of the final sprint which shows a clear and straight path from Yann Guyader.
Final time: 1h07mn5s
GIC General Ranking

Sabine Berg (Powerslide) is still leading the Overall of the German Inline Cup in the women's category. Severin Widmer (Swiss Skate Team) is still at the first place in the men's general ranking.
EO Skates seems to dominate races this season, placing three skaters in the top 10 in the men's race and two women in the top three! No doubt Powerslide will take its revenge in the next races. The end of the season promises to be lively!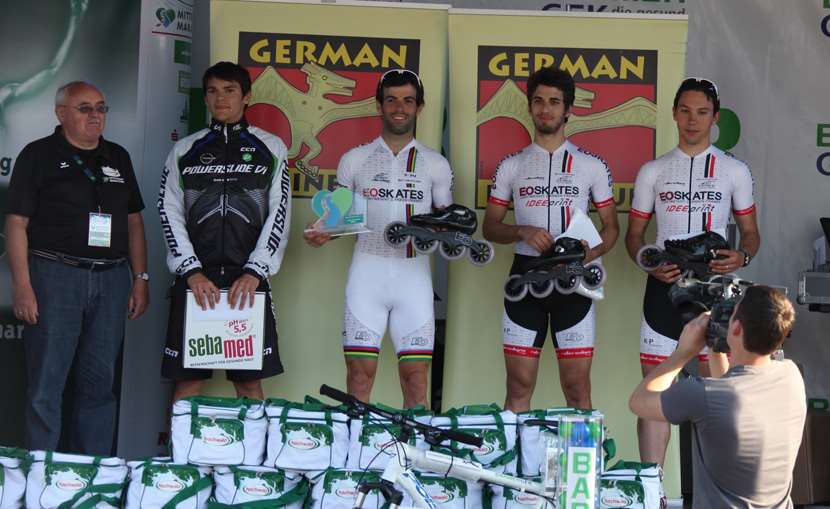 Main results

Men's ranking

1) Yann Guyader - EO Skates (France)
2) Severin Widmer - Swiss Skate Team (Switertland)
3) Ewen Fernandez - Powerslide Matter (France)
Women's ranking
1) Jana Gegner - EO Skates (Germany)
2) Sabine Berg - Powerslide Matter (Germany)
3) Roberta Casu - EO Skates (Germany)
Official results are not available yet
Video of the final sprint (Courtesy of EoSkates)
A video from Die Rhein Roller
Links
Web Site of the German Inline Cup
By Alfathor
Photos: Daniel Busser (EO Skates)
Video: courtesy of EO Skates