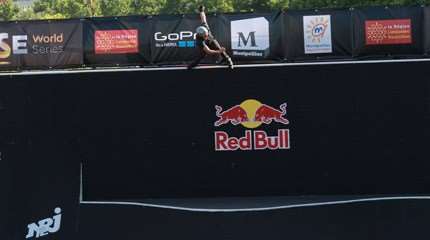 Unfolding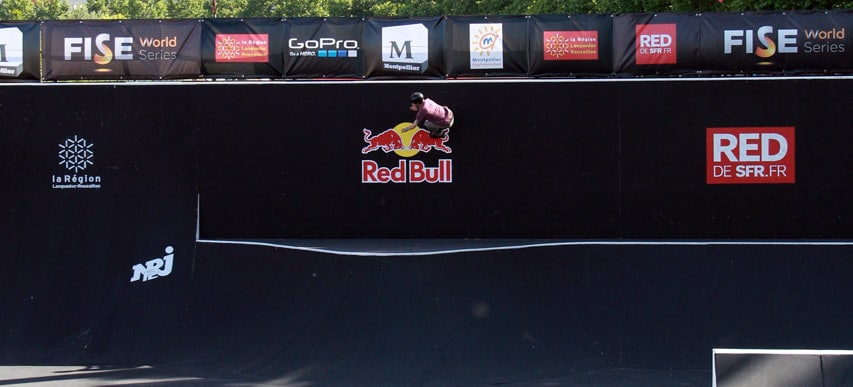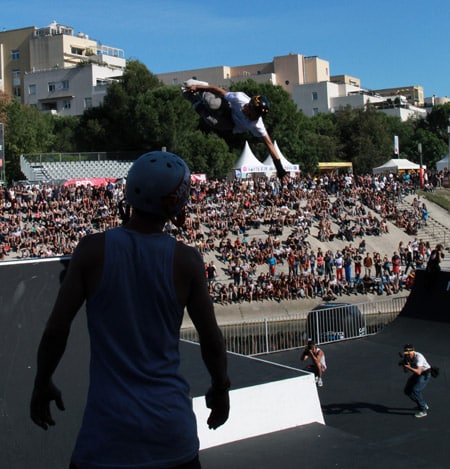 In a great atmosphere and in front of a motivated public, Dominick Wagner, Maxime Genoux, CJ Wellsmore, Stéphane Alfano and Steven Swain tackle the final. The Jam session doesn't really enable to rank the skaters, and everything is going to be decided on the last tricks.
Dominick Wagner distinguishes himself with a run without much risks taken but with very clean lines. He only goes for a big grab transfer which ranks him at the last place of the final.
Stephen Swain performs several big rotations during his run, some great 720… but unfortunately he fails at his last trick. An attempt at ramp to ramp 90° transfer doing a 720 and a 900 are just enough for him to get the 4th place, after a good bunch of falls.
Maxime Genoud never stops surprising with his speed and amplitude. He ensures a nice 3rd place with a wall ride, a 540 back torke and especially a big 360 over the central table.
CJ Wellsmore finishes 2nd with a few great 360 transfers. He goes and gets the higher wall with a backslide which he succeeds with a disturbing ease.
Last but not least Stéphane Alphano, all smiles, goes for wonderful 900s over the central table, manages all his park transfers and imposes himself with a 90° flat spin transfer from one ramp to another.
A very impressive final highlighting the will of each skater to be both original and technique. It's the occasion to witness that despite competition, skaters remain fair-play and cheer for one another to offer the best show as possible.
Results of the competition
Pro Invitational final
| | | | | |
| --- | --- | --- | --- | --- |
| 1. | ALFANO Stephane | 28 y/o | Toulon | 90.33 pts |
| 2. | WELLSMORE Cj | 26 y/o | Sydney | 87.33 pts |
| 3. | GENOUD Maxime | 21 y/o | Bussigny | 73.67 pts |
| 4. | SWAIN Stephen | 27 y/o | Pontefract | 71.00 pts |
| 5. | WAGNER Dominik | 29 y/o | Berlin | 63.00 pts |
Qualifications
| | | | | | |
| --- | --- | --- | --- | --- | --- |
| 1. | WELLSMORE CJ | 26 y/o | Sydney | 82.67 pts | Qualified |
| 2. | ALFANO Stephane | 28 y/o | Toulon | 81.67 pts | Qualified |
| 3. | SWAIN Stephen | 27 y/o | Pontefract | 75.33 pts | Qualified |
| 4. | GENOUD Maxime | 21 y/o | Bussigny | 62.67 pts | Qualified |
| 5. | WAGNER Dominik | 29 y/o | Berlin | 59.67 pts | Qualified |
| 6. | GODENAIRE Romain | 27 y/o | Ivry Sur Seine | 59.00 pts | |
| 7. | BRIGGEMAN Jelle | 19 y/o | Rotterdam | 56.33 pts | |
| 8. | LANG Dave | 24 y/o | Tehachapi | 51.67 pts | |
| 9. | EGAN Joey | 29 y/o | UK | 49.67 pts | |
| 10. | ANNE Adrien | 31 y/o | Strasbourg | 48.00 pts | |
| 11. | BIRD Blake | 32 y/o | Londres | 47.00 pts | |
| 12. | SUAREZ Jeremy | 26 y/o | Bruxelles | 45.67 pts | |
| 13. | DECK Adrian | 24 y/o | Aarau | 44.00 pts | |
| 14. | PETITCOLLIN Florian | 25 y/o | Dijon | 43.00 pts | |
| 15. | DIGNE Warren | 26 y/o | Drancy | 41.67 pts | |
| 16. | POTTIER Anthony | 24 y/o | Battice | 0.00 pts | |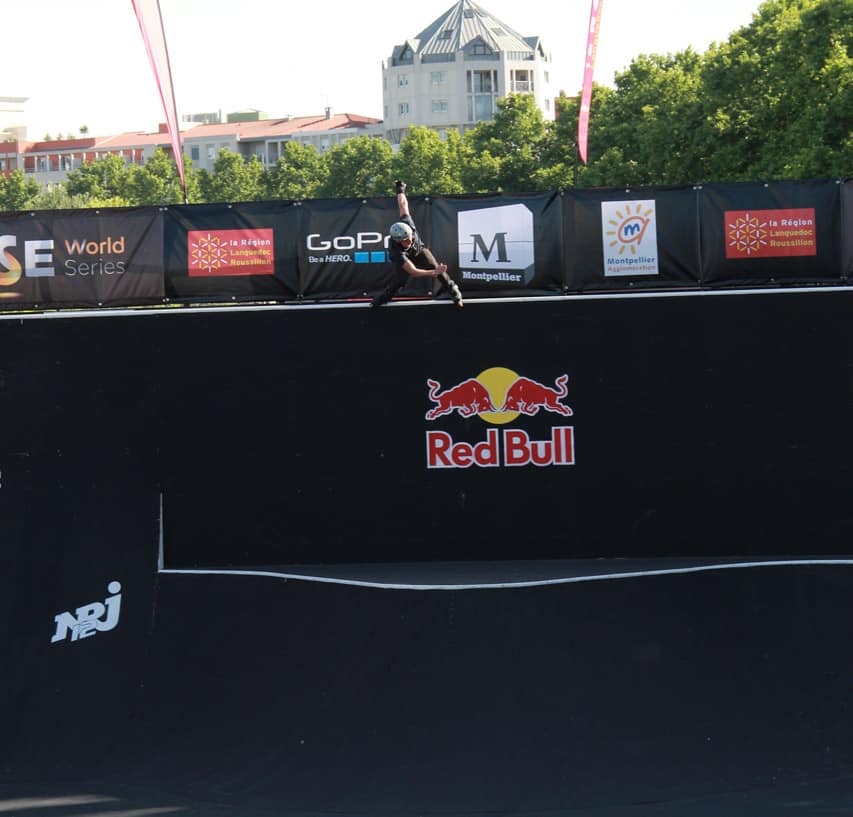 Links
Our page dedicated to the 2014 FISE
Text and photos : bobor