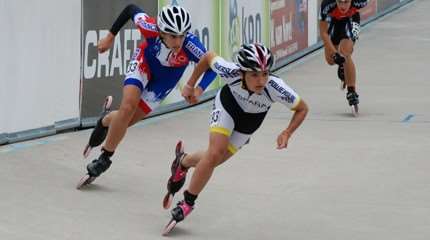 EUROPEAN CHAMPIONSHIPS 2011: 500 M IN HEERDE (NED)

Sunday morning: 500 m heats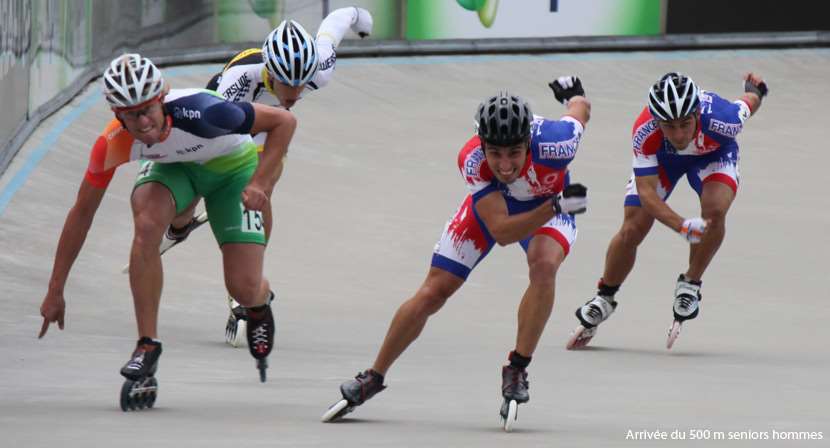 All French male skaters have qualified for the next round in Juniors and seniors categories. The two brothers Mulder (Netherlands) will probably be the most serious opponents for all other nations. In the women categories, the Germans, Italians and Dutch are the strongest nations.
Girls are exempt from the quarter-finals. It's not for boys. The Dutch twins Ronald and Michel Mulder undoubtedly are the most serious rival of the two French Nicolas Pelloquin and Elton De Souza .
In the finals of the junior category, the Belgian Jore van den Berghe (44.450) beat Benjamin Pierre Jean (France - 44.504) and Lars Scheenstra (Netherlands - 44.562). Benjamin Pierre-Jean was alone in the final against an excellent Jore van den Berghe: The Belgian went ahead and arrived ...ahead! Benjamin, skating in his wheel, has tried to surprise him, but it seemed impossible. The silver medal was probably the best metal possible for the Frenchman.
500m final (Senior women video)
500 m Senior finals
However, the French Nicolas Pelloquin probably already saw the gold at the end of the final Senior. And not just him! In fact, the two French skaters are present in the final, the other being Elton De Souza. Pelloquin hand to De Souza. But it has been overwhelmed by the imposing Ronald Mulder (Netherlands). Ioseb Fernandez (Spain) took the opening and passed the Frenchman as well. Difficult to gain speed then ... Elton De Souza had to settle for the fourth place, the worst. Nicolas Pelloquin was racing ahead, skating at the top of the track.
In the last turn, the Vendee, however took a quick glance behind him, feeling the breath of Ronald Mulder in his back. Then, he released his most powerful sprint to cross the line. Insufficient for a few thousandths: Mulder, supported bu his insatiable public, passed to his right. Again, Pelloquin has really done nothing wrong: beat Mulder and all his supporters, that's a lot at once!
In the women final, the German Laethisia Schimek (47.377) beat Giulia Bongiorno (Italy - 47.516). Katharina Rumpus (Germany - 48.064) is third...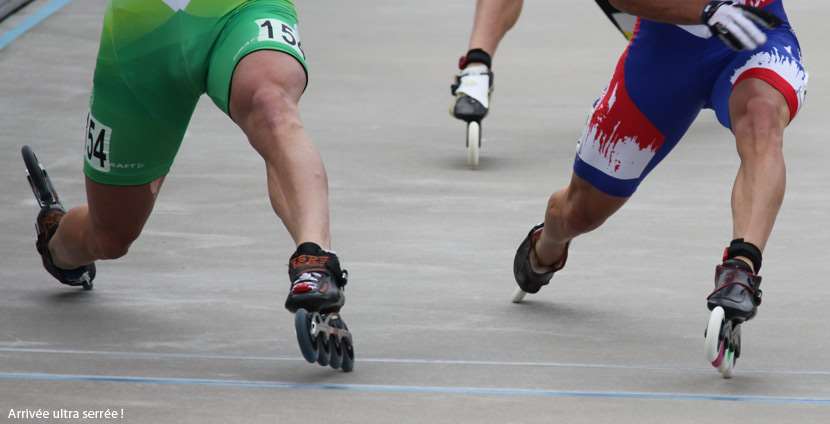 Main results

500 m seniors women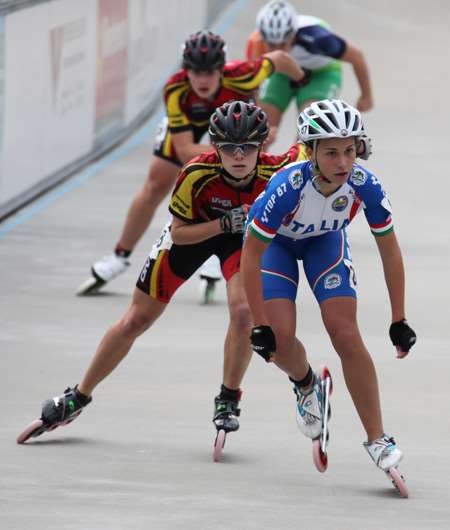 1) Jana Gegner - Germany - 47.193
2) Bianca Roosenboom - The Netherlands - 47.392
3) Erika Zanetti - Italy - 47.624
4) Sabine Berg - Germany - 47.625 (modifié)
5) Desire Contenti - Italy - 47.309
6) Manon Kamminga - The Netherlands - 47.869
7) Mareike Thum - Germany - 48.023
8) Nicoletta Falcone - Italy - 48.649
9) Aurore Schiro - France - 47.663
10) Sheila Posada - Spain - 47.705
..
11) Clemence Halbout - France - 47.966 3
14) Justine Halbout - France - 49.456
500 m seniors men
1) Ronald Mulder - The Netherlands - 43.096 13
2) Nicolas Pelloquin - France - 43.101 12
3) Ioseba Fernandez - Spain - 43.477 11
4) Elton de Souza - France - 43.555 10
5) Lorenzo Cassioli - Italy - 43.423 9
6) Michel Mulder - The Netherlands - 43.894 8 W
7) Andrea Angeletti - Italy - 43.901 7 W
8) Simone Martino - Italy - 45.047 6
9) Julien Despaux - France - 44.397 5
10) Wannes van Praet - Belgium - 45.064 4
500 m juniors women
1) Laethisia Schimek - Germany - 47.377
2) Giulia Bongiorno - Italy - 47.516
3) Katharina Rumpus - Germany - 48.064
4) Mandy Groot - The Netherlands - 49.132
5) Anke Vos - Belgium - 48784
6) Hanne Wouters - Belgium - 49.079
7) Margot Pouydebat - France - 49.080 (modifié)
8) Saray Narvaez Spain (DNF)
9) Marie Poidevin - France - 49.040
10) Chiara Vio - Italy - 49.148
500 m juniors men
1) Jore van den Berghe - Belgium - 44.450 13
2) Benjamin Pierre Jean - France - 44.504 12
3) Lars Scheenstra - The Netherlands - 44.562 11
4) Mirco Mezzalira - Italy - 45.095 10
5) Mauro Corselli - Italy - 45.363 9 W
6) Martyn Dias - Portugal - 45.423 8
7) Darren de Souza - France - 46.132 7
8) Aurelien Roumagnac - France - 46.258 6
9) Iker Mugica - Spain - 45.579 5
10) Niels Provoost - Belgium - 45.594 4
Links
Live broadcast
Pictures gallery of Gilbert Pouydebat
Your comments on the forum
Photos : 1st day in European championships 2011
Photos : 2nd day in European championships e 2011
Written by Vincent Esnault
Photos: Gilbert Pouydebat
and Daniel Busser