Interview : Ewen Fernandez (Powerslide Matter)
Par alfathor | Publié le 7 October 2011 | Mis à jour le 3 November 2020 | Catégories : AllSpeed-skating | Sous-catégories : Roller-skaters interviews and portraits | 18455
| Tags : BerlinInterviewGermanyPowerslide MatterEwen Fernandezfrench skaterice-skatingInzell
Ewen Fernandez skates in the club of his family, the Herbauges Skaters (France). This year, the French went abroad, in Inzell (Germany) to train on the ice. He trains with another famous skater, Alexis Contin. His purpose? To participate in major races and achieve global minima for the Olympic Games …
Interview : Ewen Fernandez (Powerslide Matter)
Biography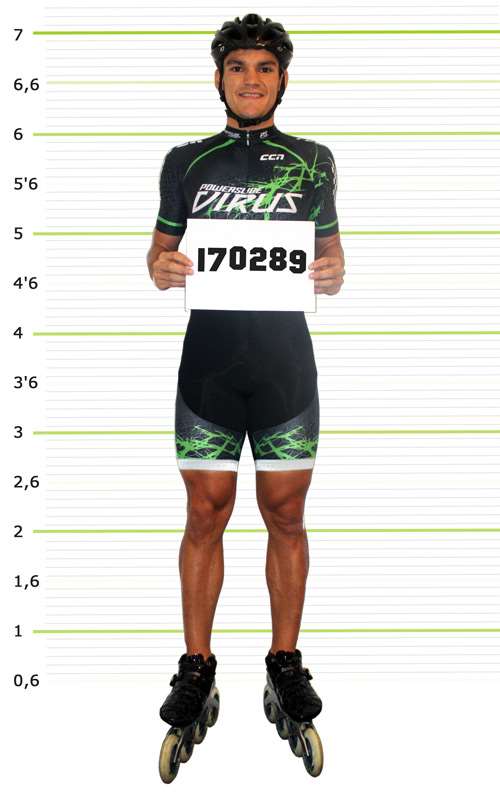 Name: Fernandez
first name : Ewen
Nickname: Ouin Ouin
Date of birth: 17 February 1989
Height: 175cm
Weight: 73kg
Born in: Saint Lô (France)
Lives in: Bouaye (44)
Begins to skate in: 1998
Category: senior Elite
Job: NC
Strengths: Physical
Points to improve: Sprint
Other sports: ice-skating (long track)
The last film he saw: "Taken" in the airport of Düsseldorf (Germany) before the marathon of Cologne
Favorite music: I'll be waiting (Lenny Kravitz)
Video games: soccer or bicycle games
Readings: "Le Guerrier Pacifique"
Like: the people he likes
Dislike: the fake/hypocrite people
Qualities: always ready to help the others
Faults: grumpy
Club: Herbauges Skaters (Bouaye, France)
Team: a surprise for 2012 (laughs)
Best memory: His victory in BMW Berlin Marathon
Worst memory: He doesn't know
Languages: French, a little English and Spanish
Alcohol or fruit juice? Fruit juice
ice-skating or roller-skating? Roller-skating for the moment…
Road or track? No preference
Sprint or marathon? Marathon
Hard or soft wheels? Soft
Beach or montain? Mountain
Morning or evening? Evening
Cheese or dessert? Dessert
Rap or techno? None!
Soccer or rugby? Soccer
Simple or double push? Double push
Prize list 2011
Winner of the Berlin Marathon
2nd in the road relay – World Championships (Yeosu, South Korea)
European champion in the track relay (Heerde, The Netherlands)
2nd in the road relay – European Championships (Heerde, The Netherlands)
3rd in the road point race – European Championships (Heerde, The Netherlands)
French champion of the road elimination race
2nd in the road point race in French Championships
2nd in the track point race in French Championships
2nd in the track elimination race in French Championships
2nd in the 5km time trial in French Championships
Prize list 2010
Winner of the French Inline Cup
3rd of the road relay route – World Championships
European champion relay track
3rd in the road point race – European Championships
2nd in the track point race in French Championships
2nd in the 5km time trial in French Championships
Prize list 2009

2nd in the road point race – European Championships
3rd in the track elimination race in French Championchips
Skates
Boot: Custom – Powerslide Icon
Frames: Virus magnesium (4*110mm)
Wheels: Matter G13
Bearings: Twincam Powerslide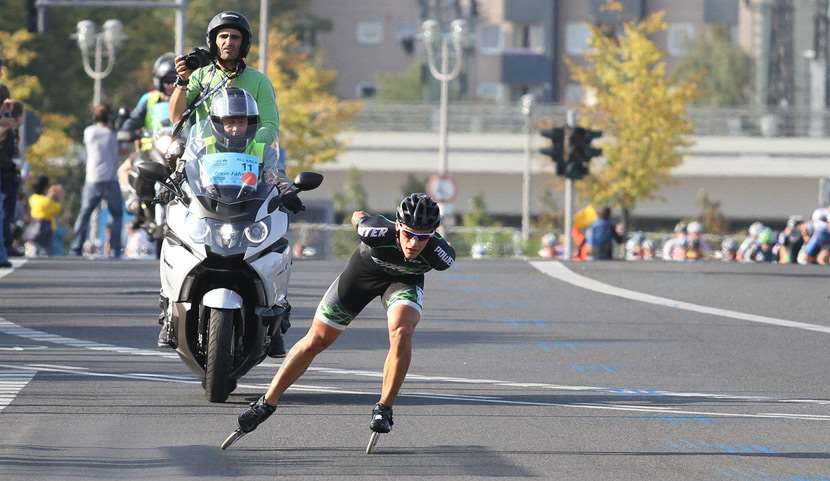 Interview

Hello Ewen, how old were you when you started roller-skating?

I started skating in 1998. I was 9. I always did the same sports as my brother: he played football, I played football too. He started to skate, I started roller-skating too… But as he was much less enthusiastic than me about roller-skating, he did it more as a hobby when I was more interested in competition… I owe him to have discovered this sport. Roller-skating gives me so much pleasure through my results, meetings…
What

did you like

in this practice

?
What attracted me most in roller-skating? It is a physical sport that requires self-transcendence. It is a tactical sport, mental, very technical … but also the sensation of speed!
Did you

try other

practices

that speed

-skating?
No, but I think that hardball hockey/rink-hochey is one that would attract me. Why? Simply because my uncle was a rink-hockey player. I used to go and see him play when I was younger. I think I will try in the future when I'll be too old for roller speed-skating.
What are

the

other sports

that you like

?
I love road cycling because it is very close to roller-skating, I did a lot to train, it allows me to clear my head. Otherwise, I like football because I practised it since I was 14 years old. I always like to play football with friends. Moreover, the last time I played, it was during the week of the Berlin Marathon, with Alexis Contin and Benjamin Mace against Alexis' team. It was the "French Connection" against the rest of the world and we "necessarily" won (laughs).
Does downhill attract you?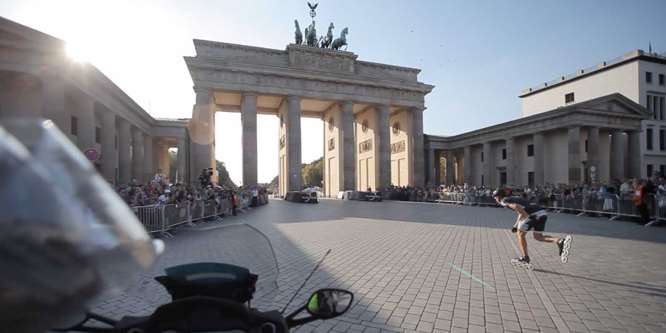 Not at all. I like to watch it, it is impressive but I would not like to try for a simple reason: it is too risky. I saw some serious falls and wounds.
Do you train young skaters in your club?
From time to time I train young skaters in my club to help the coach (David Fortin) when he can not make it for different reasons. I find it exciting to be able to teach the things I have learned in the past.
I think I will be more motivated to train when I no longer skate at a high level. After my two daily workouts, it is difficult to imagine that I also must train other skaters and talk about roller-skating. A small dose is fine for the moment to help. It suits me very well and it allows me to see what it is.
What did you feel when you crossed the last meters of the Berlin Marathon?
Berlin is a very special marathon. It's not like the others because the number of participants, spectators, the organization … everything is great! That alone already makes you feel something odd, something great, the joy of having finally a recognition for our sport.
When I took the last corner before the finish line. I saw the Brandenburg Gate appearing in front of me. I knew I finally arrived after 20 km of escape, probably the most difficult last 20 km of my life! 700m or 800m left before the finish line, but I could not believe it. I often looked back. I was afraid that someone comes after me in the last meters… that was the case for Alexis Contin in 2006. Why had I this fear? Because throughout the race I had no information on my gap over the other competitors.
When I crossed the Brandenburg Gate, I felt a feeling of chill with all these people watching the finish, to encourage me and applaud me for what I did … Thousands of thrill, a joy like I never had before… To win in Berlin was a dream for me. It was one of my long-term goals, win the most beautiful marathons in the world is always something to remember!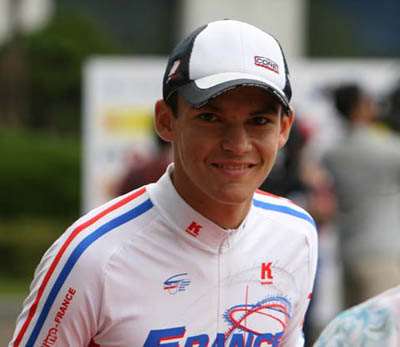 This dream came true, and it is also my first victory in a marathon in the senior category… And what a victory!
Do you travel a lot?
I have the chance to travel through the various competitions all around the globe. I take part in World Championships. I also participate in workouts abroad with the national team. I discovered many countries such as China (2005 and 2009), Korea (2006 and 2011), Colombia (2010), the United States (2005) and the countries of Europe … It also allowed me to realize how lucky we are in France.
What's your favourite country?

I do not know what country I like the most outside Europe. Certainly the United-States and Colombia! Two countries with different cultures… but I was there for a short time. I felt good about both.
I do not like Asia.
But above all, the country that still have my favor is France! There's no place like home, among the people you like!
Do you think you will earn your life with roller-skating one day?
Earning his life with roller-skating seems complicated. The only way is to have a sponsor who is willing to pay you to skate and use your image to promote the brand… So, earning my life with roller-skating will be difficult, everything depends on my career and my sports performances.
You started ice-skating… It means you will stop roller-skating?
I started ice-skating last winter. I wished to test myself, to see if ice-skating could please me. And I liked it! Except it's cold and I do not like this … I have Spanish origins! This year I joined a training academy in Inzell in Bavaria (southern Germany). The conditions are optimal to train, now I have to train to improve and reach my goals!
But the fact I started ice-skating does not mean I will stop roller-skating, I think I need the roller-skating to improve on ice and vice versa. Both sports are very close in appearance but so different! The skating technic is not the same, both are complementary.
Furthermore, I am still far from success on the ice. I'm at the beginning of my career. There is a lot of work. I wantt to reach my goals before stopping, or else I will have a feeling of regret.
Roller-skating is still in my heart. I would never have had the opportunity to know all these joys, these people, those special moments without roller-skating… as well as ice skating.
Do you see yourself

leading

a team

one day

?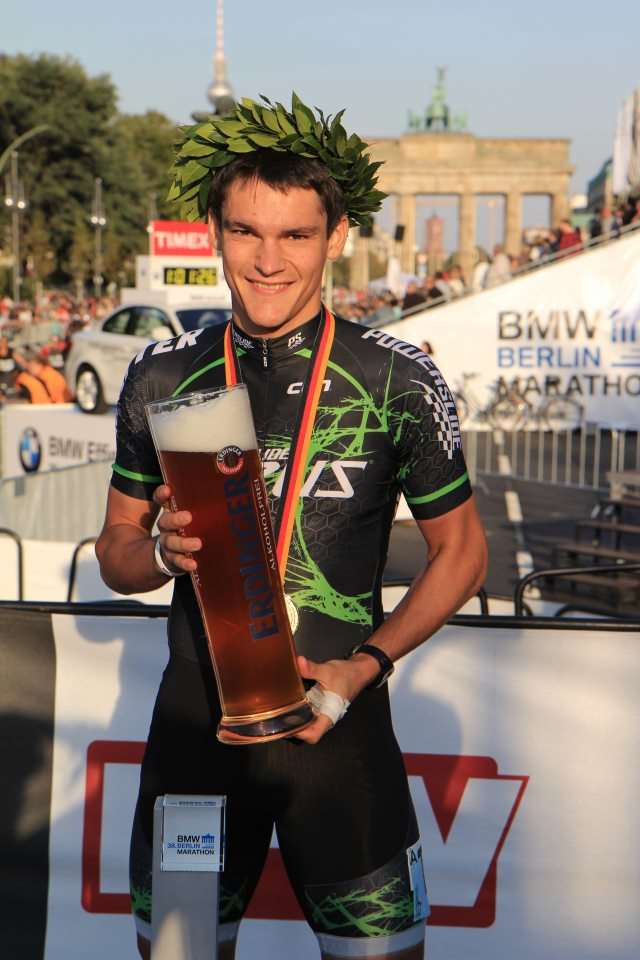 To be a team leader, I have to work hard. I would be really happy, like many athletes… but even with the status, one must not rest on its laurels. The leader has the most important pressure because he has to succeed as often as possible. He has a team around him to push him, to give him the best conditions to win. A leader also has a responsibility towards his sponsor who has strong expectations …
Despite these constraints, I hope to be a leader quickly, but as I said before, it is my job to make it happen.
How do you see

your future

in

roller-

skating

?
Quite good indeed! I would start with a handicap if I said the opposite before it even begins.
I must continue to train hard, improve my weaknesses, work on my strengths to be competitive during races, to get results and victories. I have to improve again and again to achieve the goals I set for myself.
I hope my future will be the best possible and even better than I can imagine, but hey only time will tell me!
How do you select your goals when you are a high-level athlete? (Sponsors? Events? Technical and physical skills?)
For my part, like most athletes, the international championships are my goals, and especially the World Championships. The World champs are the ultimate goal of the season. This is the greatest meeting for world's best athletes, the place to be. We confront on different distances to determine the best skater for each distance (track, road and marathon).
The races during the season are more or less preparatory races. Of course, among these races, there are mandatory competitions that are important to the sponsor. Thus, I try to get in shape for these events, to have a good result, to win and to honour the company which accompanied me the whole season.
Then, there are races that I like and that I necessarily want to participate in. There are also competitions that match with my technical and physical qualities.
But all these races are only steps to reach my ultimate goal, the World Championships!
How many

workouts

per day and per

week?
For workouts, I am followed by a coach with whom I prepare the season. The planning includes 4-week cycles: three weeks of training and a week off for compensation.
I train twice every day, except on Sunday "the day of the Lord." A day of rest is important for the well being of the athlete.
This makes a total of 12 trainings per week during heavy periods. The training load is less important at certain times. Basically, the number of trainings vary between 8 and 12 per week (sometimes more…).
What kind of

workouts

are you doing?
I have to do everything : endurance by roller or by bike, I am also running but more rarely, I work long or short intervals regarding the period of the year I also train on long and short sprints (100 m and 500 m). I make very few standing starts…
How do you

reconcile

ice skating

and

roller-skating

?
It is not easy to answer this question yet. This is the first time I do both full seasons, so I can tell you more at the end of the ice season.
What do you like in ice-skating?
I immediately liked this type of effort. Solitary effort, I like it! So I said, "must try". It is also an Olympic sport!
The effort on the ice is a style that I like a lot. You must know perfectly well how to manage the race, stay calm, to be effective, go over your limits (as roller-skating), but also have a tough mental …
The race against the clock is a very special effort that does not necessarily fit to everyone, some athletes do not like that. For my part, I love it! It changes! It's new and so exciting.
Ewen, for you, the season is not over…
Indeed! I landed on September 15th in Inzell, Germany, in the training camp of Jeremy Wotherspoon. He is Canadian, eight times world champion and twelve times winner of the sprint World Cup one ice. He is assisted by Tristan Loy. From this date, I will really start a new life, I will start a new challenge: to realize the minima of the 5 km…
I am not alone in this training camp, since another French is on site, in addition to Tristan: This is Benjamin Mace. The conditions are ideal, we are extremely well managed, and I'm only there to skate on the long track.
My goal: go under 6'48 and thus be able to participate to the ISU World Cup … It's possible. Last year, I completed a 5 km in 7 minutes and one in 6'58, but it was not validated because I had put a step on the other lane … I have to scrounge 10 seconds, and for this, it is necessary to improve my technic.
In roller-skating, you can always catch up physically when you start to be less efficient technically: it is absolutely not the case on the ice. But last year in the Netherlands, I was told that the 6'58, I got it using my physical qualities. Now, if I want to reach my goal, I will have to work on my technical skills. The challenge is this: I have to save a second per lap to pass under the famous mark and validate 6'48 minimums in three or four months!
Does everything is going well?
Very well, I'm skating better than last year … I'm waiting for my new Cavalli ice shoes.
Have you

passed the

minima

this year?
This year I do not know, I did not test. I'm living in Insell for the whole winter. I'm just skating. Before the Berlin Marathon and after the World Championships, I had put on my rollerskates twice! Once for television (for a TV show in Nantes) and once the day before Berlin.
When

will be

your

next

tests?
The real ISU test for the World Cup will happen next week and the following week.
What means the numbers 24#6 in the header of your blog?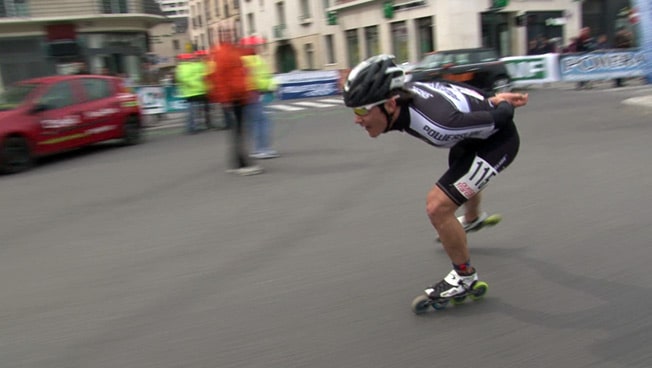 The 24 corresponds to April 24, 2006. This is the date my brother died in a motorcycle accident. 6 corresponds to the June 6, 2008, day my cousin died in a car accident. I've always had these dates written on my old skates. For me it's a way to tell me that they are always with me, even on my skates, give me the strength to succeed. It is also why it's hard for me to succeed at times. I have pressure on my shoulders since these two accidents. The family is very united. When I do a race, everyone wants to know if I succeeded or not. Suddenly, I felt an obligation to succeed. My brother was 22 and my cousin 18.
What are your

career goals

?
I got my degree in Management of small and medium enterprises in 2010. Last year, I started another training in school but I did not like it. For now, I'm abroad for a year off. I gave myself a year off and I wait to see how the situation is going to evolve on the ice.
Also, I do not know what to do at the moment, it is not easy to choose the right path when you live abroad and when we made a top-level sport!
What are your

sport goals

for the

coming year and

next?
To realize the minima in the 5000m on the ice to participate to the ISU World Cup. We'll see how my results will improve. Then, I will be able to set new goals.
For roller-skating, in 2011, I always did better than in 2010 so I would like to continue this momentum in 2012. I would like to get a title of European champion in Spain, on the land of my ancestors! I would also like to win a medal in the World Championships in Italy. I also have to defend my national title acquired this year.
Do you have a team or a sponsor for next year?
For now, I have not decided yet because I have not signed anything. I received two offers and possibly a third, so I have all the contracts, I will make a decision. But I have my idea in mind!
What would you say to someone who would start roller-skating?
I will tell him that roller-skating is a complete sport (speed, endurance, technique, tactics …). whatever is your level, you can have fun and pleasure, there are so many challenges such as long distances, races, endurance races (24h, 12h, 6h) … In addition, this person will join the great family of roller and may meet with wonderful people and share good times.
In your opinion, what is missing

in

roller-skating to be recognized by the medias

?
Roller-skating is a wonderful sport. The main problem remains that it is little known to the general public. I think it is necessary to include roller-skating in big organizations such as marathons as they did in Berlin (Germany).
Most of the German Inline Cup competition are linked with running competitions : half marathon in Berlin, the Berlin Marathon, Marathon of Cologne etc. This would allow roller-skating to be recognized more easily because everything is already there: the organization, roads blocked, the audience … It would be benefit to our practice and allow a successfull growth.
You wish to say something to skaters who follow you?
Nothing is impossible if the desire and motivation are there, you must insist and one day it works!
Useful links

blog of Ewen Fernandez
Facebook page of Ewen Fernandez
Written by Alfathor et Vincent Esnault
Pictures: Powerslide
All rights reserved

Auteur
Alexandre Chartier
''alfathor''
Alexandre est le fondateur et webmaster de rollerenligne.com depuis 2003. C'est un passionné de roller en général, tant en patin traditionnel qu'en roller en ligne. Il aime le patinage à roulettes sous tous ses aspects : histoire, économie, sociologie, évolution technologique... Aspirine et/ou café recommandés si vous abordez un de ces sujets !