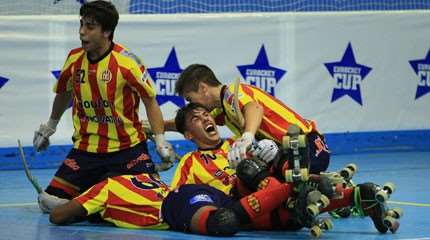 Campeón!
In the first half, both teams were playing with intensity but were unsuccessful. However, 2 goals by Pol Molas in the first minutes of the second half changed the dynamic of the game. FC Barcelona had to react.
A done deal since a penalty was accorded to FC Barcelone, and converted by Marc Montilla. Later, Marc Gonzalez equalized the score.
Though the game progressed towards overtime, a goal scored by Ferran Buixaderas changed everything: CP Manlleu became European Champion by winning all their games.
3rd and 4th place
AA Dominicos brought up the rear of the U17 Eurockey Cup with a victory against the defending champion, HC Braga, who will head back to Portugal with a well deserved 4th place.
Galicians lead the game thanks to Raul Fernandez's and Pablo Torres's goals. Braga then caught up to his opponent following the goal of Gonçalo Neto. But before half time, the Dominicos widened the gap with a goal from Manuel Fernandez.
During the 2nd half time, HC Braga scored 3 goals (Rodriguez, Trabulo and Neto) and took back the lead. Dominicos was able to deal with the situation and evened out the score (Manuel Fernandez). Trabulo then scored, putting HC Braga ahead again.
However, Raul Fernandez scored 2 last goals ending the game in favour of AA Dominicos which, with a score of 6-4, had almost a flawless round.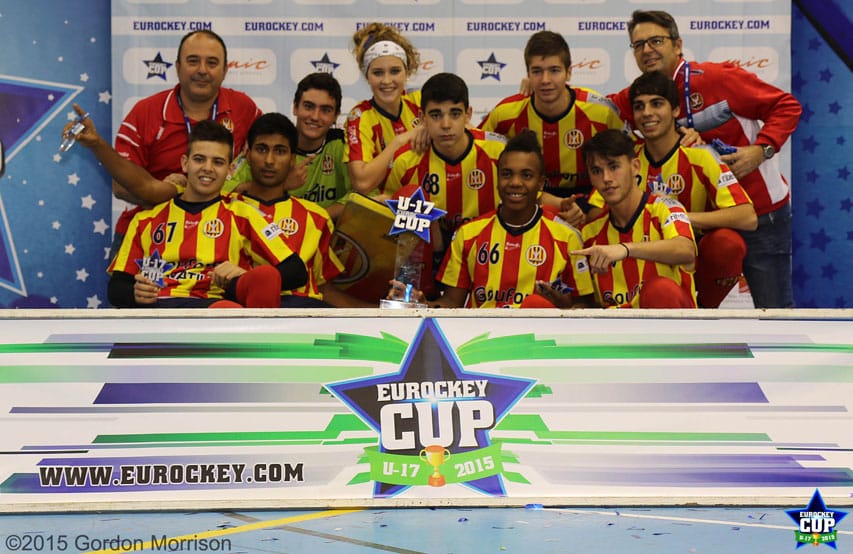 Video of the last day
Links
By Isaac Navarra Surós
Translation: Chloe Seyres
Photos : Eurockey Cup