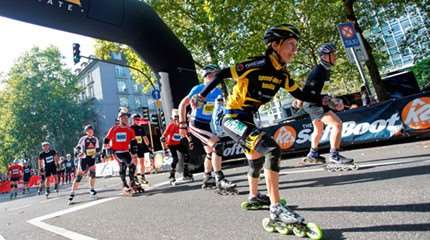 Cologne offers perfect skating conditions on partially new course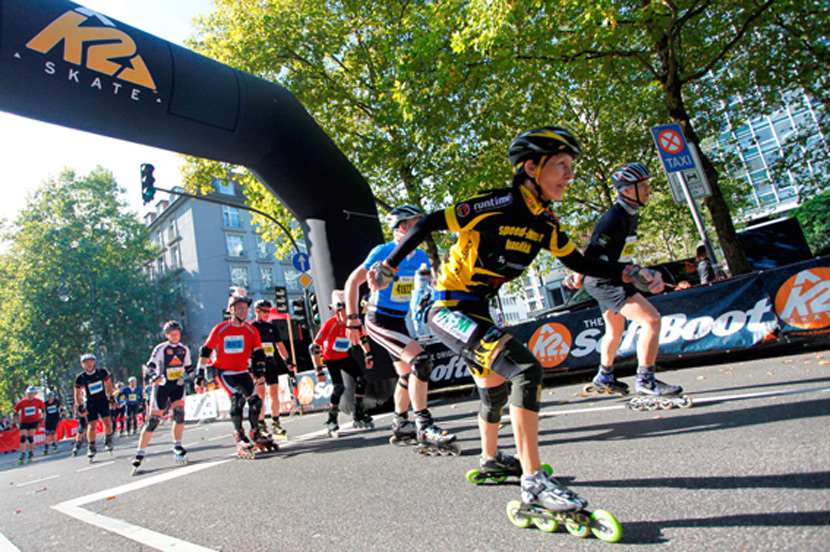 With more than 1,500 skaters the race ranges on #2 of the biggest German skate marathons following Berlin. Cologne hosts the German Inline Cup (GIC) final and is also the ultimate stage of the regional series Westdeutscher Speedskating Cup (WSC).
And what makes the race unique and famous for is the large number of enthusiastic spectators queuing along the course and cheering for the sportspeople, it does not matter whether they are international top athletes, ambitious semi-pros, or recreational skaters. The relatively late starting time of 10:50 a. m. (may be subject to change) allows the Cologne inhabitants to view the race after a late breakfast or before lunch.
The course
The course through downtown Cologne is fast and diversified – almost half the distance is entirely new – and promisses new best times. There are only 3 real turns on the first 20 kilometers! Last year the male athletes pushed a new course record while the ladies only missed it by seconds. The big highlight along the course is the K2 mile at the Rudolfplatz in the heart of Cologne.
Skaters of all the levels and horizons
Sportspeople of every performance level are heartly welcome in Cologne. The thousands of fitness skaters, rookies and returners, or allrounders spread perfect skating temper. Particularly these skaters characterize the race like no other.
Further, international, national, and regional top athletes gather at the Rhine and look forward for enjoying the closing of a fantastic skating season while being cheered for by the spectators.
The organizer offers a single-person registration as well as a reduced group registration exceeding 10 persons.
Note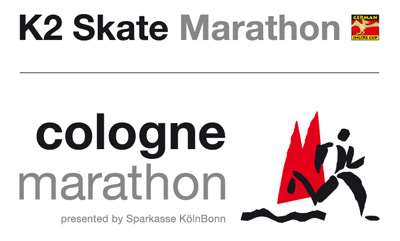 Save money and register prior to June 30, 2011! A single-person inscription costs EUR 50.00 now, from July it is EUR 55.00 per person. And a group/team/club registration of at least 10 persons reduces the registration fee to EUR 45.00 per person till the end of June. Afterwards you are to pay EUR 50.00 p.p.
Single-person and group registration at https://secure.koeln-marathon.de/en.
Those of you who are interested in more than just the race may have a look at these offers for a prolongated weekend in Cologne (on October 3, 2011 is the German national holiday).
And you even may book your hotel with the organizer, they for the first time also arrange hotel rooms of several categories at: http://hotels.bytepark.de/en/km
All Parisian skaters may further contact the French skater Oliver Heuzé at olivier@heuze.net. Sebastian Becker, one of the Cologne Marathon organizer responsible for inline skating, will also participate in the 24 Heures in Le Mans with the team "Eau de Cologne" and seeks for contacts. He is also available at sebastian.becker@koeln-marathon.de.
Links
Cologne WelcomeCard
Cologne as a tourist destination
General information about Cologne Marathon
Cultural activities in Cologne
Text: Sebastian Becker
Photos: all rights reserved