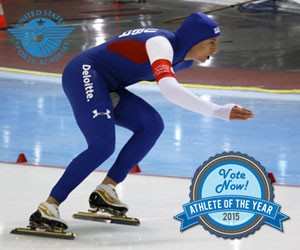 A day after Joey Mantia was named Best of November for the Team USA Awards,
Brittany Bowe
was named a finalist for the United States Sports Academy's 2015 Athlete of the Year award.
Exceptional feats

The ice and inline skater from Ocala, Florida, skated to gold medals in the 2015 World Single Distance Championships in the 1000m and 1500m events, as well as the silver in the 500m. She also won the 2015 World Sprint Championships. In addition, Bowe was awarded the 2015 Oscar Mathisen Award, awarded annually for most outstanding speed skating performance of the season.
Record shower

With the 2015-16 season underway, Bowe has picked up where she left off by winning 10 overall medals through the first three ISU World Cups. On Nov. 15 in Calgary, she broke the 1500m world record, a record that had stood for 10 years and at the time was the longest-standing women's speed skating world record. A week later in Salt Lake City on Nov. 22, she then set a new world mark in the 1000m.
The votes were closed on the evening of December 23rd.
Source and more info at teamusa.org