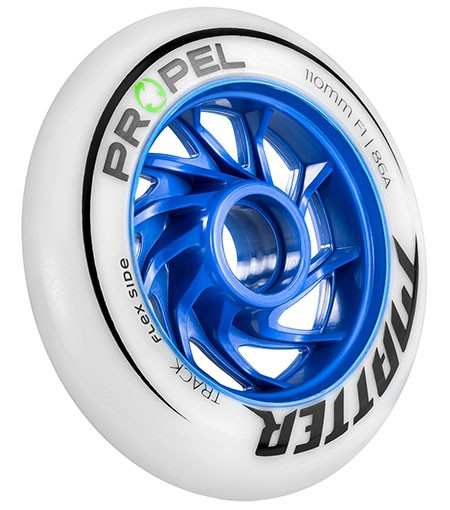 A press release from Powerslide
Introducing Matter PROPEL
" Track racing is all about the corners. Those precious meters on the exit of every corner is where racing is won and lost, and the champions are crowned. As the name suggests our new wheels have been designed to Propel the skater out of the corner like nothing ever skated on before.
Using patented oblique technology the Matter engineers have designed a wheel that is optimized to turn left. Since track racing is only in one direction it should make total sense that the skater's wheels are optimized to work best in that direction. The two sides of the Propel wheel are known as the Force side and the Flex side. While these wheels have been tuned to work best in one direction we have also seen recent developments that allow them to be used in BOTH directions depending on the skaters personal preference.
We have also enhanced this wheel's chemistry too, to be more resistant to abrasion and therefore last longer at critical moments in races.
So far in the 2017 racing season we have been fine tuning the flex of the core and after the recent results at the European Champions and World Games we are very close to the much anticipated release of the final product at the World Roller Games in Nanjing. Like with all of our wheels, our racing team has been heavily involved in the development of these wheels. It is often said that we have the best skaters in the world like Bart Swings and Peter Michael who can win on any wheel, however at the World Games it was skaters such as Felix Rijhnen and Livio Wenger racing onto the podium using Propel. This clearly highlights the performance of the Propel wheel.
Available in 110mm, F0, F1 and F2
Attached is some wheel pictures and a promo which you can use. Not only will we have stock at the Roller Games in Nanjing we also expect a limited stock in our German warehouse by the middle of August, so collect your pre-orders now.
It's going to be an exciting few weeks and months for Matter Racing, because not only do we have the release of these Propel wheels, we will also be having stocks of our new CHR 125mm wheels next week! "