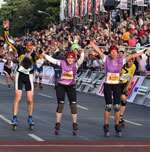 36th Inline Skating Berlin Marathon: get a week-end!
36THINLINE SKATING BERLIN MARATHON: GET A WEEK-END!
The 36th Inline Skating Berlin Marathon will take place on Saturday, September 19th, 2009. This event counts for the World Inline Cup ranking. For 130.00 euros, get a weekend in Berlin, including your race spot!
You are the star!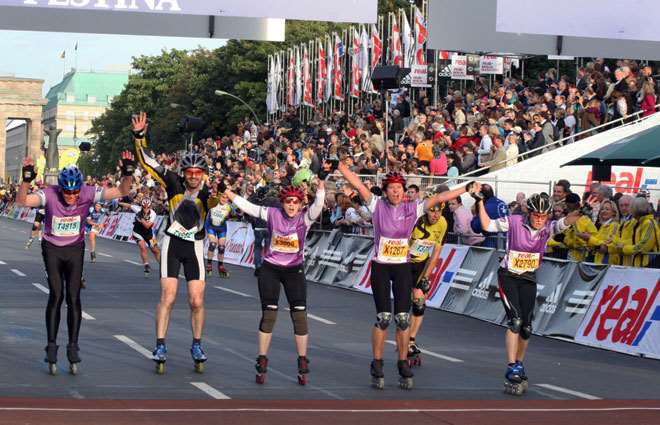 This is the motto of the REAL BERLIN MARATHON, where the applause from a quarter million spectators is given equally to every one of the 8,000 inline skaters at the last and largest event of the season.
While the professional skaters battle in the finale of the World Inline Cup, amateur skaters also can experience their personal season highlight at the largest inline skating event in the world.
The course leads past numerous city sights and is flat and very fast. Even the more difficult passages along the course can be managed by all skill levels.
Alone the final 500 metres should be enough to make participation here obligatory!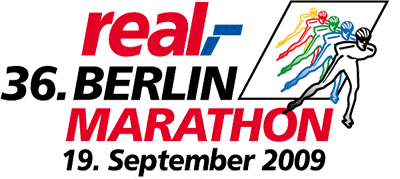 Skating through the Brandenburg Gate and past the packed grandstands in the marathon stadium will give you goose bumps, and crossing the finish will be an experience of a lifetime.
Our offer for all skaters
1 race number, 2 nights of hotel accommodations (including breakfast) for only 130 euros (118 euros in a 4 bed room).
This offer will bring you to the centre of the action, where you can experience an exciting weekend in the capital. The hotel is at most 5 km from the start/finish area and only 1.5 miles from the big marathon party venue on Saturday after the race.
The package deal is valid from Friday, September 18, 2009 until Sunday, September 20, 2009 for accommodations in a double. The offer is limited to 20 double rooms, and the registration deadline for the package deal is July 31, 2009.
If you are interested, please contact us at: skate@scc-skating.com
Welcome to the ALL IN Hostel!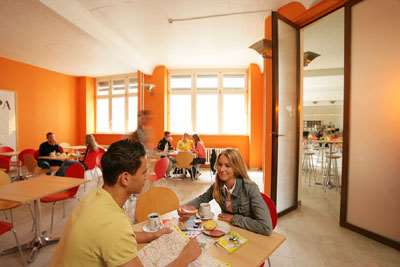 Located centrally in the middle of Berlin between MTV, Universal, the Eastsidegallery, and Alexanderplatz, the ALL IN HOSTEL offers modern, economical, and excellent accommodations.
The district of Friedrichshain and the area around Grünberger Strasse and Simon-Dach-Strasse south of Frankfurter Allee is one of Berlin's most popular spots and a favoured student area, with all kinds of interesting locations.
IMPORTANT: From here, it is only 1.5 km to the marathon party and only 5 km to the start/finish area of the 36th real,- BERLIN MARATHON.
(The hotel booking will take place through the travel agency Prima-Klima-Reisen GmbH. The reservation can be cancelled with no fee up until 8 weeks before your scheduled arrival, thereafter the following cancellation fees apply: 50% of the total bill (from 8 weeks to 5 days before your arrival), 75% (up to 2 days before your arrival), and 80% (on the day of your scheduled arrival).
Links
www.all-in-hostel.com
www.scc-skating.com
Text : SCC-Skating.com
Photos : SCC-Skating.com