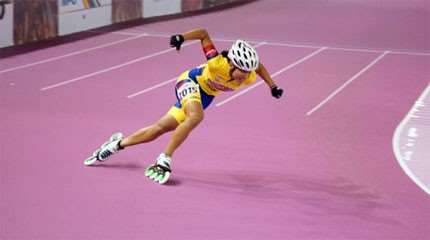 Senior women's sprinting pronostics by Scott Arlidge
The core of these events is the 300m TT, 500m and the one lap on road. We will look at the 100m drag race, and 1000m separately because they are unique in their own right. Also, because some countries have different skaters vying for various races, sometimes I'll only use their country.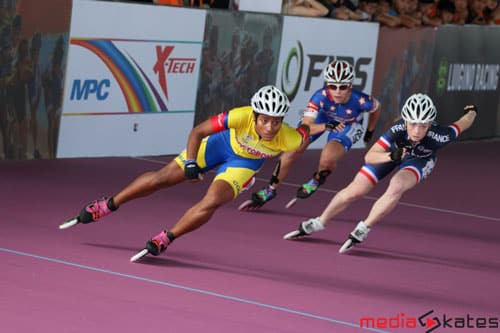 When it comes to sprinting it is hard to look past Colombia's dominance. For the best part of a decade they have dominated the podium of the sprint events at the World championships. There are the 'greats' like Yersi Puello, Andres Munoz and Pedro Causil, and the main reason for their dominance is that even following these stars, you already have skaters who have won World titles already such as Andres Jimenez and Juan Camillo, their strength is in their depth. The competition just to make their national team is fierce and you can be sure if you qualify for the national team, then you'll also be pretty close to the level needed to be standing on the podium at the World championships.
In saying all this, a Korean skater, Shin Soyeong won the ladies 300m TT last year, so anything is possible and now with time gaps of less than 0,1 of second it's often who can maintain their cool under pressure.
So time to make some predictions!
300m TT track
Colombia
South Korea
Maria Jose Moya (Chile) - (wild card: the other Colombian)
500m track
Colombia
Colombia
Erin Jackson (USA) (wild card: Korea)
One lap road
Colombia
Colombia
Erika Zanetti (Italy) (wild card: Victoria Rodriguez)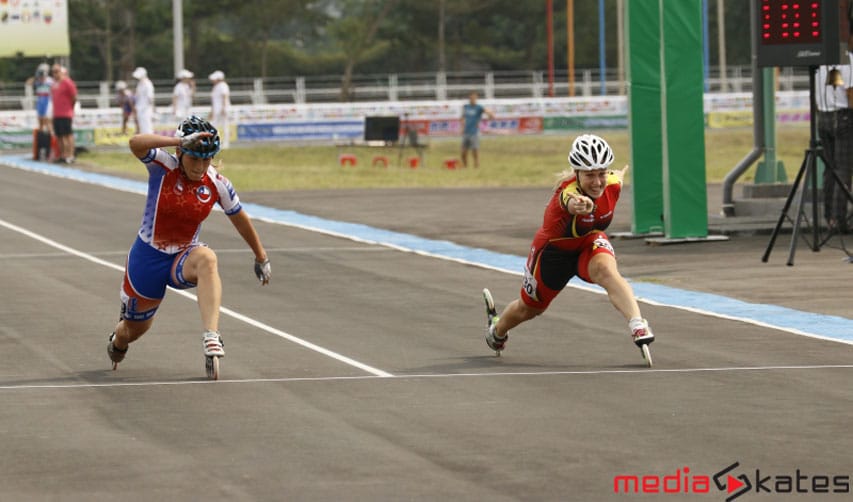 At best, these are a guess, and there is several other important contenders: Ingrid Factos (ECU), Ho-Chen Yang (TPE), Laethisia Schimek (GER), Guilia Bongiorno (ITA) and then there is even some fast long distance skaters such as Sandrine Tas (BEL) and Francesca Lollobrigida (ITA) who might decide to line up for a sprint event.
100m

Moving onto the 100m, this is turning out to be an event in it's own right. It is a very different game to do a standing 100m on the track as opposed to a standing 100m in a straight line off a starters gun. Reaction time in critical. Looking at last year's ladies 100m results, all 3 medalists gained their only medal in this event, and there were no Colombians in the final (However they do more 100m races than anyone now, so I am sure this won't happen in 2016).
So predictions:
Maria Jose Moya (Chile)
Colombia
Erin Jackson (USA) (wild card: Laethisia Schimek, GER)
1000m sprint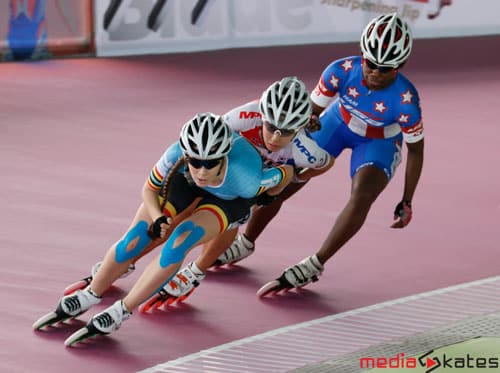 The 1000m is a unique event, as it's one of the only times when sprinters and long distance skaters can go head to head on a somewhat level playing field. During the earlier rounds you've got sprinters sitting on hoping to win, or long distance skaters trying hurt sprinters while at the same time trying to qualify with a fast time. There is always a little bit of luck with the 1000m because of how the draw can work, but more often than not, the good skaters end up finding a way through to the final. The final is a different race to the qualifying rounds, because there is no need for putting down a fast time anymore. Positioning is important, and also a team mate can be a big help too.
This is a hard race to predict, but here goes:
Sandrine Tas (Belgium)
Guo Dan (China)
Francesca Lollobrigida (Italy) wild card: Colombia.
Again there is a long list of other contenders, the German duo of Mareike Thum and Laethisia Schimek were 3rd and 4th last year, Erin Jackson who was controversially disqualified in 2014, and anything could be possible from Chinese Taipei or Korea. As I said, anything can happen in the 1000m, just remember 2011.
Links