Antoine's summary of the race
In 2010, I finished my first solo race in Le Mans in the following state of mind:
« You must be a little masochistic and have a strong mindset to lie to yourself about the unbearable pain. Glad I finished it, but it's over and done. »
(Source: Extract from the PUC Roller Website)
The least to say is that I wasn't ready to do it again right away. But time makes everything go away.
The following years at the 24H of Le Mans, I was in great teams of 10 skaters with renowned skaters, first with Horizon University, then three times with the MSC and last but not least, with the MRS. Wonderful years with podiums and one victory. But routine was setting in and through seeing/following the solos, the real warriors of the asphalt, I heard the call once again.
I was sure that the bar of the 600 km would be reached by several skaters as soon as 2011. But in the end, conditions were not all met for that: rain, cold, competitiveness... I want to congratulate Claude Viltard for his Le Mans record of 2015. An amazing improvement since 2010. He outreached the record of Phil (Philippe Coussy) by dint of work. Only history will tell if RPhil has really said his last words...
In September, I decide to do it solo, and announce to Céline Laporte (MSC Team Manager) that I'm not in the team for 2016 but that I go for a solo race... I registered in the wake of it, taking the plunge for 2016.
The preparation
I get to enjoy running more and more with my life partner, Chrystelle. We wanted to do longer trails in 2016 and I wanted to take a break from the French Cup of Skating Marathons, to vary a bit and share more activities with her.
Then we planned to train in running between October and April for the Paris Marathon (big failure), then skating until the 24H in July, and then trailing until the end of August for a 110 km trail, the CCC.
Big life changes happened in February (moving to Lyon, new job, baby on the way, woopee!), which kind of turned our plans upside down. But luckily, we were not drawn for the CCC (maybe then we'll get more chances to be drawn in 2017?)
Chrystelle and Simon decided to help and coach me on the side of the track. Perfect, we know one another by heart. But it adds extra pressure because now, I'm not the only one involved, and if I give up, everybody sinks. And I will have made them lose their time. (Scared...)
My skating preparation wasn't very long, I put the skates back on in April, after a 6-month break, but I still benefited from the cardio work I did for the Paris Marathon. But my feet and back didn't like it! I started with small sessions. I met the skaters and coach from Lyon. It's hard to survive to sessions behind skaters like Olivier Blanc, Elphège Pédicone, Benjamin Bourlier, Etienne Hererros etc.
To this, I added a few longer sessions:
150 km back and forth Lyon-St Genix
The 2016 6 Hours of Savoie in Chambéry (about 196 km)
The 6 Roll' Hours of Saint Etienne (about 150 km) feet destroyed, forced break every hour.
The Roll'athlon (103 km)
The Dijon Skating Marathon (far behind, obviously: no more speed).
Then I wanted to do bigger sessions, between 50 km and 80 km at a 24H-type speed in Parilly. I tried the weirdest set-ups, Rollerblade Fusion X7 cut liners inside old Fila M100 boots... but it was always the same result: my feet were in such pain that I couldn't complete the long sessions, I had to shorten the trainings. I would even go back home barefoot on public bikes to relieve my ankles.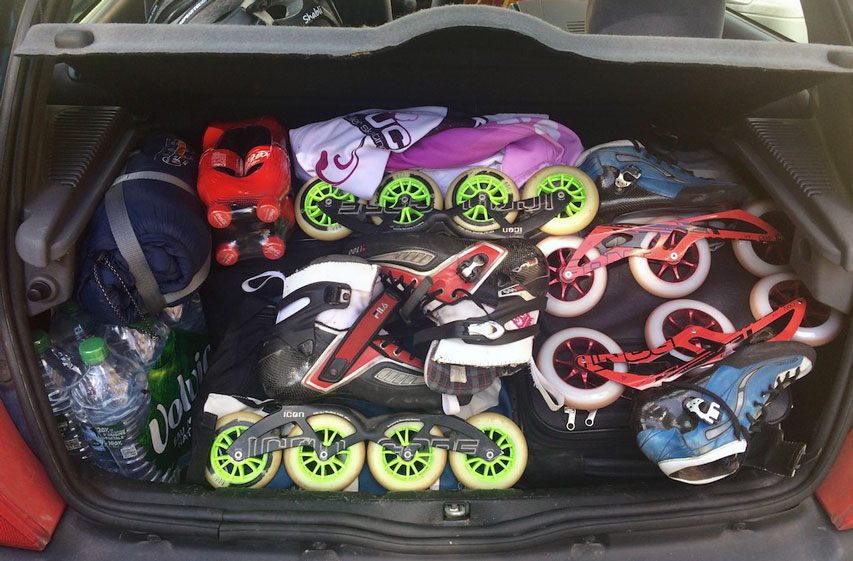 Chrystelle concocted an essential oil remedy, a recipe by Kat Seulette (thanks Kat!) for my feet to unswell, massages every night... but harm was done.
I arrived at Le Mans full of doubts about that foot and that stubborn malleolus. I must have got many people on their nerves talking about it. I regretted to have skated sessions while I was already in pain.
the start
For the start, it was a novelty of 2016, we had two options: either the classic start with the skater barefoot on one side and the skates on the other side, lined up on the start line according to your qualification time, or starting from the back of the start line, skates on, after the last skater has crossed the line.
The qualification session goes well, I get in the stream of Theo Polbos, which gets me the 11th best time. Not bad for a solo! I will leave me more time to put my skates on at the start.
Claude Viltard hesitated between the two options. I suggested not to make any changes because we had no idea of the delay before being authorized to start from the back of the start line. In the end, the delay was quite long, about 3'30...
My two coaches being gone for a light running session (thanks), I get ready for the start: my bib (damn, no pins, thanks Sabrina and Christophe!), my helmet, my glasses, my earphones, my salt and magnesium pastilles, my water bottle, a few snacks. I'm on the line... oops I forgot something... right, my skates!
I sprint to the box, start in three minutes... I'm warmed up!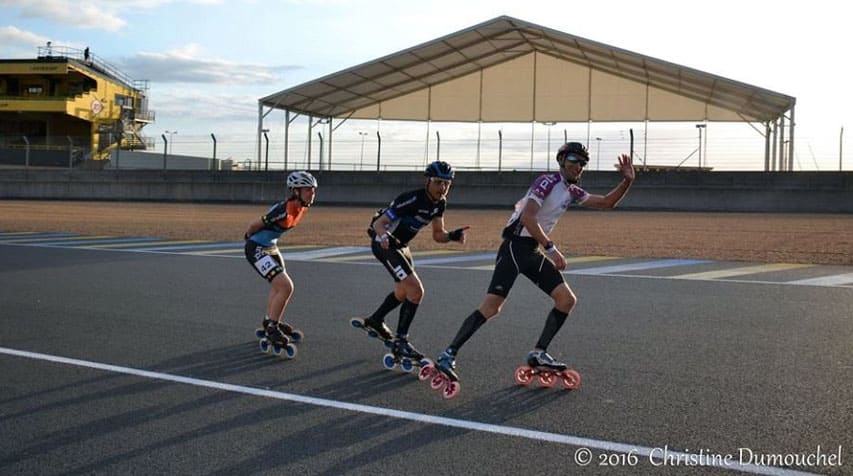 The race
It's hard to find the right pace during the first laps, with the excitement, and the big packs that don't encourage you to remain reasonable either. I quickly realize that the wind is going to be a big challenge to complete the 24 hours. Times alternate between 8' and 9' without pushing too much, I think that the Bont/MPC Red Magic Hardcore 125 mm wheels help a lot for Le Mans. I drink, I pay close attention to the pain in my feet. I'm pleasantly surprised that they are quite alright. I call Chrystelle on the phone and tell her I'm pretty okay. She makes the decision not to talk about it again for the whole 24 hours not to remind me, which proved to be an excellent strategy.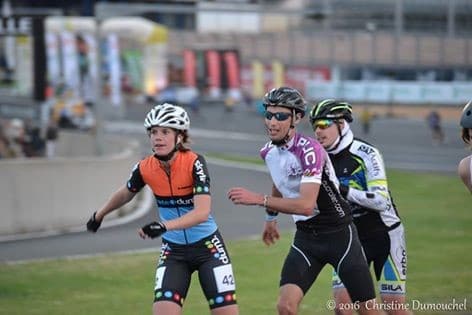 Hours go by and in my head, I tell myself that I've got a good pace and that I would soon have a one-lap lead over the other solos. But I am wrong, I haven't taken into consideration the comeback of Patrick, who despite having started with his skates on and a 3'30 delay, catches up on me. Good job! I'm surprised and that's quite a blow to my spirits, I thought I'd be safe but in the end, it's just like the start.
Patrick asks me what I intend to do now, if I want to skate alone or if we skate together, but I can tell that his goal in not to skate kilometers but to slow down a bit so that his Ligne Droite team mates, Christophe and Claude, also catch up on us (which is totally understandable). I don't slow down and keep my pace. Lap after lap, I feel like I have the role of a team mate for Patrick. He talks to me about my feet, repeating that I shouldn't hurt myself, that he didn't mind if I stopped to change skates... he's teasing me, that's the game!
In the end, we finally take a one-lap lead on the group of the 3rd solo Claude, etc. Which allows me to leave a few relays. Claude doesn't feel it very well, the pace he picked doesn't work for him. I check the time, I feel ok, my feet remain silent (the perfect surface of the Bugatti helps too). I have pins and needles in my legs and yet we skate at 8'40/lap, which is quite fast.
One-lap lead
I tell myself that at this time of the race, I could speed up, but that in 6 hours, I may not have the energy to leave the group. I make the most of a group of two duos who pass us by in the uphill slope to get in their wheel. I check over my shoulder, nobody followed, and I keep skating. After 7 laps with times between 7'47 an 7'18 I take a lap on the second solo. I get calls from friends (Rémy, Walter), I'm in the red and I'd rather not stay long on the phone. I mostly wait for info on the gaps to know if they are catching up or not. I didn't think I'd get a one-lap lead that fast, but I came out a little battered while I haven't even yet skated for 6 hours (mistake!)
I realize that Patrick starts to suffer. He congratulates me on the extra lap. From there on, I don't focus on the ranking but I keep hoping that I'll reach my crazy 600 km goal. I slow down and recover a little:
hydration: Powerade, water, coke (without bubbles)
nutrition: grain mixes, cheese, saucisson, sweets, salted biscuits, bars.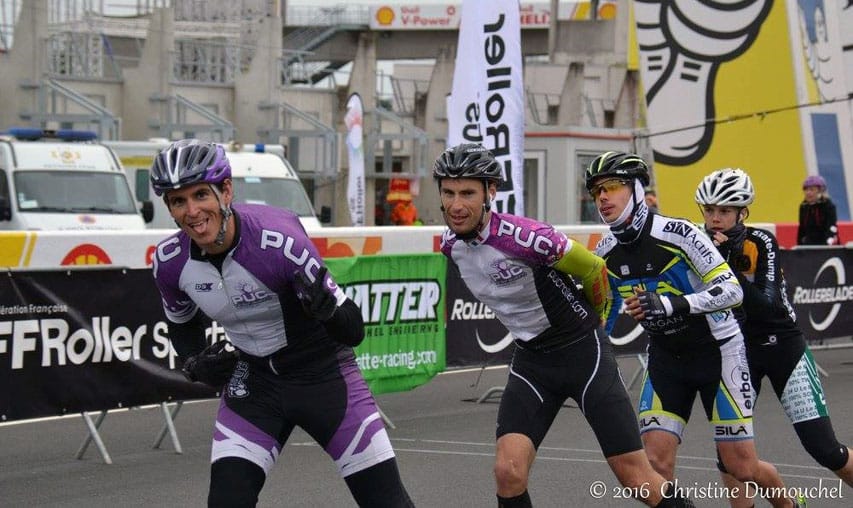 A dream staff
It may not seem like very appropriate food to eat but in the end, on long efforts, you can allow yourself quite anything as long as it's not too complicated to eat. And unlike with running, your stomach is not that much shaken, and on the Bugatti, there are 'rest' stretches during which you can chew without choking.
My staff, Chrystelle and Simon, keep me motivated, I regularly have them on the phone (« well then, you're not waiting for Patrick? ») It does you so good not to feel all alone (which is essential for an effort like the 24H).
The « Simon » food supply method is great. He runs on 100 m next to me with the bottles and all, which even gives time to chat a little. He's got energy to spare! I might register him for the 2017 solo, what do you think?
the dream team (Tom, myself, Benji and Sabrina)
Halfway through
Euphoria leaves way to boredom... The Dunlop rise seems steeper lap after lap, and yet, I'm only halfway through. My spirits go down. I start doubting, I complain... difficult time to get through. I could have shortened the race by 12 hours without a second thought.
The great thing is the paper messages with the info on the ranking, the number of laps, a comforting note that Chrystelle leaves me in the nut bags or taped to the water bottle...
The PUC duo with Tom and Christophe is having trouble, Christophe is temporarily skating solo for the night. He will be of precious help during the long stretches against the wind. Although I offered to relay, Christophe goes back in front of me and tells me he is probably going to stop too and that he can make the extra effort. In the end, Tom forced himself and the duo was back in full strength a few laps later. Another team helped me a lot too, our Belgian stars, Sabrina and Jessica, who were also skating in duo. It enabled me to hold on, whatever happens.
In order to prevent getting dehydrated or cramps, I drank a lot. Which is great... but since temperatures were not as high as expected, a desperate need took hold of me all of a sudden. I say to my partners that I'm going to have a break on top of the Dunlop. For lots of solos, it's the perfect spot, out of sight, where speed is not too high. I saw cyclists and more recently Guillaume de Mallevoue during the Roll'athon managing the operation without stopping. Since I like challenges, I thought I could succeed! The advantage of not wearing a suit but just a top and shorts, is that it's easier. I have a go, roll with legs spread apart, everything goes smoothly... but problem, it doesn't stop... and this is where the Dunlop downhill starts... I imagine a skater slipping because of me... I pack it all up, hygiene becomes a forbidden word during the 24H! I'll finish my business on the next stretch. I've become an expert, dirty but expert none the less!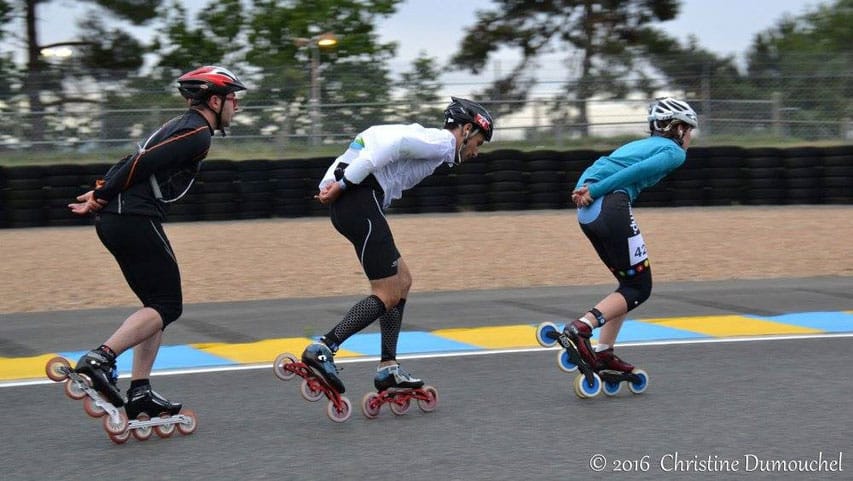 Night time
During the night, I put on a jacket, charge my cell phone with an external battery. I'm not really good at it yet and it slips from my fingers and smashes on the asphalt of the Bugatti. My phone could charge up to 30%, I'll have to make do with it and shorten the discussions. It's a good solution, but the realization needs adjustments.
After a night with mild temperatures (around 10°C), I thought I could warm up with the rising sun of the Sunday morning... Fail, it's misty, and it turns into drizzle then into rain. The Bugatti becomes very slippery, it is impossible to speed up, and yet the energy you put into it is the same... Times go up to 12', even 13' per lap... I curse the sky that it couldn't wait 6 more hours to rain. It's not good for business. I thought I was ahead but in the end I need to draw on my energy not to lose too much time. I think of positive things like reaching the 600 km, crossing the finish line, my darling who's cheering for me with her round belly at each lap, of how lucky I am to be up on my skates and not lying on a hospital bed. Despite my thighs that are tired of going up the bloody Dunlop, the rest of the skating works alright. With the two duos, who've been with me for several hours now, we count the laps like a countdown until the 600 km. It becomes a real group challenge.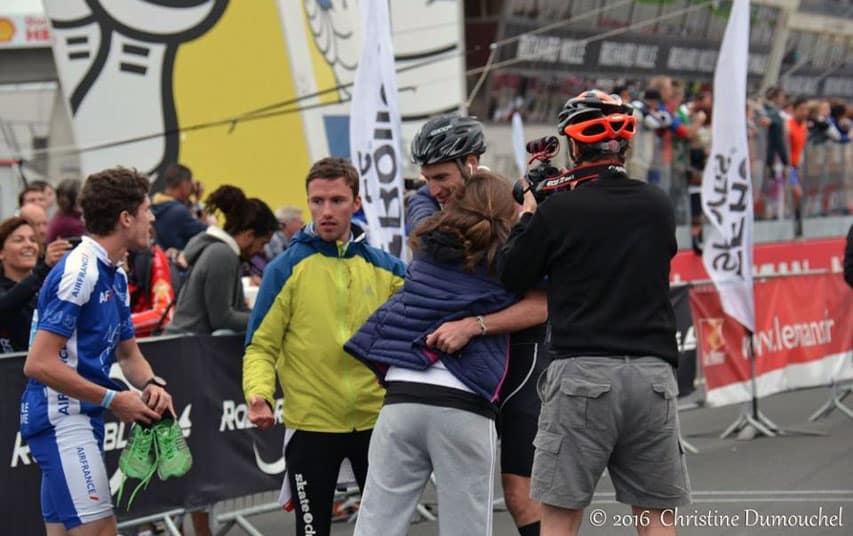 The 600 km
We're getting closer to the end, I don't know if it's physiologic, but I get the feeling that your body relaxes when you start feeling that it's going to work... I had to struggle for almost 3 hours with no more energy left in my legs and body. We count the laps before the bar of the 600 km... 3, 2, 1...
I'm skating like a zombie, I hurt everywhere but I'm happy: We've reached the objective! It's a huge relief, I didn't believe it, but we did it, and even a little ahead of time. I finish one more lap before the 24 hours, which makes 146 times skating up the Dunlop rise.
The solos who wait for the last lap on top of the Dunlop congratulate me, it's very touching. I feel extremely happy. I finish the last lap, a huge number of skaters congratulate me on the lap and on the last stretch, it gives me goose bumps, I can't hold back my tears, I fall into the arms of Chrystelle, with the support of Simon and Thibaud.
After having skated for 24 hours without stopping a single minute, I finally sit on a chair. Claude delivers me, symbolically, in taking my skates off. Climbing the stairs to reach the podium is a real struggle, going down backwards is pathetic.
Without Sabrina and Jessica (the Twins), Tom and Christophe (the PUC duo) and Benjamin (the Dulo or Suo, make your choice) on the track, and without Chrystelle and Simon on the side, I would never have reached my objective, and I really want to thank them from the bottom of my heart, I also thank all the skaters who let me take shelter for a lap, or who cheered on me with a word, a phone call or a gesture.
Times, lap by lap.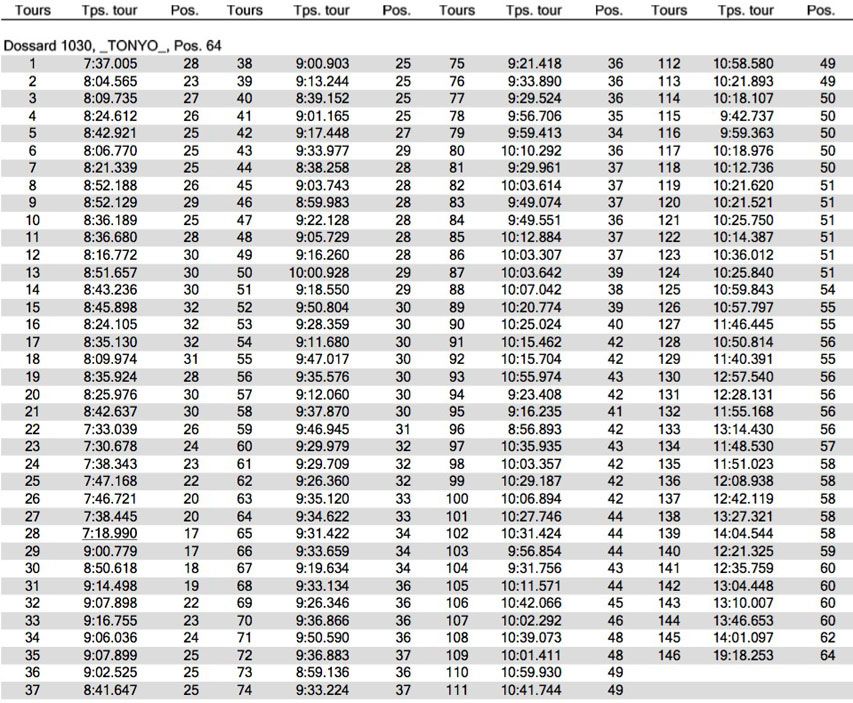 Heart rate during the 24H (129 bpm in average, 179 bpm max)

At the 4th hour, the heart rate was faster. Then there's the inevitable slow drop. The more you move forward in time, the less cardio is limiting, it's the quadriceps that couldn't even bend anymore that became the limiting factor.
Useful links
Visit the photo gallery by Christophe Pierredon on mediaskates.com
Full results of the 2016 24 Hours of Le Mans Roller
Visit our page on the event