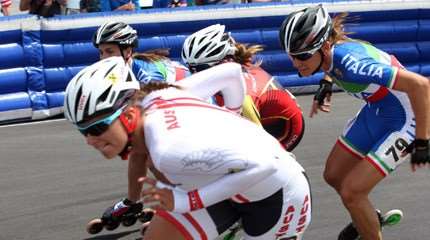 Relays
Here we are, it is the last competition on the road circuit before the marathons! The weather conditions of the previous day delayed the relays until Sunday morning. All the skaters had to wake up early to complete the schedule.
Junior B Women: Italy wins another title
Veronica Luciani, Giorgia Bormida, Beatrice Fausti and Laura Lorenzato made the difference for Italy against the German and Dutch skaters. The French, victim of a fall by Chloé Geoffroy coudn't finish the race. The Spanish had to withdraw too.
Junior B Men: French victory
The French quartet made of Bastien Lhomme, Martin Ferrié, Valentin Thiebault and Flavien Foucher imposed themselves against Germany and Hungary. The Italians, used to battling with the French during those Championships, have to make do with the 4th place.
Junior A Women: Belgium settles everything
Belgium let the gunpowder do the talking in the last hectometers with Stien Vanhoutte, Nymphe Keuleers and Ellen Van de Catsye. The three skaters outdistanced the Germans by 1 second and the Dutch by 5. France was disqualified and Charlotte Frouin fell. We wish her a quick recovery.
Junior A Men: Italy strikes again
Daniel Niero Marco De Flaviis, Duccio Marsili and Roberto Fiorito got the title for Italy against France and the Netherlands. Germany had to make do with the 4th place. We couldn't watch the race, our apologies for the lack of details.
Senior Men: Italy again
The pace of the race increased little by little. There were Italy, Germany the Netherlands, Portugal, France and Belgium.
10 laps from the arrival, all the skaters were gathered in a pack, everyone trying to place themselves to pass the relay in the best conditions. At 6 laps, France was leading with Italy in its stream and Belgium. Italy passed in front at 5 laps. France took the lead back at 4 laps.
At 2 laps, France attacked. Italy got back in front at the beginning of the last lap and won't be caught back up on. Final ranking: Italy, France, Portugal.
Senior Women: The uncompromising Italians
Hard to resist the Italian armada when they go into action! Each skater has at least one continental title, with Francesca Lollobrigida, Giulia Lollobrigida, Erika Zanetti and Andrea Trafeli. The Squadra Azzurra outdistanced the German team of Laetischia Schimek, Sabine Berg, Katharina Rumpus and Mareike Thum. The 3rd place went to the Dutch Manon Kamminga, Kelly Schouten, Bianca Roosenboom and Irene Schouten. France, with Clémence Halbout, Marie Poidevin, Juliette Pouydebat and Anais Laurent finishes 4th.
Useful links
Full Results of the relays on road
2015 European Championships of Speed Skating: 1st day on road
2015 European Championships of Speed Skating: 3rd day on track
2015 European Championships of Speed Skating: 2nd day on track
2015 European Championships of Speed Skating: 1st day on track
Photo gallery by Sylvie Geoffroy (track)
Photo gallery by Emmanuel Geoffroy (track)
Photo gallery by Sylvie Geoffroy (road)
Photo gallery by Emmanuel Geoffroy (road)
Our page dedicated to the 2015 European Championships of Speed Skating
By Alfathor
Translation: Chloe Seyres
Photos : organisation
Sylvie and Emmanuel Geoffroy
mediaskates.com