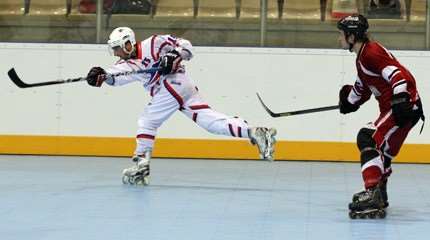 Destination Coliseum...
Baggageless Latvia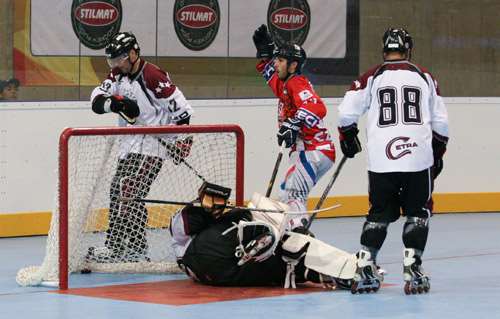 The striking fact of the first day was probably Latvia's luggage problem. Arrived the previous day, the Latvians couldn't play the morning game against Canada as their luggage was lost in transit. That first game was thus postponed to the evening of the next day while the one of the afternoon against the Czechs was rescheduled for the very evening. By the way, that game was the only one without suspense: the Latvians surrendered very quickly and the public was treated to a display of goals (12-0).
Colombia
If the game opposing Colombia to the USA seemed unbalanced, Colombia still stood up to the USA for the the three quarters of the game before yielding in the last straight line. The locals finally gave in 3-0.
They must have enjoyed playing in front of a public on fire, rising as soon as a player would cross the middle line.
The American players are still in the running in, just as usual during the group phases. Yet, they must be cautious after their brutal elimination in the quarter finals of the world championships.
A good tie game for France against the World champions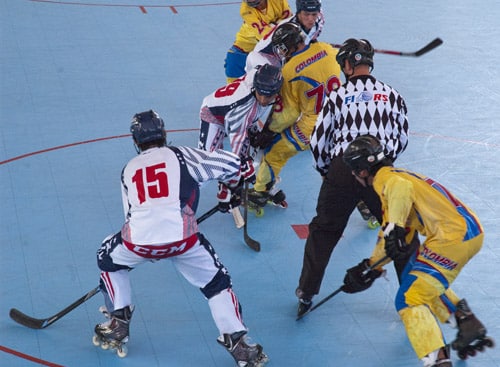 Two ties got the better of the digital charts board. A first tie between the Czech republic and France saw the French lead during the second period of the game before giving in, outnumbered, and enabling Kafka to catch up the scores. Still it is a positive note for France.
Virgin scores between Italy and Switzerland
The game between Italy and Switzerland ends in virgin tie, which is very rare in inline hockey! Yet the public could enjoy the show between the two teams who surpassed themselves and offered an open game with many technical moves, especially on the Swiss side.
A game under pressure between France and Canada
The last big game of the day opposed Canada to France. Canada got the upper hand in a tense atmosphere, using their experience. They imposed themselves 3 to 1 and made the most of the Czech faux pas to get the good deal of the day in taking the lead of the provisory ranking.
The President of the IOC on site
Inline Hockey perfectly took its marks in its brand-new setting. The President of the International Olympic Committee, Jacques Rogge, even attented the France – Czech Republic game. For want of being an Olympic sport, inline hockey carved out for itself in the heart of the Colombian public.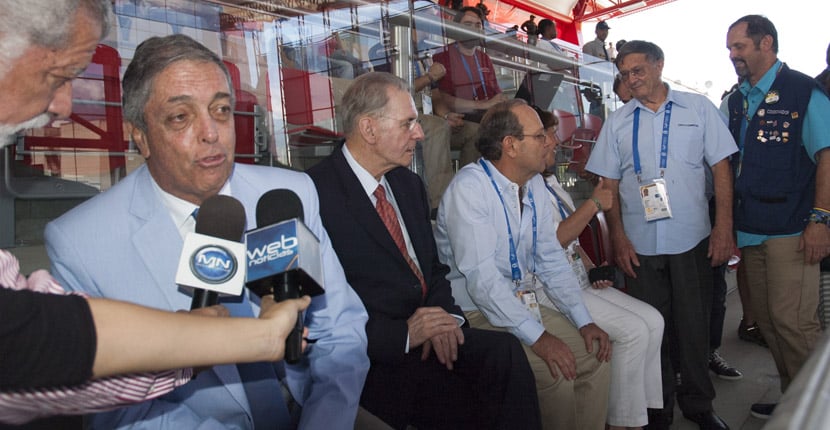 Results of the day
Games of Group A
Rank

NOC

Matches

Goals

Points

Played

Won

Tie

Lost

For

Against

Diff

1
USA
1
1

0
0
3
0

3

2


27 Jul
27 Jul
3:0
2
ITA
1
0
1
0
0
0
0
0
27 Jul


0:0
27 Jul
2
SUI
1
0
1
0
0
0
0
0
27 Jul
0:0


27 Jul
4
COL
1
0
0
1
0
3
-3
0
0:3
27 Jul
27 Jul


Games of Group B
Rank

NOC

Matches

Goals

Points

Played

Won

Tie

Lost

For

Against

Diff

1
CZE
2
1
1
0
12
1
11
3
27 Jul
1:1
11:0
2
CAN
1
1
0
0
3
1
2
2
27 Jul
3:1

27 Jul
3
FRA
2
0
1
1
2
4
-2
1
1:1

1:3
27 Jul
4
LAT
1
0
0
1
0
11
-11
0
0:11
27 Jul
27 Jul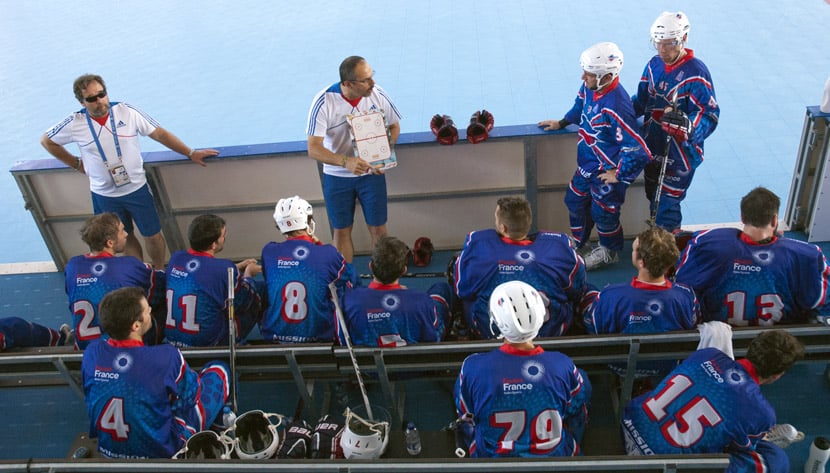 Useful links
Page dedicated to the 2013 World Games on OLS
By Roller Addict
Translation: Chloé Seyres
Photos : Roller Addict et Didier Valero