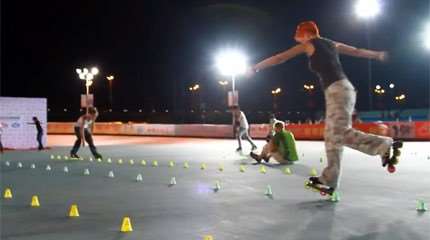 DAY 1 – Senior Speed Trials & Junior Classic
Opening ceremony
Wednesday evening was busy with a gigantic buffet followed by an impressive and opulent opening ceremony – with lots of 5-year-old Chinese kids dancing in synchronization in acts of 10 minutes… Just picture European kids *trying* to do the eighth of what they showed, it would be a perfect disaster.
Overview of buffet and opening ceremony from 5'25: (2012 WFSC Lishui all Day2)
Lishui, China
The world championships take place in Lishui, a remote place in China from Wednesday 22nd to Saturday 25th of August – "remote" is just another word for "lost": I personally had to endure a 23-hour trip with one train, two planes and a bus to arrive at destination… The place, which on the Internet looks like a pleasant and peaceful green havoc with trees, mountains, lakes and small wooden boats, proudly calls itself the "Lung of China". In fact, it is just another typical Chinese town (although quite green with mountains in the background, I convey) with buildings at work everywhere.
Organization
Most of the competitors and the judges have accommodation in the same hotel, and buses come and pick us all up to drive us to the competition area and then back to the hotel, twice a day as we go back to the hotel for lunch. Each National team has a volunteer who is in charge of them, basically letting them know when to wake up, when to eat, when to take the bus, and keeping them up to date with the potential changes in the schedule.
Competition Area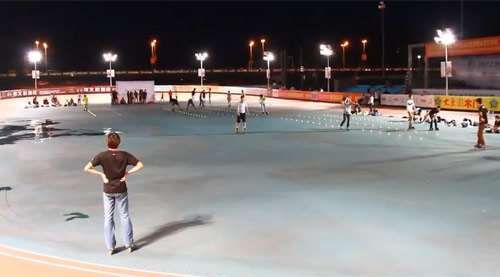 The competition area is the speed skating rink of Lishui with nothing much to see around, except buildings (at work). However, the area, being dedicated to skating, has a very smooth ground made of painted concrete (like the Arena in Geisingen). At first, the training area was outside of the rink, just on the side, but a new (small) area has been settled into the rink as soon as the first evening, in order for the skaters to be able to train on the same ground as the one they were competing on.
In case of rain, an indoor hall with wooden floor was booked. And you are going to see further that it saved the competition!
The area: (2012 WFSC Lishui Day 1)
Technology
Bleachers are available for the public and they were crowded as soon as the first day! Special bleachers and areas have also been settled for the media, the VIP, the skaters and the volunteers. The area is equipped with a huuuge screen onto which are shown the videos shot by the multiple cameras on the area. The last world championships (Geisingen, GER – Oct. 11) really set the bar high as for technological means and it is great to see that this year's organization is taking up the challenge!
Skaters
On the other hand, the skaters' attendance is quite poor compared to the previous editions where numbers were increasing year after year. Yet, most of the top slalomers made the trip so that the competition legitimately deserves its "World Freestyle Skating Championships" title.
Senior Speed Slalom Trials
You must have noted that I said "most" of the top skaters. Indeed, a big absence is being felt as soon as the opening discipline. The championships start on the Thursday afternoon with the Senior Speed Slalom time trials. But Yohan Fort (FRA), world #1 and 2011 world champion (4 times in a row!) is missing… as well as his brother Jimmy who will not be able to fight for his junior world title tomorrow: They could not get their visas in time. This leaves a big hole but also a big opportunity for their opponents!
Out of the 46 registered men skaters, only the first 16 are qualified for the KO systems, which will take place on Saturday. The women are only 16 to take up the challenge and only half of them with be allowed to do the KOs.
The competitors start with a free start and their time is double-checked by time cells and a high speed camera: The cells, placed 30cm from the ground, check the moment when the ankle is crossing the finish line, while the camera can check the first wheels and the overall position of the skaters. Official Rule reminder: skaters should not set their free foot on the ground before having crossed the finish line. Participants should start with at least one wheel of their front foot in between two start lines spaced 15 cm apart. A good number of false starts were called because skaters tended to bend back to gain the maximum speed… and some would roll outside of the limits. Let's also note the huge number of first-cone penalties, skaters trying to optimize their races to the max. The official rule is: There should be no first-cone penalty as long as the skater crosses the center point of the cone with only one foot touching the ground.
Amongst the qualified male skaters for the KOs, the first four are below 4.5: Chinese Guo Fang (world #4) in the lead (best: 4.408) is followed by Taipeian Yan Hsin Chiao (#15), saved by his second run in 4.424. Lan Wang Heng (CHN, #6) is only two thousandth in front of first European Savio Brivo (ITA, #9) (4.482 and 4.484). Let's note that the Italian is a real cannonball: fastest man of the trials with two times in the 4.200's! He qualifies 4th with a first-cone penalty, and even with the 3 penalties of his first run he would have been qualified at the 11th place… Talking about Italians, their whole team qualifies: Simone Nai Oleari(#2) is 5th, Tiziano Ferrari (#7) 12th with quite a slow first run and a void second run, and Luca Ulivieri (#31) is the 16th and last qualified despite two penalties on his two tries (best: 5.061). Let's also note the qualifications of Koreans Kim Sung Jin (#3) and Yu Jin Seong (#14) at the 6th and 8th places, those of French Igor Cheremetieff (#18) and Alexandre Claris (#10) (9th and 10th), as well as those of former world champions in slides Jireh Goh (SIN, #360) and Kirill 'ReKiL' Ryazantsev (RUS, #12) at the 13th and 14th places, followed by Polish Michal Sulinowski (#25) at the 15th place. Amongst the non-qualified, two challengers who could have shaken things up: Chinese Liao Jie (#58) and French Romain Lebois (#8), respectively 17th and 20th.
Italy is also invading the women's qualifications: the four of them make it… i.e. half of the KO skaters will be Italians! Cristina Rotunno (#1) and Barbara Bossi (#2), the two world leaders of the discipline, take hold of the first places: Cristina manages two perfects, which are the two only times of the women's under 5 (best: 4.798), while Barbara takes the second place with one penalty and a best time in 5.015. Sara Barlocco (#38) and Chiara Lualdi (#8) qualify 5th and 6th. French Clémence Guicheteau (#3 and 2010, 11 Junior world champion) gives Europe the advantage in qualifying 4th: 5 Europeans vs. 3 Asians for the KOs. The three remaining places go to Chinese Meng Yun (#19) (3rd), and Taipeian Wang Tzu-Chien (#25) and Hsu Yi Pei (#77), who are the two last qualified (last Q time: 5.322). Chinese 2011 Battle and Classic world champions Su Fei Qian (#49) and Chen Chen (#39) fail at the threshold of the 8th place with times in the 5.400's.
Junior Classic
The least to say is that the Junior Classic was a good operation for China: they simply got hold of ALL the medals in both categories (girls and boys). Yes indeed... And they deserved it by far: the medaled youngsters have no reasons to be jealous of their elders! They will prove it on Saturday in knocking them all out and seize all the places of the battle finals.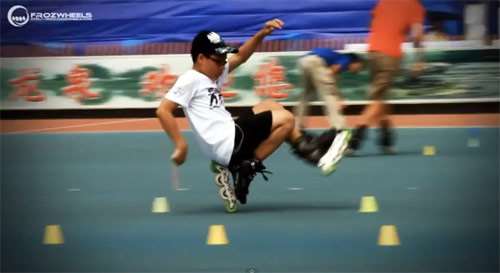 In the girls' category, let's note (and applause) the stunning performances of Feng Hui (world #7) (remember the Michael Jackson run of Geisingen?) and team-mate Guan Yu Xiang (#16) (another name you should remember). Do not judge a book by its cover: they might be cute and all, but these girls are serial killers: Amazingly technical, super stylish and entertaining. Feng Hui keeps the title she had seized last year. What can you possibly answer to a toe Christie perfectly managed on 4 cones, backed with shifts, sevens and chicken legs – and NO penalty? Although Feng Hui was technically above, I really liked Yu Xiang's overall performance a lot too (as for style and music matching) – Yet, she was not that far behind with her army of shifts, flips and sevens (back, front, alternate back and front) and her toe footgun on 5 cones! Wang Ding Yu Xin (#39) is the happy owner of the bronze medal while Deng Ling (#66) is relegated to the 8th place. French Zoé Granjon (#9), the only European, gets the 5th place despite shaky legs, which does not get on well with wheeling tricks.
Junoir Women's 4 Best by ReKiL.ru
Junior Women's World Champion: Feng Hui (CHN)
Junior Women's World Vice-Champion: Guan Yu Xiang (CHN)
As for the boys, the Chinese team seizes the 4 first places with merits. Zhang Hao (world #12) ends up first thanks to a perfect run with very smooth footwork and super hard combos: toe reverse shift to flip to normal shift, back toe wheeling to big sewing machine, back and front stylish sevens with open free leg (check the video), toe footgun and so on… with every single trick matching perfectly his ambitious music (Bomfunk MCs' "Freestyler"). The junior vice-champion title goes to Ye Hao Qin (#9), less perfect – a few misplays – and less creative as for the music part, but still impressive: check out his final seven from low (bended leg) to up (straight leg)! The first non-Chinese skater is Thai Kanchanok Sawangsri (#35) who shows some punchy footwork. Too bad that a lot of his tricks were out of line. He is followed by Taipeian Huang Yu Ping (#178) and Japanese Shibagaki Masayoshi (#630). Let's also note the participation of the Indian delegation, which sent more than 20 skaters over, including 6 junior men for Classic. Let's hope that they take the opportunity of meeting top skaters to widen their trick dictionary!
Junoir Men's 4 Best by ReKiL.ru
Junior Men's World Champion: Zhang Hao (CHN)
Junior Men's World Vice-Champion: Ye Hao Qin (CHN)
Boy Classic Results
1-Zhang Hao (CHN)
Ye Hao Qin (CHN)
Zhu Tian Le (CHN)
Pan Yu Shuo (CHN)
Sawangsri Kanchanok (THA)
Huang Yu-Ping (TPE)
Shibagaki Masayoshi (JPN)
Rompo Chawis (THA)
Ma Pak Hong (HKG)
Chan Man Fung Anson (HKG)
Qui Yi Ming (CHN)
Rompo Chusana (THA)
Lo Ng Shuen (HKG)
Farbod Motavasel (IRN)
Lin Chu Lok (HKG)
Ng Wing Hang (HKG)
Lee Chak Him (HKG)
Singh Chetanvir (IND)
Pinisetty Naga Raovshyl (IND)
Shah Jaival Kaushal (IND)
Bhalgat Anuj Atul (IND)
Siddharth Pal (IND)
Manish Dahiya (IND)
Girl Classic Results
Feng Hui (CHN)
Guan Yu Xiang (CHN)
Wang Ding Yu Xin (CHN)
Huang Yu-Hsang (TPE)
Granjon Zoé (FRA)
Lin Hsin-Chieh (TPE)
Mongkolchareonchok Chanya (THA)
Deng Ling (CHN)
Lee Nien-Chen (TPE)
Lu Qian Qian (CHN)
Moritoki Mika (JPN)
Ngan Ching Yui (HKG)
Chui Ka Yan (HKG)
It is now more than 11PM and the first day has just ended. The next discipline will be the Senior Women's Classic at 8AM tomorrow morning, with great challengers such as Chinese Chen Chen (#5) (unbeaten since 2008) and Su Fei Qian (#3) (2011 Battle and Junior Classic champion), Russian Polina Semenova (#2) and Dasha Kuznetsova (#1), Polish Klaudia Hartmanis (#4) and Ukrainian Marina Boyko (#6)! The Top-6 is there, don't miss it! Also on Friday's schedule: women's slide finals and men's qualifiers, junior speed slalom, pair classic and senior men's classic to finish the day!
Useful links

REPORT 2/4: Day 2 - Senior Classic, Pair Classic and Battle Qualifiers
REPORT 3/4: Day 3.1 - Speed Slalom and Slides
Schedule of the WFSC Lishui
WFSC Facebook Event
World Slalom Series Website
Eric Daryl's Youku channel
By Close Yr E's
Photos: Frozwheels and WFSC - all rights reserved