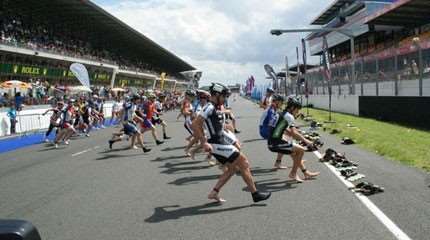 Practical Facts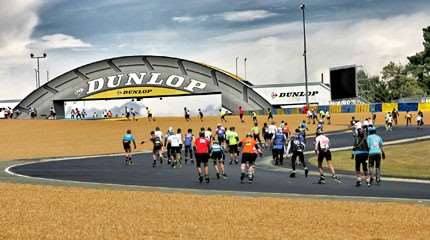 The 2017 24 Hours of Le Mans will take place on July 1st and 2nd. If you're still hesitating over whether to register to the race for lack of skating skills, here are a few tips that should reassure you.
1. Find or Make a Team of Your Level
There's no use in wanting to skate in a team where levels are too different, unless things are clear from the very beginning and there's no performance objective. When levels are homogeneous, there's no pressure, just fun!
2. Use Comfortable and Serviced Skates
Efficient skates are good, but comfortable skates are often better! When relays go on and on, if your feet suffer and get injured in your skates, your performances are impaired. That's why you'd better opt for skates in which you feel perfectly good. Don't buy a brand-new pair of skates a couple of days before the race!
Moreover, before Le Mans, take the time to check your wheels' condition, the tightening of the bolts and screws on your frames, etc.
3. Scout the Course Before the Race
If you've never skated on the Bugatti Circuit, go for scouting laps on Saturday morning to get to know the course! The Dunlop slope isn't particularly difficult as long as you know how to brake. It's wide and smooth, especially now that the asphalt has been redone! Scouting will also allow you to gauge when to speed up or slow down.
4. Control Your Trajectory and Your Braking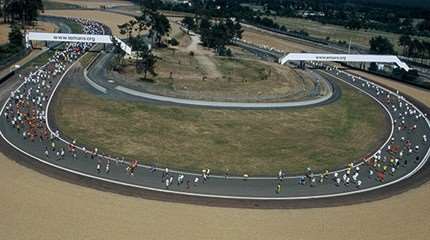 When hundreds of skaters of various levels share a circuit, each and every one should ensure to have a predictable behavior. If all skaters keep their trajectories and control their skating pace, passing other skaters is not a problem. If you're not chasing records, don't go taking the inside track or cutting bends at all costs. You can signal your direction changes with your arm or take a look over your shoulder before passing.
5. Always Remain Vigilant
All the better if you trust your technique! But keep an eye on the skaters around you: tiredness and lack of attention can lead to a stupid edge mistake and a fall. A few key moments, like the first skating down the Dunlop slope, or the lights at the crack of dawn, are conducive to mistakes.
6. Find a Pace that Suits You and Keep It
Inconsistent times put your body to a severe test! Try and find a reasonable cruising speed that doesn't burn all your energy every other lap. That doesn't prevent you from getting in the slipstream of a faster skater, it's sometimes the opportunity to pace yourself and have fun at the same time.
7. Eat and Drink Regularly
Don't forget to drink between relays, especially if the weather's hot, because your body gets dehydrated very fast on the asphalt. Losing 2% of your body weight in water means you'll be 20% less efficient! For food, avoid big meals that will be hard to digest. Opt for lighter and small intakes, but more often.
8. Train at Least a Little Before the Race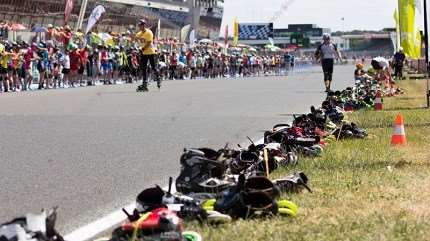 When you skate in teams, there's no need to be super-trained, especially if your collective doesn't have a ranking or performance goal. If the best skaters lap around the Bugatti circuit in 5'50'', others will take up to 15 or 20 minutes to complete the 4.2 km of the lap. And it's fine, as long as you're having fun! All you need is keeping your relays going.
However, it's important to get your body used to effort. Try at least to skate for one hour at a moderate pace, two to three times a week, during the two months preceding Le Mans.
9. Don't Neglect Your Breaks
Above all, Le Mans is a celebration, but in order to skate the night away, go for power naps as often as you can. If you have earplugs in your bag, they will prove pretty useful!
10. Last but Not Least, Have Fun!
The 24 Hours are an unforgettable and unmissable opportunity to meet with skate lovers. Never forget that skating is a game as much as it is a sport, and that everybody is there for the fun of skating above all!
Useful Links
Training to prepare a skating marathon